Research for Environmental Agencies
& Organizations
Each semester, students perform research tasks that assist environmental and public health officials, nonprofit professionals and volunteer citizens in achieving their missions, sometimes continuing projects begun in previous semesters.  The work is supervised by Richard Reibstein, lecturer in environmental law and policy.
Fall 2022 Projects
Great Sippewissett Marsh, Falmouth, MA. Erica Judd (2022).  From We All Need Marshes.
Accelerating the Transition to Lead-Free Skies. Becky Petrou O'Rourke assisted instructor Rick Reibstein and Quiet Communities founder Jamie Banks in organizing a national zoom conference (click on Events in the banner to watch),  to discuss ways to support a rapid switch from the use of leaded avgas in the US general aviation industry to the use of unleaded fuels.  Speakers included the Santa Clara County Supervisor, (the local airport has banned the sale of leaded aviation gas); Bruce Lanphear, foremost national expert on lead poisoning; Dr. Amy Pritchett, head of the National Academy of Sciences study on leaded aviation gas; airports considering action and companies selling unleaded gas, as well as Congressional staff, Federal Aviation Authority officials, Earthjustice, Friends of the Earth, and other key figures.  Ideas for removing lead most rapidly were discussed and will be described in a forthcoming report to be shared with all attendees and posted here. Leaded Avgas (2), Organizing the conference Accelerating the Transition to Lead Free Skies, Summary of Avgas Project with Quiet Communities with Map (1)
Insights for Municipal Composting: Corrin Barnes and Tegan Condon prepared a report for the Town of Brookline, MA to inform their decision-making process in implementing and incentivizing town-wide composting. Recommendations were drawn from interviews with representatives of five existing residential composting programs in Massachusetts (Cambridge, Watertown, Boston, Ipswich, and Hamilton) as well as a review of other U.S. programs and academic literature. A review of municipal compost programs and recommendations for the Town of Brookline, MA
Building Support for Tree Protection:  For a regional group formed to address weak tree programs in Massachusetts towns, Sophia Shepard and Carly Casazza talked to tree wardens and advocates in local towns and developed recommendations, designing an initiative specifically for Weston, MA, to build support for more effective tree canopy protection. Presentation to a Town on Creating a Tree Ordinance
Cities Need Trees: Natalia Karadimitriou researched how urban forests decrease the intensity of heat waves for city residents. She met with urban forester Douglas Hutcheson, Greening for the Gateway Cities Program, and David Meshoulam, founder of Speak for the Trees, and attended tree planting events to understand the benefits trees provide for residents. Natalia's final product is a video that will educate local residents on the importance of trees and the options they have for helping their community. https://mymedia.bu.edu/media/t/1_p99vfob3.  Also: Cities Need Trees Final Report
We All Need Marshes.  Most landowners who live on coastal wetlands care about their surroundings, yet they might not know what they can do to protect them. Erica Judd spoke with people throughout Massachusetts to understand the perspective of landowners, and developed an article to help them learn about salt marshes and enact stewardship. This article aims to communicate her findings along with disseminating scientific knowledge to the public, and will be shared with those spoken with along with other interested parties. We All Need Marshes, December 2022
Are We Medically Prepared for Climate Change? Juliette Van Vleck and Ruby Rodriguez investigated whether continuing medical education (CME) programs are preparing current and future practitioners concerning climate change risk factors affecting their patients. They have developed recommendations that are being shared with the experts they contacted and posted on the class website for steps that can be taken by players in the CME network to change state policy and include voluntary CME that addresses climate health risk factors. Are We Medically Prepared for Climate Change, Medical Prep CChange. Working Needs Assessment
Software for Sustainable Cities:  Developing Data Management Tools to Help Communities Track Climate Action Progress. Serena Wang and Eddie Ang worked with Power-D.city, which is developing a new service: helping municipalities measure whether their climate action plans are working.  The students compared tools for managing the large amount of energy data involved, so that information from different sources can be accurately interpreted and integrated to measure performance and predict energy consumption in its various forms: electricity, gas, oil, gasoline, etc.  Students also assessed available consulting services for community climate action planning. Software for sustainable cities (1)
Psychological Response to Environmental Problems.  Anna Facciola designed and implemented (after IRB approval) a psychological test evaluating how awareness of environmental issues affects student emotional contexts, including whether studying environmental issues helps, finding indications that students are significantly affected, and that studying environmental issues can help.  The results will be shared with interested parties and data will be made available on the course website. Raw data available upon request. PREP Results Summary, PREP Final Report (2)
The Road to Banning PFAS.  For Clean Water Action, Sarah Rosenthal and Mila Maglov analyzed policies and actions taken and proposed by states across the nation to identify opportunities for developing programs that will effectively address the problem of PFAS dispersion into soil and water (and the fact that it doesn't break down).  Their recommendations are focused on actions individual states and EPA can take to prevent further spread of these dangerous substances and to prevent further introductions into our environment. Final_ Road to Banning PFAS, (powerpoint) The Road to Banning PFASs.
A Proposal for NASM: A Network for the Advancement of Sustainable Mycology. Olivia Rollins explored possibilities for using fungi for cleaning up contaminated land and construction debris; making packaging and building materials that can substitute for plastics; using fungi to convert agricultural waste to products like insulation, and other environmentally preferable products, concluding that much greater coordination and information sharing could spur more rapid development of useful, sustainable materials and environmental restoration efforts.  The proposal will be shared with experts Rollins contacted and posted on the class website to inspire mycological entrepreneurship. Fungi So We Don't Die
Spring 2022 Projects

Screen shot of presentation to Zero Emissions Advisory Board
How Municipalities Can Track Climate Action Progress: For the city of Brookline, MA, Sarah Kaul, Dena Ciampa, Makayla Neese, Caleigh Ingram, and Joseph Ferrucci worked with the "data-driven decarbonization" startup POWER-D.CITY to propose a structure for tracking actions and results of greenhouse gas emission reduction efforts – a generic approach any municipality can apply to structure its own monitoring of the effectiveness of climate action plans.  The proposal was warmly welcomed and highly praised by the city's Zero Emissions Advisory Board. Presentation for Brookline (1)
Visions of a Clean Energy Future: Keely Bombard and John O'Neil interviewed a dozen energy experts to understand what the future of the energy industry should be, finding they all envision a future that holds more benefits for communities as well as the planet, but we need to work hard to make it happen. EE 538 Final Paper, Energy Vision
Solar Without Ecological Loss: Ximena Lugo found that policies and solicitations for solar development do not typically address the benefits of having solar without damaging biological vitality, (a companion greenhouse gas reduction action), but that incentives can be used, as Massachusetts has done, to promote "novel solar placement" above the generally cheaper alternative which may involve clearing greenspace. Novel Solar Placement Report
Improved Water Quality Data Communication in Massachusetts: Flower Armijo and Halle Cooper met with representatives from the Massachusetts Department of Environmental Protection and several watershed associations and related environmental nonprofits in Massachusetts to assess how we can increase the accessibility, digestibility, interaction, and impact of water quality data across communities in Massachusetts. Armijo_Cooper_Paper.rrclean
Using Traditional Ecological Knowledge (TEK) to Reduce Wildfires: Elijah Blumenkranz and Sasha Gilmore contacted fire-management experts to find out whether the concept of land "co-management" with original peoples having long-standing knowledge of the land is being applied to reduce wildfire risk. Case studies indicate the approach should be more widely implemented. Indigenous Co-Management Final Paper
Reusable Food Containers at BU: A Step Towards Bending the Linear Throughput Economy into a Circular
System: Shraddha Pingali and Taylor Warburton developed concepts for decreasing food container waste after investigating the context of plastics use, surveyed BU students and analyzed the costs of switching from disposals, finding that significant savings are likely. Circular_Economy_Paper
Fall 2021 Projects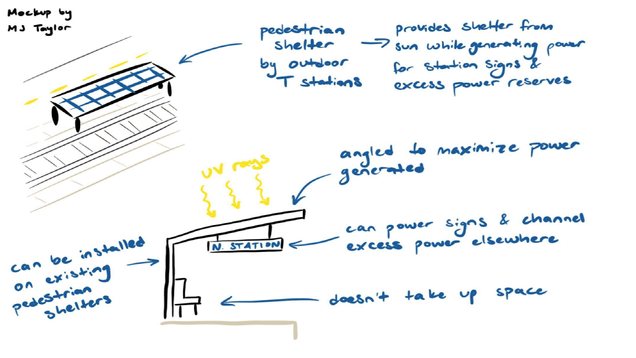 Staying cool under solar panels at outdoor T stops, by MJ Taylor for Vaney, et al.
Valentina Vaney, Ian Galinson and Daniel Daponte responded to the request of the Lexington, MA Sustainability Committee to continue investigating novel solar placement, (see Griztko Erickson's projects Summer, 2021), going beyond looking into how solar could work in power line rights of way and on roadways to describe programs to encourage small business participation and public-private partnerships (PPP) including community solar, sharing benefits more widely as we take steps towards completing "the marathon that is fossil fuel divestment".  Ian and Daniel presented to the town's committee at its public meeting on January 25, whose chair wrote that "You both did a very professional job (both the materials and your presentation of them) and gave us some good ideas to consider. The Melrose Solar Challenge, the Morris Model of funding PPPs, and the right-of-way ideas (among others) are all worth looking into further. I'll include them in the agenda for an upcoming meeting so that we can spend more time discussing what fits well with our current activities and goals. We're also working to bring in a new Sustainability Director and I'll be sure to share the presentation with them once they are on board."  Daniel and Valentina then presented to the Municipal Sustainable Energy Forum, a group of path-breaking energy professionals who work at the interface between utilities and communities, who particularly took up the ideas of communities using their tax-exempt status to reduce the cost of funding community solar projects done in conjunction with private corporations with land and roof space to spare.  The hour-long event can be viewed at https://mseforum.com/archives-calls/ "2.22.2022, Creative Solutions for the Implementation of Solar Projects within Municipalities". MSE Forum Novel Solar Presentation (1)
For the Toxics Use Reduction Institute at UMass Lowell, Jonathan Arentsen examined 2017 Emergency Planning and Community Right to Know Act hazardous substance and 2016 Toxic Substances Control Act Chemical Data Reporting, and was able to chart general trends in the utilization of phenolic compounds and identify seeming inconsistencies in submitted reports. Jonathan presented his findings to staff at the Toxics Use Reduction Institute, who commented that it raised their attention to the need to further explore the use of TSCA data, and that it provided strong indications of the need to take a closer look at phenolic compounds.  The project's results will be shared with EPA as well. Phenol – Final Paper
For the Massachusetts Department of Energy Resources, Alex Daglish and Dorsa Mohammadi reviewed data on participants in the Home MVP program, which provides reimbursements for installing heat pumps and weatherization, based on the energy savings, finding that the incentive and environmental progress more strongly motivated heat pump installation and home improvement and monetary savings more strongly motivated weatherization, and that contractor knowledge and advice is key.  Looking at programs in other countries they reported that incentives seem most important and "resident-facing logistics" should be as quick and simple as possible.  Energy Efficiency Program Evaluation Presentation. docx
With Power-d.city, an organization devoted to "data driven decarbonization", Jenny Han, MJ Taylor and Jonathan Arentsen sought information on energy use for a sample Massachusetts town, to see what could be obtained.  Municipalities do not have an easy time getting the information they need to track their climate progress, which should include vehicle miles traveled, propane and natural gas usage, oil heating fuel use, and electricity use broken down so that opportunities can be targeted.  The team recommends that "Utilities should be required to provide current, accurate information about energy usage that can allow legitimate inquiry…to accomplish the declared decarbonization aims of cities, states, and nations across the world." Energy Data
For the Mass Fair Housing Center, Grace Clarke, Caroline Koehl and Spencer Klein looked at discrimination against prospective tenants using vouchers for housing assistance (Section 8), finding it is rampant and that a significant factor is the requirement for a "habitability" inspection, making the resistance or cost of upgrading a barrier to the right to housing, and raising the question of how we ensure a right to safe housing, considering that families with children also face discrimination because of a reluctance to make housing lead-safe.  The team recommends creating an administrative approach rather than forcing victims to use the court system, requiring habitability of all rental units, providing various means of helping landlords upgrade to habitability, providing "rental intermediaries" and more information, and addressing a short time-limit for using the voucher, which can run out because of a prospective landlord's refusal to have an inspection.  Section 8 White Paper Final
For the organization Quiet Communities, Matt Tate interviewed South Pasadena, California Mayor Michael Cacciotti, Southampton NY Deputy Attorney Christine Scalera, Mountain Brook Alabama Mayor Stewart Welch of Alabama, and the Larchmont, NY Environmental Committee members Sasha Nahr and Lisa McDonald, and then helped organize a conference at which they spoke to nearly 200 attendees from communities across the nation about how they are transitioning from gas-powered lawncare.  See: https://quietcommunities.org/the-quiet-transition-leading-by-example-in-clean-quiet-land-care-3/ or click on Events on this website.
Peri Taubman helped organize a national conference entitled "Eliminating Lead Poisoning in 2022", continuing a "public conversation" on lead held by the Boston Public Health Commission in 2019 and 2020.  The problem of lead persists, is worse than usually discussed (often ignored is lead in wildlife, at shooting ranges, and in imported items), but can be more effectively addressed, such as by Philadelphia's lead-safe requirement for all rentals, by allowing victims of reckless commercial activity better access to justice, and by recognizing that safe housing is critical infrastructure meriting real funding, as eliminating a problem that simply persists to continuously poisoning is cost-effective.  Click on Events above or visit www.leadconversation.net.
Stephanie Leon-Rodriguez followed up on former student projects investigating how Indigenous Peoples can be helped to stay on their land, and learned about how land can be donated for co-management by tribal nations, finding that tribal land management has been more sustainable, and the modern world can benefit from co-management.  In addition to Department of Interior programs there are state tax benefits for donating land or providing easements for conservation that can be used to establish co-managed areas.  These options may be attractive to Land Grant colleges created on land that was once the tribe's territory making an effort to promote sustainability in their communities, and seeing the benefit for mutual learning by working with nearby tribes. Final Presentation – Leon-Rodriguez EE538
For the U.S. Environmental Protection Agency (Region 2) Brownfields Program, Grant Jones examined how Puerto Rico's electric grid, devastated by hurricane, highly dependent on fossil fuels and providing very high cost energy, could be rebuilt to use clean, distributed energy sources and microgrids to create a more efficient and resilient system.  Federal funding for the rebuilding is in the pipeline but much remains to be done if the transition to a better system is to happen.  "Establishing a clear channel of communication between all of the stakeholders involved would greatly improve the understanding of the various needs of communities, the projects intended to address them, and the shortcomings of current plans in order to appropriately plan for the future". Energy Resilience in Puerto Rico, Energy Resilience in PR presentation
Summer 2021 Projects
Shanay Sanghvi was moved by the lack of electricity he saw in the village of Pavapuri, India, and convincing a charity to provide funding, he worked with a consulting engineer to solicit and review proposals.  After conducting financial analysis and considering maintenance, delivery, reliability, quality and other factors, a contractor was selected to install solar panels.  "The solar station will ensure a sustainable source of energy for the villagers while they don't have to pay a single penny. More importantly, it will ensure that no child must compromise on their education just because of electricity."  Community Solar in Pavapuri, India, Solar Pavapuri Presentation
Alicia Zhang interviewed people involved in and concerned with the implementation by the city of Boston of Community Choice Aggregation, a means by which municipal governments can purchase electricity in bulk for their residents, lowering its costs and making it easier to choose greener energy sources.  CCA is currently only made possible by one-fifth of the states, but Alicia points out the tool can bring about greater "energy democracy, clean energy jobs and workforce development, and community resilience alongside affordable energy services and sustainability. Through such measures, these CCAs could contribute to equitable regional economies whilst helping cities transition to zero-carbon economies."  She and the class instructor plan to present comments on this potential to the National Environmental Justice Advisory Council at their next meeting.   Equity in Community Choice Aggregation Case Study
Trevor Powell interviewed community leaders in places where gas-powered leaf blowers have been banned or limited, and wrote case studies of how that happened, for the nonprofit organization Quiet Communities.  Before conducting the interviews, Trevor worked with the organization's director to develop a format and set of questions, and he also conducted a survey answered by more than a hundred anti-leaf-blower activists around the country.  Maplewood NJ Case Study, South Pasadena CA Case Study, Washington DC Case Study
Griztko Erickson investigated how solar panels can be sited without having to cut down trees, finding innovative solar projects around the world using otherwise "fallow" space, such as highway exit ramps, under power lines, and over roadways; and solar "trees" that can be decorative additions to an urban landscape.  He presented his findings to a grateful Sustainable Lexington town committee, which queried whether future students in this class might help investigate whether utilities would allow the option of some panels under power lines. Siting Solar Final
Dena Ciampa examined options for employing passive cooling techniques in public housing for the Massachusetts Department of Housing and Community Development, communicating with staff at the agency responsible for architecture and sustainability.  After her presentation Fatima Razzaq, the Director of the Bureau of Housing Development and Construction, wrote, "I am sending along this note to thank you so much for facilitating our connection to Dena. We are thrilled with her report on Passive Cooling Strategies and will absolutely be putting her research to real use in our portfolio. With our limited budget at DHCD, we often find ourselves generating ideas that we don't have the funds (or time!) to pursue—so we really appreciated this opportunity. Please keep us in mind for future classes, we would be so excited to partner up again!" EE538-Passive-Cooling-Dena-Ciampa-July1-2021
Tyler Anderson investigated business information databases for a Massachusetts State Representative and the Massachusetts Department of Environmental Protection.  For the legislator he came up with estimates of how many business organizations are operating of various sizes, so that the amount of a proposed transportation tax applying to each category could be calculated.  For DEP he compared information about business sectors covered by reporting requirements with data about who is reporting, so that DEP could determine where they might find companies who should be reporting but are not.  Guide to Using A to Z Databases
Peri Taubman performed legislative support for the office of State Senator Patricia Jehlen, the sponsor of a bill "To Enhance Justice for Families Harmed by Lead".  In preparation for a special briefing, she compiled relevant articles (whose authors may be invited to testify), and synopses of the bills pertaining to lead poisoning prevention currently before the legislature.  She and the class instructor plan to assist the office when the briefing is held, or hold a special event at Boston University to draw attention to the opportunities to better address the persistent, pernicious and preventable problem of lead poisoning. Lead Presentation, Lead Poison Bills Spreadsheet v.1, Legal Articles on Lead.
Spring 2020 Projects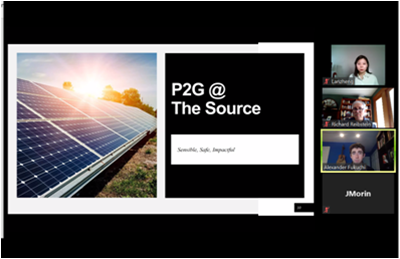 Students Alex Fukuchi and Lanzheng Liu present to 21 officials
of the Massachusetts Division of Energy Resources by Zoom
Alex Fukuchi explained the "Power to Gas" (P2G) approach of using renewable energy to create hydrogen gas, which can then be burned cleanly to provide reserve energy for when the sun is not shining or the wind is not blowing.  Alex and class instructor Rick Reibstein have developed a concept called "P2G @ the source", for employing the technology at utility-scale renewable energy production sites.  Lanzheng Liu presented her examination of the potential for ground-source heat pumps, which can save billions by replacing electricity used for space heating.  Following the presentations state officials discussed the possibilities of P2G at university campuses, geothermal for multi-family housing, and Lanzheng's recommendation to support expansion of subsidies and the development of new business models to help homeowners with the upfront costs of installation.  After the presentation Deputy Commissioner Joanne Morin wrote Reibstein to thank the students and to say "They did a great job – we enjoyed it!" Power to Gas @ the Source: p2g_final (1), P2G for the United States (1).  The Potential of Geothermal Heat Pumps: Potential of Geothermal Heat Pump (1), GHP (1)
Avital Chissick, Jessica Fuchs, Kai Medina, Bridget De La Torre, Hermon Minda collaborated to report to the Secretary of Education on ways to reduce toxic exposures in schools, exploring how to reduce harm from lead in water and lead in soil (playgrounds) and ways to reduce the use of harsh chemicals and pesticides in all school functions.  Coupling these efforts with the education and experience of growing food will help fortify student nutrition and resistance to exposure.  Report to the Secretary of Education.
Bianca Tocco continued work for Sustainability at BU's Zero Waste initiative on composting options for BU, investigating prices and services offered by local composting companies and further developing a proposal for piloting composting operations on South Campus. Updated Compost Proposal 5.20, South Campus Composting Pilot Program.
David Broderick continued work begun in the previous semester on how First World individuals can help Indigenous Peoples to stay on and protect their land (the focus is on the Amazon as an example).  The report, a work-in-progress, has been sent out for review to the original clients for the project, Brazilian activists working with the Yanomami, and will be shared with other relevant organizations and individuals. Can Citizens of Industrialized Nations help Indigenous Peoples Keep Their Land
Andrea Quintanilla examined the data on import refusals of candy and snack foods due to lead content, finding that although the levels have dropped, incidents have continued to occur.  Lead in Mexican Candy Report (1)
Maia Adley researched what has happened to the effort on Cape Cod to determine the cause of high breast cancer rates, learning that while many potential causes are still under investigation, Cape authorities have taken action to improve drinking water quality.  Achieving Safe Drinking Water Quality in Effected Towns of Cape Cod (1)
Fall 2019 Projects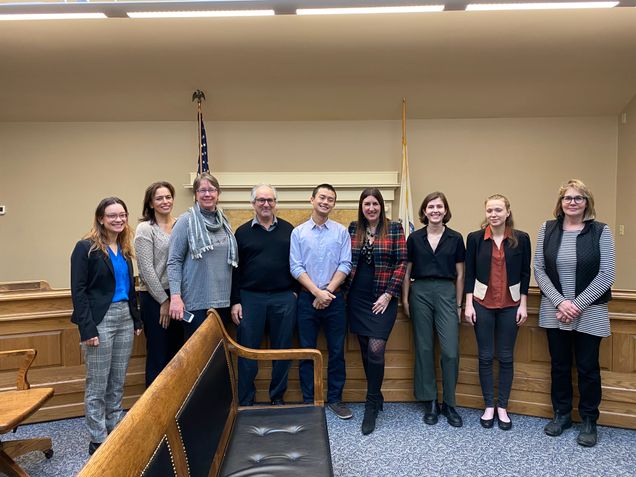 At the StateHouse with staff of MDAR and Representative Hannah Kane of the  MA Food Policy Council
Local, Sustainable, Equitable Food in Massachusetts.  For the Massachusetts Department of Agricultural Resources (MDAR), Will Chang, Alana Danison, Natalia Tanko and Madeleine Mattson researched examples of how some organizations are trying to bring about greater food justice, Connecting Farms and Food Justice Communities, how the state could act to increase the preservation of farmland, Farmland Conservation, how local food sourcing is working and could be increased, Local food sourcing by restaurants, and how we can think about the future of local, sustainable food in the region The Food System in MA and the Future.  The students presented their work to MDAR staff and key legislators at the Mass Statehouse, and as a result this class has received a request to develop recommendations for appropriate legislation.  Presentation for MDAR
Guidebook for Donations to Indigenous Peoples of the Amazon.  For the group Cultural Survival, Isabelle Guelin and Talysha Rustam compiled information about groups that work with tribes, helping them to stay on the land, as a way of informing people how they can protect the Amazon itself by helping people who have lived there for generations to preserve their way of life.  Indigenous Giving GUIDEBOOK
Massachusetts Municipality Preparedness for Climate Change.  For the Massachusetts Emergency Management Agency and other interested parties, Tara Srinivasan and Jonathan Sun reviewed what cities can be doing and found ways to reduce the expected risks and costs of increased storm intensity, including programs to reduce flood insurance costs. Final Muni Preparedness Presentation, Flood Preparedness Report
A Pollinator Protection Plan for BU.  For Sustainability at BU Avital Chissick and Katherine Calandriello learned how pollinator protection plans have been developed and then proposed a plan tailored for BU, which was gratefully received.  BU pollinator plan
A Plan to Improve Food Composting at BU.  Bianca Tocco examined how food is now composted on campus and developed a proposal that would make it easier for students to compost the food waste they generate in their residences, which garnered a positive reception from Sustainability at BU's Zero Waste initiative. BU Compost Proposal
Improving Used Needle Management.  Jenice Ko developed recommendations for health agencies, focusing on the Boston area, to enhance the utility and public reception of needle disposal boxes now being placed in public spaces.  Below is draft sample signage. Needles Report
Summer 2019 Projects
COUNTING CARBON:  For Cape Cod, Trenton Mulick assessed existing methods of calculating carbon emissions suitable for a county-wide effort. Community-Scale Greenhouse Gas Accounting Methodologies (1). Liz Argo of the Cape and Vineyard Electric Cooperative wrote: "What a stellar job!  The report totally provided the information and comparisons we sought."
THE STATE OF INFORMATION CONCERNING NANOMATERIALS USE IN MASSACHUSETTS: For several interested parties working in coalition to promote policies to prevent the increase of risks to human and ecological receptors, Greylin Nielson consulted business library resources to find dozens of companies listed as using nanotechnologies, far more than responded to voluntary surveys from state and federal agencies.  Greylin Nielsen Nanomaterials Greylin Nielsen Research Methodology  Capital IQ Company Screening Report (1) Her presentation of findings at the Cambridge Department of Public Health was extremely well-received and several interested parties have asked for her report.
WHAT A TOWN CAN DO TO IMPROVE RECYCLING: Rayner Perdana assisted the newly established waste reduction and recovery task force of Lexington, MA in understanding how "contamination" of recyclables can be reduced: Improving Recycling In A Massachusetts Community report Contamination of Recyclables and their increasing cost (1) Rayner presented at a meeting at the town's Community Center along with Kirstie Pecci (below), who leads the Zero Waste campaign of the Conservation Law Foundation.  Feedback on Rayner's presentation was enormously positive and the town is following up with suggestions to reduce contamination.
EMPOWERING COMMUNITY-BASED DEVELOPMENT:  As a result of the report (see below, Fall 2018 projects)
Transforming Environmental Justice Neighborhoods into Green Communities, subsequent students have interested themselves in the problems that can result from success in improving impacted areas.  Will Chang conducted a review of policies that cities can use to prevent displacement of existing residents, should development succeed and have the unfortunate side effect of raising rents. Empowering Community-Based Development. The report has been shared with a list of interested parties. 
CHEMICAL RESILIENCE: For the Office of Technical Assistance (OTA) of the Massachusetts Executive Office of Energy and Environmental Affairs, Cory Seremetis produced a table of facilities storing hazardous materials in Barnstable and Taunton, with GPS coordinates to help emergency responders know where chemicals are, so that preventive inspections can ensure they are stored with precautions against such climate change impacts as increased risk of flooding, storm intensity, high winds, and lightning. Examination of the Department of Transportation's Hazardous Materials table – including water reactive chemicals (coded 4.3) (Title 49 Code of Federal Regulations) – of especial importance to responders deciding whether to use water to address a fire – showed that few were present.  As a result OTA has asked to continue working with the Research class. Taunton – priority facilities(1) (1)  Barnstable- priority facilities(3) (1) DOT Water Reactives
Spring 2019 Projects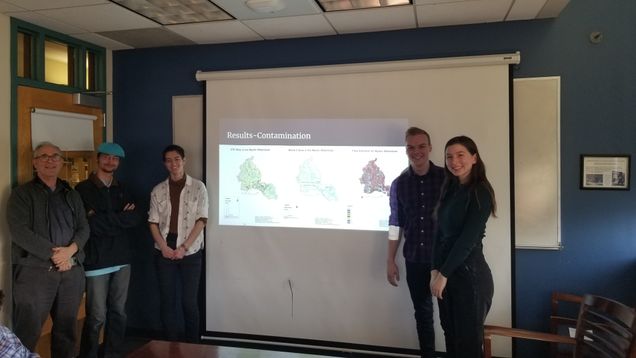 Reibstein, Kai Medina, Cory Seremetis, Jon Naughton, and Sophie Ko after presenting
to cleanup and climate change adaptation experts
For a state Senator, students presented at the State House legislation to make it easier to sue those who recklessly placed lead in commerce, and presented at a conference on Fair Housing and Civil Rights.  A student made a video about the bill.
Video: https://www.youtube.com/watch?v=AxronhtudPU&feature=youtu.be
Lead litigation legislation fact sheet: /rccp/files/2019/06/Lead-litigation-legislation-Fact-Sheet-New-2-1.docx
Presentation to legislators and others: /rccp/files/2019/06/Lead-1.pptx
For the National Environmental Justice Advisory Council students produced a report on how new development tax breaks intended to help impacted neighborhoods will not necessarily reduce Environmental Justice, because they may cause displacement through rising values or simply not be available where they're needed.
COMMUNITY-DRIVEN ENVIRONMENTAL REDEVELOPMENT AND THE FLOW OF TAX-INCENTIVIZED FUNDING
/rccp/files/2019/06/EJ_Full_Report-1.docx
For the nonprofit Quiet Communities (QC) students produced a compilation and analysis of municipal ordinances in the US restricting the use of gas-powered leafblowers. /rccp/files/2019/06/Recent-table-leaf-blower-ordinances-1.xlsx
For QC and the Commonwealth of Massachusetts a student produced information about the recycling of electric batteries. /rccp/files/2019/06/Battery-Fact-Sheet-finalpub.docx
For the Commonwealth's environmentally preferable purchasing office students researched what contracts for integrated pest management should include so the state can be sure its agencies get quality, low-or no-toxicity pest management./rccp/files/2019/06/IPM-Contract-Ideas.docx
For the Mystic River Watershed students produced analyses of both chemical storage and contaminated sites more vulnerable to flooding because of climate change, (including a ground-breaking effort to estimate the direction in which released contaminants would flow) and presented to experts working on the issue.  Chemical Storage & Contamination Presentation (1)
Fall 2018 Projects
Students worked in teams to survey MA municipalities concerning what they are doing about lead pipes used to bring drinking water into homes, to find water pollution hotspots for a watershed association, to create a vision of how to transform highly impacted environmental justice neighborhoods into green communities, and to help a composting organization find a contaminated property that they could develop for siting a biodigester and community solar.  Team:  Aseel Alharthi, Katherine Calandriello, Yunhan Chen, Peiying Huang, Samantha Morton, Julia Nassar, Darden Pilkinton, Zachary Popp, Lydia Silber, Matthew Tate, Joshua Taylor, Emily Wexler, Katelyn Wittkowski.
LEAD IN WATER.  Students contacted Massachusetts municipalities to find out what they are doing about lead water service lines.
Replacing Lead Water Service Lines in Massachusetts
Supplemental information
Supplement_1_School_Survey_Results
Supplement_2_Lead_and_Income_2017
Supplement_3_Communication Materials
Supplement_6 _Recommendations_for_Full_Replacements
WATER QUALITY DATA ANALYSIS
For the Neponset River Watershed Association, students examined data collected by Association volunteers for the NRWA's staff scientist Chris Hirsch.
Water Quality Data Analysis NRWA
The students also prepared instruction concerning how the data can be analyzed using Excel.
Working with Water Quality Data in Excel NRWA
TRANSFORMING ENVIRONMENTAL JUSTICE NEIGHBORHOODS INTO GREEN COMMUNITIES
Students presented the following to officials of the City of Boston.
Environmental Justice Neighborhoods (1)
Students prepared an extensive set of recommendations that was also shared with the National Environmental Justice Advisory Council.
Transforming EJ Neighborhoods into Green Communities
Senior Boston staff circulated the report to the environmental department, stating "The students have prepared a great report and I'm sure that you'll find much in it that will interest you."
USING BROWNFIELDS FOR COMMUNITY SOLAR
Students assisted a composting cooperative (CERO) in assessing whether Boston-area brownfield sites were available and suitable for a community solar installation (to accompany a biodigester).  This report includes general information on incentives for brownfield and community solar development.  See the Spring 2018 project for more on this useful idea.
Comm Solar_Brownfield Writeup (1)
Spring 2018 Projects
Electric Vehicle Stations Placement
All DC Fast Charging Stations in MA
For the Commonwealth's Executive Office of Energy and Environmental Affairs Walker Black and Bolaji Olagbegi examined potential sites for locating electric vehicle charging stations and what other states have learned, providing insights about charging time relative to time plugged in, strategic placement of sites, and cost of installation, and creating a map of current sites open to all members of the public.  Stephen Russell of the Division of Energy Resources wrote: "The work they did on methodology for locating and installing Electric vehicle supply stations was outstanding.
This work has provided additional tools for the state as we install future Charging stations locations. The map has proven to be a useful tool."
Community Solar on Waste Sites in EJ Communities Presentation
What Community Solar Can Do – BU April 2018 
https://www.google.com/maps/d/u/0/viewer?mid=1608uCvbzjEDeeY2jv4_PSbjzUrKhcsWc&ll=42.16766647173202%2C-71.81659155&z=7
"Using data developed for MassDEP by previous students, Walker Black, Alexander Seal, Katharina Voehler, Chelsea Wolgel and Undraa Zayamandakh assessed the potential for using community (shared) solar at waste sites where cleanup has not been completed and which are located in Environmental Justice communities.  The 24,000 acres that may be available for such development could produce an estimated 430 GWh/yr (supply for more than 38,000 homes), or 1,742 GWh/yr if current caps on solar development were lifted.  The revenue from developing solar at these sites could be used to complete the cleanups and reduce energy bills for EJ communities.  Students shared their results with staff of the joint committee on Telecommunications, Utilities and Energy and MassDEP, and were thanked by both branches of government for new and useful information."
Environmental Toxicology & Public Health
Bolaji Olagbegi conducted outreach to medical educators concerning our previous work highlighting the need for improving the ability of the medical community to identify when it is necessary to investigate toxic exposure as a potential causative factor of the symptoms they observe in patients, and presented her work at the Massachusetts Sustainable Communities and Campuses conference.  
Conversation about Lead Contamination
Eliandro Tavares assisted in a public conversation on actions that can be taken to reduce lead poisoning at the 2018 Springfield Fair Housing and Civil Rights conference, where he noted that participants agreed that "Much more needs to be done to make sure lead is completely taken out from our buildings and water, we need more comprehensive data on lead contamination for all buildings and pipelines so that we know the true scale of the issue, and we need to find ways to better enforce lead abatement so that cutting corners is properly punished."  The group produced a strong consensus that a "lead awareness convention" would help spread the facts about lead to everyone, outside of the group of specialists represented at the meeting.
Forest conservation reduces carbon emissions, so can you get carbon credits – payments for reducing carbon dioxide emissions – for doing it?  Robert O'Connor, Director of Conservation Services at the Executive Office of Energy and Environmental Affairs (EEA), assisted by forester William Van Doren, explained the complexities of the process, after which  Chelsea Elyse, Alexander Kerr, Samantha Morton, Alexander Seal, Katharina Voehler, Luofei Yan, and Undraa Zayamandakh contacted the established registries and produced a draft guide to accessing the market. O'Connor wrote: "Your team of interns did an outstanding job of taking on a very complex topic with little oversight from EEA and produced a very useful and important product.  Forest carbon credit projects are very complex and your student team was able to break the process into easily understandable steps and create a guide in clear and simple language that will be useful to communities all across the Commonwealth.  Olivia Sproviero, Julia Masterman, and Samantha Morton reviewed current literature on behalf of the Executive Office of Environmental Affairs on the impact of pesticides (neonicotinoids) on bees, actions that have been taken, and actions that can be taken.
Fall 2017 Projects
Summary of Scientific Literature
For the City of Boston, students contacted every municipality in Massachusetts that had instituted programs for "Community Choice Aggregation (CCA)", which allows a town or city to purchase electricity for its residents, giving them an additional choice beyond the utility's choice of source power (residents can "opt-out", or choose to remain with the utility plan).  The students found that CCA has taken many forms, some of which have provided residents with affordable ways to choose cleaner energy, and in some cases, to promote local clean energy generation, which helps the regional economy.  Students involved were: Matthew Garamella, Katharina Voehler, Bolaji Olateru-Olagbegi, Michel Silano, Casey Kelly, Yan Luofei, Madison Berman, and Daniella Meza Chavez.  Katharina Voehler also produced a case study of Brookline's program.
Community-Choice-report-final-version (2)
CCA_Brookline_Katharina_Vöhlerrr Community-Choice-report-final-version (2)
For the Boston Public Health Department, Hanaan Yazdi compared the toxicity of products for straightening hair, using the P2OASYS tool for comparing the hazards of constituent materials (https://p2oasys.turi.org/)
Yazdi_HairProducts_FinalReport
Hair Products Data Table
In support of the Executive Office of Energy and Environmental Affairs (EEA), Hunter Lambert investigated what schools and other state governments are doing to promote environmental literacy.
Also in collaboration with EEA, Samantha Morton researched efforts to promote the retention of trees in development.
Lastly for EEA, Luofei Yan evaluated efforts to assist low-income populations in purchasing or using electric vehicles.
Michael Silano, Julia Masterman, and Ruizhe Guo took different sections of a unique dataset of water quality measurements compiled over decades by former Massachusetts DEP water program developer Warren Kimball, developing different approaches to discerning trends in the information.
Spring 2017 Projects
LEAD
For the Boston Public Health Commission, students assessed the current state of lead poisoning prevention in the city of Boston. Students proposed a communication plan to help further promote public awareness of how individuals in Boston can lower their risk for lead exposure. As a result of this project, a comprehensive Lead Fact Sheet was created for local distribution.
Lead Fact Sheet Report: Communicating Lead Poisoning Prevention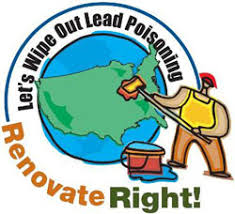 http://environmentinview.blogspot.com
TOXICS AND MEDICAL PROVIDERS
For the Boston Public Health Commission, students wrote a draft survey to assess whether medical providers investigate concerning hazardous chemicals in the home or working environment, when patients present with symptoms that could be caused by toxic exposures. The students sent their draft survey to relevant experts to receive recommendations for revisions. The revised survey is below, and a plan for using it to further the development of awareness of what symptoms should be considered indicators of the need for an investigation of the cause of symptoms.  Future work may focus on how to conduct investigations to determine the source of exposures. 
Clinician Understanding Report and Survey Attachments: Clinician Recommendations and Revisions
TOXICS IN BLACK WOMEN'S HAIR PRODUCTS
For the Boston Public Health Commission students were tasked with analyzing the information on the toxicity of hair products for women of color and researching the availability of safer, alternative products. In order to discover safer alternatives, students researched the chemicals in hair products to find the most problematic ingredients, and compared these chemicals to the products on the market in over the counter hair relaxers and straighteners. This research was used to create a matrix of information on the risks associated with the toxic chemicals found in these products, and lists available alternatives. Because there are a limited number of available alternatives, the students are looking forward to further research and created a sample query letter to help consumers reach out to companies themselves about the toxicity of ingredients in products.
Summary Report Query Letter BPHC Matrix
ENVIRONMENTAL JUSTICE
Taking the Sample Municipal Environmental Justice Ordinance that was created during the Fall 2016 semester, students investigated ways to improve the ordinance. Students contacted Environmental Justice leaders, professionals and educators to gather recommendations for improving the EJ ordinance. As a result of discussions with experts, students recommend emphasizing community economic development and affirmative efforts to engage affected citizens, and including a small fee in the development permit application process to fund community monitoring that supports cumulative impact assessment.
SOLAR AT WASTE SITES
Students researched the feasibility of community solar projects at waste sites in Massachusetts and identified potential high-priority sites based on Environmental Justice criteria. Case studies were done on four waste sites to investigate the site cleanup progress, history, and suitability for solar. Students sought to identify a potentially responsible party and groups that may be interested in the development of such a project at each waste site. The research was compiled in the report below.
WASTEWATER AND WATER QUALITY
Students used Enforcement and Compliance History Online (ECHO) and EPA's Discharge Monitoring Reports (DMR) to find indications of pollutant discharges above permitted limits.  This data was then cross-referenced with Environmental Justice indicators (ex. minority, income, English isolation) to observe where possible violations were occurring in EJ communities.  This data was both graphed and mapped, using GIS, to suggest areas for applying the regulatory process of assessing total maximum daily loads (TMDLs).
Wastewater Discharge and Impaired Waters
Fall 2016
ENVIRONMENTAL JUSTICE
For the Civil Rights Division of the New England Region of the US Environmental Protection Agency, students wrote an example of a municipal EJ policy to serve in the development of a model policy. The sample policy includes requirements for transparency, active efforts to inform and engage the public, and the implementation of an "Environmental Justice Community Impact Assessment" triggered by disproportionate impact.  The impact assessment also includes strong provisions for good faith examinations of alternatives.  The policy, a work in progress, is below.  Please send comments or suggestions to rreibste@bu.edu.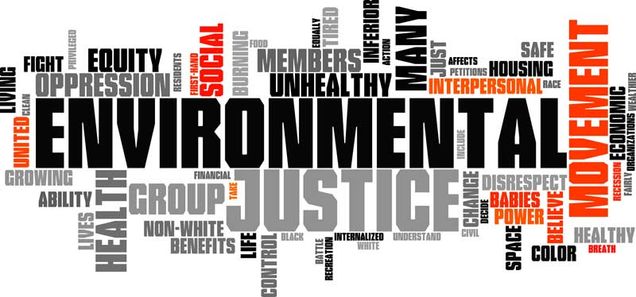 http://cedamichigan.org
SOLAR CANOPY
At the request of the Massachusetts Department of Energy Resources' Leading by Example (Lbe) program, students were tasked with collecting and analyzing information on the practical aspects of installing solar canopies. Solar canopies are ground-mounted solar panels placed above parking lots or other non-building locations. Student researchers gathered data from numerous solar canopy vendors and sellers throughout the region, specifically regarding the design/structure, construction costs and operations of solar canopy installation, in order to garner a better understanding of the advantages and setbacks associated with establishing canopies. The goal of this project was to provide the Department of Energy Resources with a set of practical recommendations based on the students' evaluation of the data, as Lbe prepares to launch its' Solar Incentive Program.
Lbe Solar Canopy Survey Assessment Report
WASTEWATER DISCHARGE
Students used Enforcement and Compliance History Online (ECHO) and the EPA's Discharge Monitoring Report (DMR) to identify facilities that were non-compliant and whose discharging pollutants could be contributing to the impairment of their respective water-bodies.  This data was both graphed and mapped, using GIS, to analyze these trends, isolating cases of noncompliance and areas for TMDL remediation.  The students also took note of discrepancies between data sets and usability of the programs to provide suggestions/improvements to EPA.  Moving forward, we are looking forward to more in-depth analysis into the already identified water-bodies and new ones.
Other Fall 2016 Projects
LEAF BLOWERS
Also for the Leading by Example program, students gathered information on replacing gas-powered leaf blowers and lawn care equipment with new electrical versions, which are quieter and which do not have air-polluting emissions.  The information, sufficient for the writing of specifications in purchase contracts, was also provided to the state's purchasing office, which will query existing vendors on whether they can supply such equipment.  That office informed the students that the information provided was sufficient for the process to be begun.
stihlusa.com
WASTE SITE VULNERABILITY TO CLIMATE CHANGE
At the request of the Bureau of Waste Site Cleanups of the Massachusetts Department of Environmental Protection (MassDEP), students examined information about existing waste sites where clean up has not been completed, and information about areas where increased storm frequency and intensity is likely to cause flooding, to identify waste sites where action should be taken to prevent the dispersal of contaminants.  This was a continuation of a project begun in Spring, 2016, that demonstrated the value of using GoogleEarth for this task.  In this semester, students used a GIS system, which DEP uses, and narrowed the analysis to sites where particular operations are in progress that require continued power to operate.  DEP asked if it would be possible to present the results to the Licensed Site Professionals Association, as it would be of value for all cleanup professionals to see it.
---