Advanced expertise.Media Science
The MS in Media Science will be replacing the MS in Mass Communication: Communication Studies in Fall 2019. Students enrolled in the program prior to Fall 2019 can find their degree requirements at the Boston University Academics Website.
You love media. Why not? It's an expanding, exciting, exhilirating field that just keeps growing. By mastering the social scientific study of media, from media design and content creation, message development and dissemination, to social media management and analysis and evaluation of media performance, you'll gain expertise applicable to a number of professional positions as well as preparation for PhD study. Media Science prepares you for whatever the rapidly changing communication field brings next, including jobs that may not yet exist.
Take the next step.
Follow us on social media.
---
Communication: the foundation.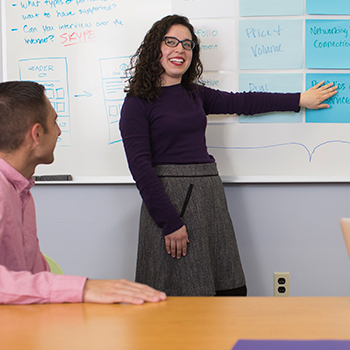 Acquire a foundation in the study and application of media theory, as well as media and content design and evaluation. Develop skills that include creating, distributing, and evaluating media messages in a strategic manner. Our Master of Science in Media Science prepares you for a career in strategic media areas: media design and content creation, message development and dissemination, and analysis and evaluation. The program positions you well for careers in firms specializing in media, advertising, public relations, marketing communication research, political campaigning, health communication, and international communication. Some students may choose to continue their studies and pursue a PhD.
This is a three-semester program with 8 required courses that will give you a background in media writing, media theory, communication research methods, as well as media law and policy, design strategy and software, and social media management. You'll also choose a course in either political campaigns, health campaigns, or marketing communication. With your 4 electives, you can further explore the many avenues of communication and decide which path is right for you.
At COM, you'll learn from practicing professionals as well as leading communication scholars. Our faculty is large and diverse in their professional experience and research areas. We have a wide choice of courses so you can tailor your COM education to your interests.
---
Make location work for you
Access one of our greatest resources: Boston. It's the nation's seventh-largest media market. Some of the world's foremost advertising, media, marketing and communication firms call it home. Boston is a major center for high tech, medicine, finance, biotech, and education. There's great culture, sports, entertainment and social life. Boston is a stimulating environment with a wealth of interning and career opportunities.
And, then, there's Boston University itself, a member of the Association of American Universities (AAU), an elite organization of 61 leading research universities in the United States and Canada. In the Boston area, only Harvard, MIT and Brandeis are also members. Take advantage of the extraordinary resources and intellectual opportunities. And join a vibrant, diverse student population.
---
It's all about your career
Once you've earned your master's, you'll be a graduate both of a highly ranked communication college—COM—and an internationally renowned university—Boston University. You'll have a strong, solid, valuable foundation of communication knowledge. And you'll join a network of alumni that have excelled in virtually every field of the communication industry around the world. Your fellow alumni form a great professional resource throughout your career.
If you're interested in a career in communication, you should be interested in Boston University College of Communication.