The Boston University Bachelor of Science in Film & Television is your path to create, manage or study the world of visual storytelling through film, television and video.
You'll take courses that provide a broad foundation in motion picture writing, visual literacy and studies. But the majority of your courses can be tailored to fit your interests and career goals. Choose your focus: Production, Screenwriting, Film and Television Studies or Management/Producing.
Take additional courses in production or screenwriting. Pursue a minor from the vast offerings across BU. You may even have the opportunity to work on a production as an assistant on camera, lighting, sound, casting or editing.
It's wide open.
Scholars and Makers
COM professors, as a group, offer a rare combination of academic rigor and industry experience — a mix that enriches student education. They are widely published in both the academic and popular press. They have written, directed and produced feature films and national television series.
Our faculty offer years of experience teaching and mentoring new generations of film and television enthusiasts preparing for their careers. You'll work closely with a team of award-winning producers and writers who have written for popular primetime dramas and sitcoms. We have a track record of educating executives, writers, and producers at the very highest levels of the television industry.
Reel Resources
Opportunities for experience abound. Put your skills to the test by working at our own student-operated station, butv10, and our own in-house, student-run agency, Real World Productions.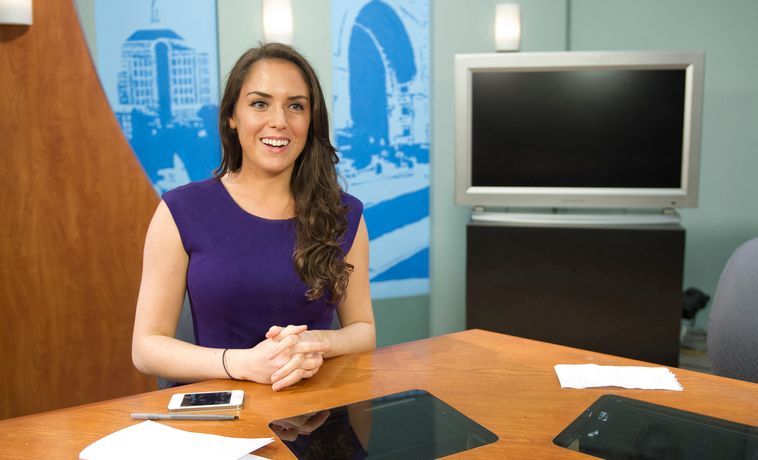 Student Groups
butv10
butv10 is Boston University's student-led video content production and distribution network.
Learn More

About butv10
Attend Cinemathèque, COM's series of screenings and conversations with film- and television-makers, and enjoy full access to BU's Kasker film and video resource center with 16mm prints and rarities at the Mugar Memorial Library on campus. Enjoy complimentary screenings, too, at the nearby Harvard Film Archive, the Museum of Fine Arts and the Brattle Theatre.
Students in the program often land summer internships with area television studios such as GBH, producer of national PBS programs, or attend BU study programs in London, Sydney and beyond. Our summer internship program in Los Angeles is especially popular and frequently leads to finding your first job in the industry.
East Plus West
Consistently ranked among the most livable cities in the world, Boston is a Top 10 U.S. media market, and home to some of the world's best creative agencies, media companies and leading employers. Many Film and Television students at COM choose to spend a summer or semester in Los Angeles, the world capital for entertainment media, through Boston University's renowned LA program.
Purpose Driven
COM stands out from our peers. Our faculty offers a mix of researchers and practitioners who endorse a cross-discipline, hands-on approach to learning. Our location lies at the heart of an electric, media-savvy city.
But it may be COM's shared values that matter most. We believe that communication requires diversity, critical thinking, and creative expression. We believe that communication must be grounded in truth, authenticity, effectiveness, and purpose. We believe that communication builds understanding among people and across society.