No GRE Required.
The Boston University Master of Fine Arts in Film & Television Studies offers you a chance to study what you love -- and then turn that passion into a career.
COM's four-semester MFA program inspires students to view the field's changing landscape from multiple perspectives. You'll develop a critical eye for film, television, podcasts, and online media as art forms and commodities while examining their historical, political, and sociocultural dimensions.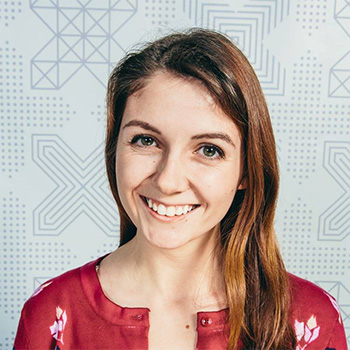 With only four required classes, students focus on aspects of the field that most appeal to them as they prepare for future professional and academic success. Possible topics to explore: film and television history; critical and cultural theory; the media industries; American independent film; avant-garde film and experimental media; sports media; religion and television; queer theory; and popular genres such as comedy and horror.
Students find a special emphasis on television history and industry and on global cinema history—particularly the films of Latin America, Western Europe, and Asia—as well as courses on international movements and new waves.
Scholars and Makers
COM professors, as a group, offer a rare combination of academic rigor and industry experience -- a mix that enriches film and television student education. They are widely published in both the academic and popular press, and offer years of experience teaching and mentoring new generations of film and television enthusiasts preparing for careers and further study.
Reel Resources
Opportunities for experience abound. Students attend Cinemathèque, COM's series of screenings and conversations with filmmakers and television-makers, and have full access to BU's Kasker film and video resource center with 16mm prints and rarities at the Mugar Memorial Library on campus. They enjoy complimentary screenings, too, at the nearby Harvard Film Archive, the Museum of Fine Arts and the Brattle Theatre.
The program also offers a structured teaching assistantship experience with training to help you develop your skills in the classroom. If you aspire to enter a PhD program, our one-on-one mentorship and professionalization workshops help prepare you for this next step.
Benefit from Boston
One of BU's greatest resources is its location. Consistently ranked among the most livable cities in the world, Boston is "America's college town," a city rich in history while remaining on the cutting edge. Boston is a Top 10 U.S. media market, and home to some of the world's best agencies, media companies and leading employers -- offering boundless opportunities for internships and careers.
COM fact
com among top 15
of film schools in the United States, according to the Hollywood Reporter.
Purpose Driven
COM stands apart from our peers in many ways. Its faculty mix of researchers and practitioners. Its cross-discipline, hands-on approach to learning. Its location in the heart of an electric, media-savvy city.
But it may be COM's shared values that matter most. Our community holds that communication requires diversity, critical thinking, and creative expression. That communication must be grounded in truth, authenticity, effectiveness, and purpose. And that communication builds understanding among people and across society.