Program notes
No GRE required.
Merit scholarships available, with no additional application required
International students: This program is eligible for the OPT STEM extension.
The Boston University Master of Science in Media Ventures teaches you the skills, strategy and process of developing your ideas to build a successful career — and create the media's future along the way.
After all, the future belongs to the innovators. The dreamers who are also do-ers. It starts with creativity at the convergence of media and technology. Ideas that not only cross platforms, but anticipate new ones.
But it also means knowing how to apply those ideas. That's what being a do-er is about. And that's what the MS in Media Ventures is about, too.
One Year, Two Coasts
As part of the program, you'll have the opportunity to complete two internships at start-ups or traditional media companies. You'll gain crucial real-world experience and a network of industry contacts.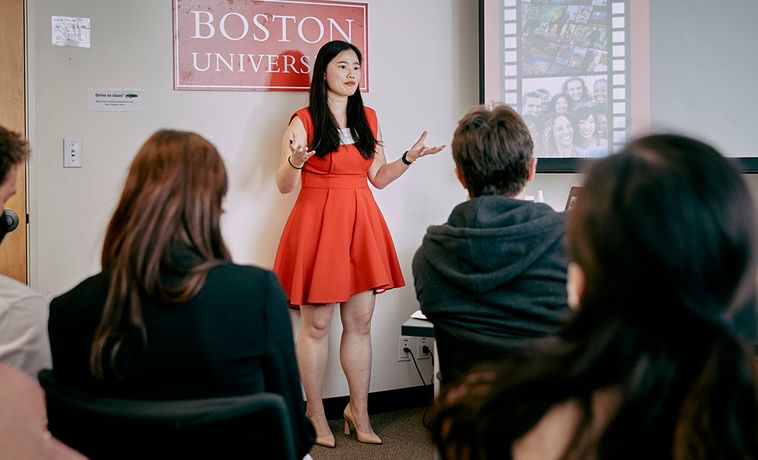 The MS in Media Ventures program takes 12-months over three semesters to complete. Spend the fall in Boston, taking classes, honing your innovation skills and developing your thesis project. Then in the spring, head to Los Angeles to experience innovation in the entertainment industry. During the summer semester, all Media Ventures students complete an internship and gain industry contacts in Los Angeles.
This is no passive program. Designed by leading media executives, the MS in Media Ventures curriculum is very much hands-on and career-oriented.
Start with an idea and build it out over the course of the program. Learn the process of taking an idea from concept to the market. Then, pitch it to a panel of leading media executives and entrepreneurs. Media Ventures faculty, COM alumni, and biz-savvy mentors coach you through the process, one on one.
Program at a Glance
What you will learn:
Strategies to bring new ideas to the media marketplace.
How to use content and technology to create something original and profitable.
Practical entrepreneurial tools needed to test and refine a new venture concept or existing product innovation.
Coursework includes:
The Media Money Trail
Fundamentals of Interactive Media
Market Analysis for Creative Ventures
Creating New Ideas
Entertainment Marketing and Promotion
Careers in the Entertainment Industry
Graduate Media Ventures Seminar
Thesis Project
Two Professional Internships (in Los Angeles)
Ready to follow in the footsteps of alums working in strategic, creative positions at places like Hulu, Apple, YouTube, Bloomberg, Twitter, and Pluto TV? Get the know-how, skills and confidence to launch the next phase of your career.
com fact
More than 95%
of COM graduate students are working in jobs related to their degree.
Purpose Driven
COM stands out from our peers. Our faculty offers a mix of researchers and practitioners who endorse a cross-discipline, hands-on approach to learning. Our location lies at the heart of an electric, media-savvy city.
But it may be COM's shared values that matter most. We believe that communication requires diversity, critical thinking, and creative expression. We believe that communication must be grounded in truth, authenticity, effectiveness, and purpose. We believe that communication builds understanding among people and across society.
Meet the Class of 2022
BU Media Ventures Social Media Accounts