The Redstone Film Festival is the BU Department of Film and Television student film festival held each Spring and is sponsored by the Sumner Redstone Foundation.
This year's festival will be held at 7 pm, Friday, March 31, 2023, at the Tsai Performance Center, 685 Commonwealth Avenue, on the Boston University campus.
The festival has been running for over thirty years. Awards for the festival winners are sponsored by Canon and The Redstone Foundation. The festival is recognized as one of New England's premiere film and television venues and features film projects written and directed by graduate and undergraduate students in the Department of Film and Television.

Over the years, the winners and finalists have turned out to be some of America's most successful directors, screenwriters and producers. Many films screened at the Redstone Film Festival have been nominated in and won in film festivals all around the world. Two have even earned Academy Award nominations.
2022 Highlights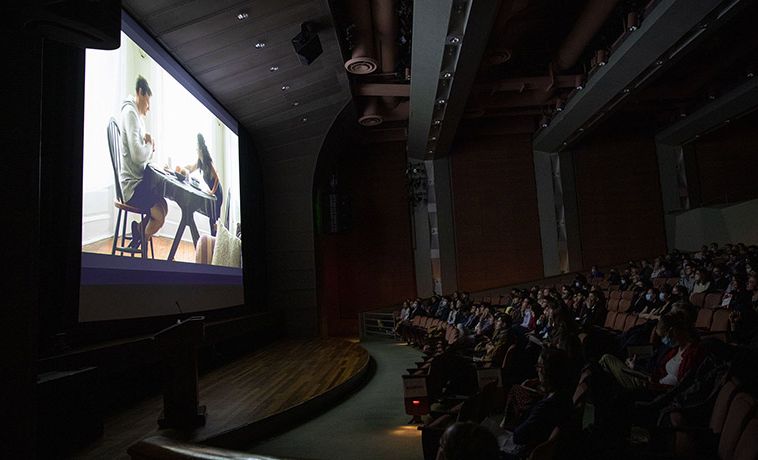 Selected Past Winners
Josh Safdie and Benny Safdie, Co-Directors and Co-Screenwriters (Uncut Gems, recipient of Independent Spirit Award for Best Director and chosen by the National Board of Review as one of the top ten films of 2019)
Gary Fleder, Writer and Producer (Homefront, Lincoln Rhyme: Hunt for the Bone Collector)
Henry Hughes, Director (Day One, Academy Award nomination for Best Short Film 2015)
Nora Grossman, Producer (The Imitation Game, nominations for the Academy Award for Best Picture, the BAFTA Award for Best Film, and the Producers Guild of America Award for Best Theatrical Motion Picture)
Chiemi Karasawa, Director and Producer (Elaine Stritch: Shoot Me)
Richard Gladstein, Producer (The Hateful Eight, Cider House Rules, Finding Neverland, The Bourne Identity with two-time Academy Award nominations for Best Film film)
Scott Rosenberg, Screenwriter (High Fidelity, Con Air, Beautiful Girls, Writers Guild of America Award for Television: New Series)
Jennifer Getzinger, Director (MadMen)
The Redstone Film Festival premieres on the BU campus each spring, playing to a sold-out audience of students and friends from across the BU community.
Award categories:
Best Film (First, Second, Third Place)
Best Actor (new this year)
Best Cinematography
Best Screenplay
Best Editing
Best Sound Design