Faculty, Staff, and Students to Be Honored at 2023 Convocation
.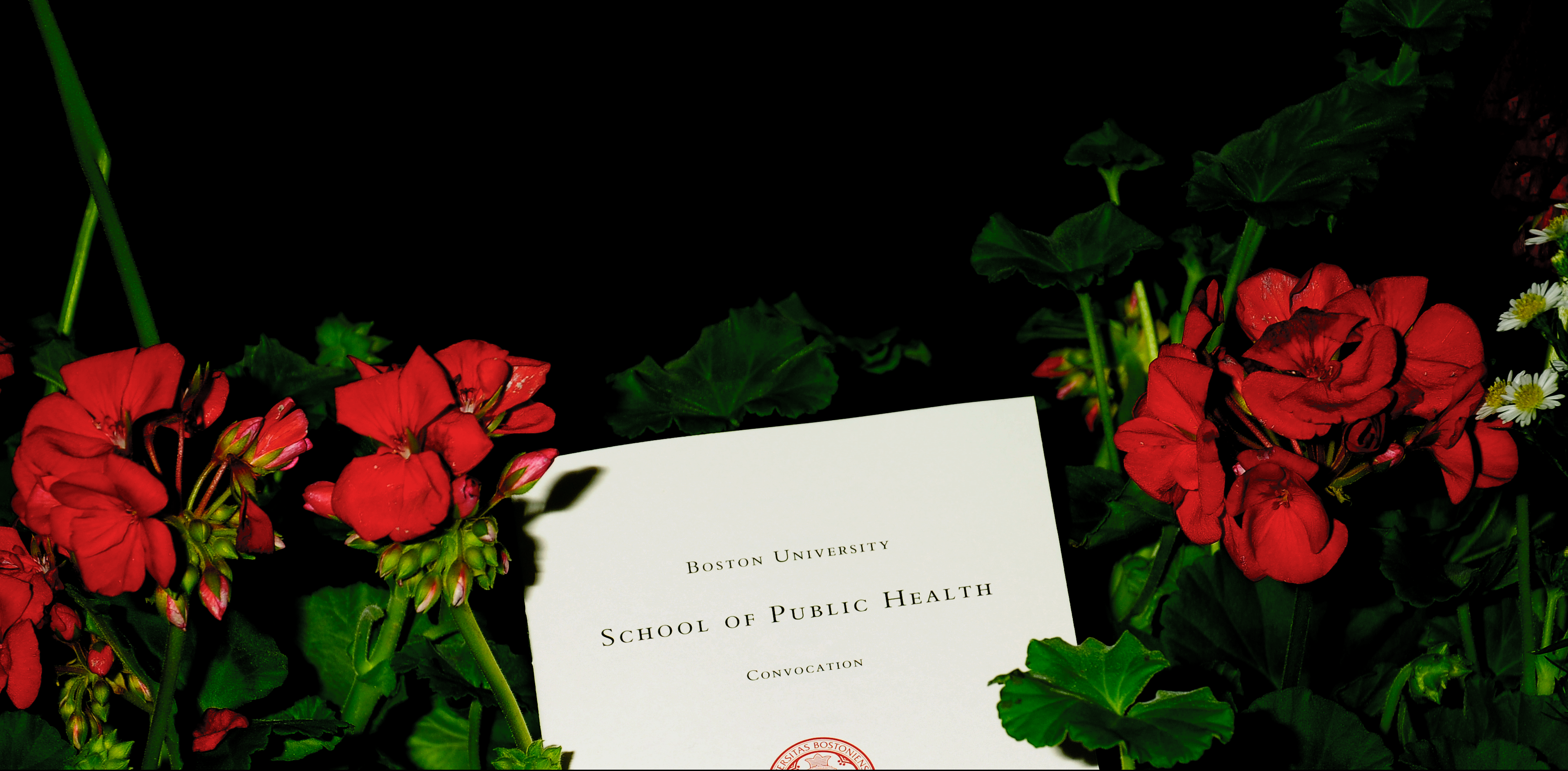 faculty honors
Faculty, Staff, and Students to Be Honored at 2023 Convocation
Tomeka Frieson, Jacqueline Hicks, Patrick Kinney, Michael Saunders, Jacey Greece, and Nina Cesare will receive awards.
In recognition of exemplary contributions to the SPH community, congratulations to the following members of the School of Public Health community who will be honored with awards at the 2023 SPH Convocation.
Event Details
2023 Convocation
Congratulations to all BUSPH graduates and awardees! You did it. We are excited to celebrate this great achievement with you. Find details for graduates.

Track & Tennis Center 100 Ashford St, Boston, MA 02215
Tomeka Frieson, an MPH graduate, is the winner of the 2023 Leonard H. Glantz Award for Academic Excellence.
The Glantz Award is the highest award granted to a graduating MPH student at SPH. The award is named in honor of Leonard H. Glantz, emeritus professor of health law, bioethics & human rights, who served for 30 years as academic dean and demanded rigorous standards in curriculum and teaching throughout the academic program.
Glantz Award winners are nominated by faculty, and demonstrate exceptional academic performance, seriousness, and professionalism in public health.
Originally from Birmingham, Alabama, Frieson studied ecology, evolutionary biology, and the history of science, medicine, and public health at Yale before moving to Boston to study CAPDIE (Community Assessment, Program Design, Implementation, and Evaluation) and maternal and child health at SPH.
As a practice fellow with the Maternal and Child Health Center of Excellence, she played a key role in developing, executing, and promoting the Partnering for Equity and Empowerment through Research and Support program (PEERS—an acronym Frieson devised). Through PEERS, she interviewed patients in the pediatric emergency department at Boston Medical Center to identify any unmet health needs and provide referrals to appropriate resources.
Frieson also found the time while a graduate student and MCH fellow to serve as a student ambassador, teaching assistant (twice), and president of the student organization Students of Color for Public Health, as well as continue her undergraduate research on support for Black individuals who breast/chestfeed in New Haven, Connecticut.
Frieson's faculty nominators were in awe of her exceptional intellect, generosity of spirit, and dedication to service. They reported that she stands out as one of the top students they have ever worked with in their combined decades of experience in academia. Both noted that Frieson aspires to pursue an MD/PhD to become a public servant and scholar activist. "[Frieson] has the substance and grit to back up her aspirations. She is one I will watch for years to come," wrote one faculty nominator.
Jacqueline Hicks, clinical associate professor of biostatistics, is the winner of the 2023 Norman A. Scotch Award for Excellence in Teaching.
Named after SPH's founding dean who worked to make education a hallmark of the School, the Scotch Award is presented annually to an individual who has made outstanding and sustained contributions to the education program at SPH.
Hicks earned her PhD in biostatistics at SPH in 2014. Since joining the faculty, she has been the recipient of numerous teaching awards, including the Outstanding Teaching Award from the American Statistical Associations' Section of Teaching Statistics in the Health Sciences. She instructs several quantitative methods and statistical computing courses at SPH as well as lectures in the Department of Computer Science in the Metropolitan College.
In a nomination letter, one of Hicks' former MPH students lauded her ability to support students in learning difficult topics and shared that "even if [students are] in another section of BS 723 (Introduction to Statistical Computing), they will watch Professor Hicks' lectures in order to reinforce their understanding of concepts because she teaches these concepts so skillfully."
Hicks' dedication to biostatistics education frequently goes beyond the classroom; she both co-directs the MPH certificate in Epidemiology and Biostatistics and conducts research on the use of new pedagogical techniques to teach introductory biostatistics courses to graduate students. During the summer, she shifts her focus to younger students, teaching and mentoring undergraduates at BU's Summer Institute for Research and Education in Biostatistics and running the Public Health and Biostatistics Lab series at BU's Upward Bound Math Science, a college-preparatory program for low-income, first-generation students from Boston-area high schools. In 2022, Hicks was honored with a feature in Mathematically Gifted and Black, a website designed to celebrate the achievements of Black scholars in the mathematical sciences.
Patrick Kinney, Beverly A. Brown Professor of Urban Health in the Department of Environmental Health, is the winner of the 2023 Faculty Award for Excellence in Research and Scholarship.
This honor is given annually to recognize a faculty member for a distinguished body of scholarly or scientific work on a specific topic or within a general area of expertise.
Trained as an air pollution epidemiologist, Kinney joined the School of Public Health in 2017 after two decades at the Columbia University Mailman School of Public Health, where he founded the first interdisciplinary research and teaching program in climate and health. During his time at Columbia, Kinney's work focused on the potential impacts of climate change on human health, including, for example, how extreme temperatures affect people living in cities. After coming to SPH, Kinney expanded the focus of his research to the health co-benefits of taking action to solve the climate crisis.
Over the course of a career spanning more than three decades, Kinney has published nearly 400 articles in peer-reviewed literature, including many highly cited studies on the link between climate, air pollution, and adverse health outcomes. He is co-author of the highly visible Lancet Countdown on Health and Climate Change and has contributed to a numerous EPA, IPCC, and WHO reports. In 2021, he was named one of the top climate scientists in the world by Reuters.
Kinney's nominators report that his reputation as an excellent scholar and mentor attracted other researchers in the field to join the faculty at SPH and together, they launched the Center for Climate and Health and developed a new contextual MPH certificate in climate and health. One nomination letter reads, "BUSPH did very little research related to climate and health before Pat arrived, and 6 years later, has become arguably the leading institution in the country in this area."
Michael Saunders, director of editorial content in the Office of Marketing and Communications, is the winner of the 2023 Dzidra J. Knecht Staff Award for Distinguished Service.
The highest award for school service that can be given to a staff member at SPH, the Knecht Award recognizes staff who have made outstanding and sustained contributions to the administrative functioning of their departments and therefore the School. It is named in honor of Dzidra J. Knecht, the School's first associate dean for administration, who spent 30 years working for the University, 20 of them at SPH.
From covering music and culture at the New York Daily News, to reporting on government and copy editing at the Sun-Sentinel in South Florida, to producing and coordinating multimedia enhancements for arts content at the Boston Globe, Saunders had more than 20 years of journalism experience when he joined the Office of Marketing and Communications at SPH in 2011.
In his 12 years at the School, Saunders has demonstrated the meaning of service to students, staff, and faculty alike. His nominator writes that his broad skillset means he can go from a press request to a podcast editing session with ease. He regularly participates in mock press interviews and media trainings with SPH students, serves as a mentor to Public Health Post fellows, and manages a longstanding partnership with the CAS internship program. Endlessly proud of the work of SPH faculty and instantly able to name faculty experts on any given topic, his nominator called him "our resident SPH historian."
Saunders' colleagues endorse the joy and energy he brings to the office as well as the wholehearted support he has for their professional growth. His nomination letter reads, "[Saunders] never says 'no' to a request; he asks, 'How can I help?'" For example, he has taken on the challenging responsibility of writing In Memoriams for beloved SPH faculty members who have passed away. Many staff members can attest to Saunders' leadership following the death of Professor David Jones while navigating his own grief, wrote his nominator. "It is colleagues like [Saunders] that make a workplace a supportive, caring environment."
Jacey Greece, clinical associate professor of community health sciences, is the winner of the 2023 Award for Excellence in Public Health Practice.
This honor is presented annually to a faculty or staff member who has made outstanding and sustained contributions to the health of populations through advocacy work, community engagement, and/or public policy endeavors.
A past recipient of both the SPH Educational Innovation Award and the SPH Excellence in Teaching Award, Greece takes a creative approach to the instruction of her courses in health behavior theory, intervention planning, health communications, and epidemiology. Her emphasis on field-based consultancy and case method teaching helped to inform the PBT STEPS Framework for practice-based teaching (PBT), which has been widely published and employed in various classroom settings and disciplines.
Greece also co-developed SPH's Collaborate.Health website, which facilitates and showcases student projects that tackle real-world public health problems in collaboration with partnering organizations all over the world. For example, in her SB806 Communications Strategies for Public Health course, students develop an intervention and communications plan to address a real-world public health challenge faced by a public health agency, such as the Tennessee Department of Health or the Winthrop Health Department.
In a nomination letter, one of Greece's prior SB806 students wrote, "Through her community engagement and advocacy work, [Greece] has been working to create lasting improvements in the health of our local community—not just with regards to her impact on the larger Boston and Tennessee communities, but also her impact on students, who will then go out into the community as public health practitioners to make their own impact."
Nina Cesare, research scientist at the Biostatistics and Epidemiology Data Analytics Center, received the Diversity, Equity, Inclusion, and Justice Award.
A new addition this year, the award honors a faculty or staff member who has done extraordinary work promoting diversity, equity, and justice, and cultivating a culture of inclusion throughout the School.
As a leader of the DEIJ committee at BEDAC, Cesare helps to curate resources and plan events for BEDAC staff to advance their understanding of health equity. A DEIJ wiki maintained by the committee serves as a platform for sharing educational content and promoting volunteer opportunities while journal/documentary and reading clubs the committee formed engage staff with media that provides historical context for current health disparities and information on how to conduct research conscious of bias. Cesare recently guided staff through a discussion on the book ­­So You Want to Talk About Race by Ijeoma Oluo. Her nominator writes that Cesare's commitment to cultivating a culture of inclusion and willingness to have open, constructive, and sometimes difficult dialogue has positively affected many in her department and beyond.