MCH Center of Excellence
Welcome to the Boston University School of Public Health Center Excellence in Maternal and Child Health 
Since 1995, we are very proud to be 1 of 13 MCH Center of Excellences (MCH CoE) in the US to be funded by the Maternal and Child Health Bureau of Health Resources Service Administration (HRSA). We are happy to announce that our Center has received our sixth round of funding through 2025 from the Maternal and Child Health Bureau of the Health Resources & Services Research Administration.
As a Center, we offer specialized leadership, research, education and practice programs to provide undergraduate and graduate students at BU who are pursuing MCH education. By offering this opportunity, our Center is able to provide our students a leg up in their ultimate aim: to prepare for a dynamic career in MCH such as designing and managing community programs, advocating for national policies, developing communication strategies, and/or participating in research with an international Non-Governmental Organization.
---
Podcast Launched – New Episodes, Monthly!
The Center launched our first season of C2: Critical Conversations that Lie at the Heart of Health Justice. These episodes serve to generate conversations in classrooms and living rooms about issues and strategic solutions critical to the health of communities and families, focusing on how we can achieve health justice as a collective.
The production of this podcast was supported by Grant 6-T76MC00017-27-01 from the Health Resources and Services Administration (HRSA) of the U.S. Department of Health and Human Services (HHS).  Its contents are solely the responsibility of the host and guests of this podcast episode and do not necessarily represent the official views of HRSA or HHS.
Listen on Various Platforms:
---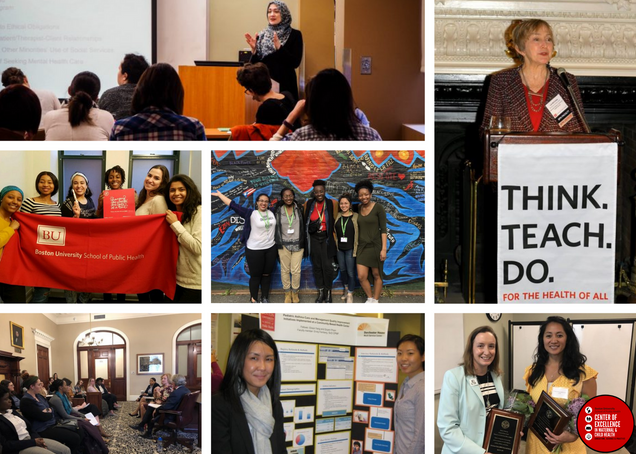 Our overall Center goals and activities fall within the following domains:
Trainee Support

Increasing Workforce Diversity, Eliminating Health Inequalities

Inter-Professional Education

Research Generation, Translation, and Dissemination

Partnerships: Collaboration, Continuing Education, Technical Assistance, Increasing Capacity, Interchange with National CoE Partners
---
Programs Available:
Diversity Scholars Leadership Program (DSLP)
Inter-Professional Education (IPE)