Graduate Employment and Practicum Data
SPH graduates work in a variety of exciting roles all over the globe. Below is employment data for 2016 academic year which includes September 2015, January 2016 and May 2016 graduating classes.
2016 Graduate Employment Data
N=333 (97% known data)*
93% employed full-time or pursuing advanced education within 6 months of graduation
$57,850 Average Salary**
83% – Employed with a focus on domestic public health (U.S.)
17% – Employed with a focus on global health (outside of the U.S.)
*Graduates employed in same job after program completion are not included.  "Known" data includes 77% collected from graduates, and 20% collected from LinkedIN and school-wide sources such as faculty.
**Represents average salary for graduates who opted to share salary information. We do not include MD/MPH or JD/MPH salary data in our average salary number.

Partial Listing of New Graduate Positions
Research Associate, Adelphi Values
Program Coordinator, Alosa Health
Implementation Specialist, Altarum Institute
Consultant, Altius Strategy Consulting
Senior Program Manager, AMCHP
Public Health Fellow, ASPPH/CDC
Project Associate, athenahealth
Associate Consultant, BCBS Association of Chicago
Biostatistician I, Beth Israel Deaconness Hospital
Clinical Trial Coordinator, Biogen
Analyst, Blue Cross Blue Shield of Massachusetts
Shield Emerging Leader, Blue Shield of California
Clinical Research Specialist, Boston Children's Hospital
Biostatistician, Boston Children's Hospital
Epidemiologist/Biostatistician, Boston Collaborative Drug Surveillance Program
Data Quality Specialist, Boston Medical Center
Program Coordinator, Boston Public Health Commission
Health Science Specialist, Boston VA Healthcare System, MAVERIC
Health Equity Research Assistant, Brigham and Women's Hospital
Public Health Advisor, CDC ORISE
CDC/CSTE Applied Epidemiology Fellow, CDC/CSTE
Finance Operations Analyst, CharterCARE Health Partners
Population Health Epidemiologist, Cheshire Medical Center/Dartmouth-Hitchcock Keene
Research Data Analyst, ChildObesity 180
Biostatistician, Children's Hospital Los Angeles
Research Associate, Clayton Christiansen Institute
Clinical Operations Project Manager, ClinEdge
Injury Prevention Specialist, Colorado Department of Public Health & Environment
Informationist, Columbia University Medical Center
Health Policy Associate, Community Service Society of New York
Consultant, Cope Solutions
Administrative Fellow, Dana-Farber Cancer Institute
Program Administrator/Breast Oncology Program, Dana-Farber Cancer Institute
Associate Epidemiologist, Decision Resources Group
Administrative Fellow, Delaware valley ACO
Experienced Consultant, Deloitte
Health Policy Fellow, Department of Health and Human Services
Infectious Disease Medical Writer, EBSCO
Senior Research Associate, Endpoint Outcomes
Foundation Fellow, Episcopal Health Foundation
Advisory Consultant, Ernst & Young
Health Informatics Analyst, Harvard Pilgrim Health Care Institute
Project and Research Coordinator, Health Care For All
Medical Fellow, Health Center in India
Health Program Specialist, Health Clinics of Utah
Data Analyst, Health Dialog
Health Educator, Health Management Resources
Manager for Quality and Payment Strategy, Health Policy Commission
Research Analyst III, Human Services Research Institute
Analyst, Pricing and Market Access, ICON
Policy Associate, Institute for Health Policy

Project Coordinator, International Society for Disease Surveillance

Program Associate, Izumi Foundation

Associate Business Analyst, Johns Hopkins ARAMCO Hospital, Saudi Arabia

Healthy Communities Consultant, JSI Research & Training Institute

Research Associate, Kuwait Institute of Scientific Research

Development Associate, Last Mile Health

Policy Analyst, Legislative Policy and Research Office – Oregon State Legislature

Subject Matter Expert, Quality Risk Management, Lonza Biologics

Epidemiologist I, Maryland Department of Health and Mental Hygiene

Epidemiologist, Massachusetts Department of Public Health

Project Manager, Massachusetts General Center for Global Health

Finance/Administrative Fellow, Massachusetts General Hospital

Manager, Healthcare Policy, Massachusetts Health & Hospital Association

Health Economics Specialist, Medtronic

Research Study Assistant, Memorial Sloan Kettering Cancer Center
Study Manager, Merck
M&E and Operations Manager, Midwives for Haiti
Director of Development, Mothers Without Borders
Biostatistician, New England Research Institute
Quality Assurance and Performance Improvement Analyst, New York Presbyterian Hospital
District Health Evaluator, NYC Department of Health and Mental Hygiene, Center for Health Equity
Operations and Policy Analyst, Oregon Health Authority
Consultant, PA Consulting Group

Analyst – Family Planning/Reproductive Health, Palladium

Senior Analyst, Partners Healthcare

NCD Synergies Program Coordinator, 

Partners in Health

Program Director, Peer Health Exchange
Research Associate, Pfizer Inc.

Program Coordinator, Population Council

Assistant Director of Evaluation, Roca Inc.

Associate Real-World Data Analyst, Roche Molecular Systems

Community Health Outreach Worker, San Francisco Unified School District

Publication Manager, Seqirus
System Administration Leader. Shire
Solution Launch Analyst, SHYFT Analystics

Environmental Health Manager, South Carolina Department of Health and Environmental Control

Project Manager, Stanford Center for Digital Health

Design and Business Development Associate, Stanford Medicine X
Consultant, Sterling Planning Alliance

Program Coordinator, SUNY Upstate University Hospital

Operations Lead, Synapse Energy Economics
Statistician, Texas Health and Human Services Commission
Senior Research Analyst, The Advisory Board Company
Research Consultant, The Lewin Group
Senior Analyst, Towers Watson
Senior Substance Use Coordinator, Town of Needham
Tobacco Health Equity Research Associate, Truth Initiative
Health Care Analyst, Tufts Health Plan
Program Officer, US Institute of Peace
Development and Communications Associate, Upstream USA
Project Coordinator, URC (University Research Center)
ORISE Research Fellow, US Army Institute for Surgical Research
Project Manager, VA Boston Healthcare System
Case Manger, Vertex Pharmaceuticals
Clinical Research Coordinator, Washington University School of Medicine
---
2016 Practicum Data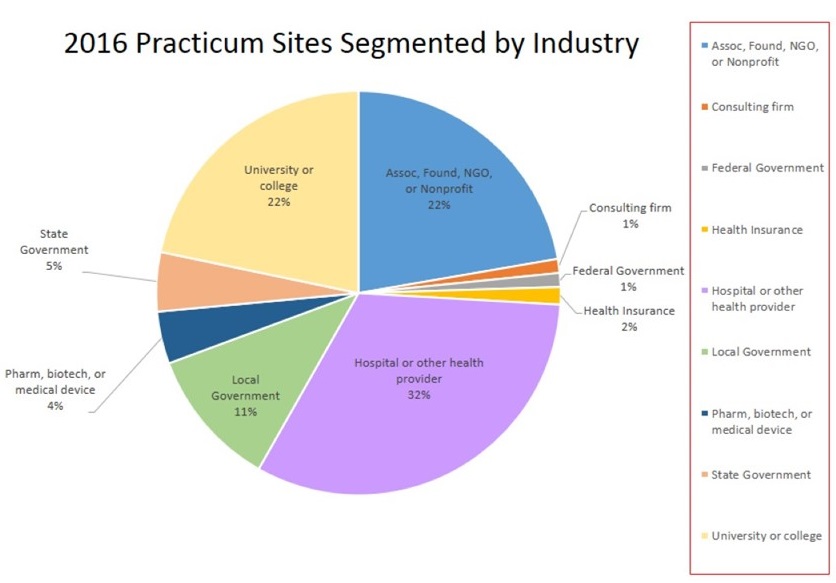 Partial Listing of Practicum Sites
Atrius Health
Biogen Idec
Sequirus
Medtronic
Boston Children's Hospital
World Health Organization
Boston Medical Center
Henry Ford Hospital
Boston Veterans' Affairs Healthcare System
Brigham & Women's Hospital
Pulitzer Center on Crisis Reporting
Dana-Farber Cancer Institute
NYU Langone Medical Center
QuintilesIMS
Massachusetts General Hospital
Framingham Heart Study
GfK Bridgehead
Harvard Pilgrim Health Care Institute
Massachusetts Department of Public Health
Harvard TH Chan School of Public Health
Health Policy Commission
Inflexxion, Inc.
USAID
John Snow Research and Training Institute, Inc.
Massachusetts Department of Environmental Protection