Hitting to All Fields
Alum Bill Simmons has done it all: ESPN columnist, best-selling author, podcast star, film producer. Now he's CEO of his own media company–and he's hoping to change the face of journalism.
3.10.22
Bill Simmons wanted to star on the local team.
He never expected to throw touchdowns in Foxboro or drain three-pointers at the Boston Garden—his dream was to write a sports column for the Boston Globe. But a recent college grad has as much chance of stepping into that role as they do hitting leadoff for the Red Sox. Fortunately for Simmons ('93), it was the 1990s and there was a new, burgeoning opportunity: the internet. For $50 a week, Simmons began writing as "The Boston Sports Guy" on AOL Digital City. Access was limited to America Online subscribers, but he began to build a reputation with his passion, humor and scathing criticism—characteristics often absent in mainstream media.
By now, Simmons' rise from Boston Sports Guy to media mogul is the stuff of legend. While a generation of content producers tried to figure out how to monetize the internet, Simmons rode the popularity of his everyfan's voice to one of the most desired jobs in the business: columnist for ESPN. He pivoted to video at the right moment then dove into podcasts just before they became cool. Seven years after an acrimonious departure from ESPN, Simmons is the CEO of The Ringer, a sports and culture company that he founded in 2016 and recently sold to Spotify, reportedly for almost $200 million.
Simmons appreciates the privilege of his position and now that he's his own boss—able to give young writers the sort of break that ESPN gave him—he's taking on a new challenge. With a series of gifts to universities, including the Simmons Family Scholarship at COM, he's begun funding graduate scholarships in hopes of building diversity in journalism and sports media.
Voice of the Fan
Simmons rose so quickly, while writing so prolifically in his casual tone, that he made it look easy. Behind the scenes, though, he had his doubts. After earning his master's at COM, he'd covered high school sports for the Boston Herald. "I was looking at the landscape the whole time thinking, 'How do I get ahead?'" says Simmons, who split time between Brookline, Massachusetts, and Connecticut as a kid and graduated from the College of the Holy Cross. He left the Herald in 1996, after three years, to bartend. "At that point, it seemed like the dream was dead."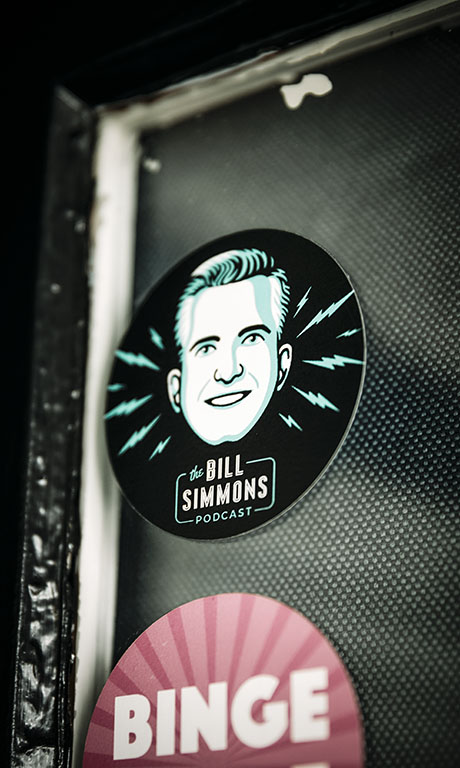 Like any rabid Boston sports fan, he read the sports pages and listened to sports radio, and kept thinking there had to be space for a 20-something voice. "Everybody who was writing about or talking about Boston sports was so old," he says. "I put real thought into what I would want to read, what I would be jealous of if somebody else did it." AOL gave him space to experiment. He didn't write with the voice of a reporter inside the locker room—"I couldn't get press passes for anything," he says—but of the fan ranting from a living room couch or the next bar stool over. "I was young and angry. And I was able to push the envelope in a lot of different ways."
He debated sports movies. He rooted for, and vented about, the local teams. He roasted ESPN's annual awards gala, the ESPYS, with a running diary of the broadcast: "8:03 — The show kicks off … 8:04 — Just slammed my head against the coffee table for 30 seconds." Readers identified: "The Boston Sports Guy" eventually averaged 10,000 daily visitors.
"By 1999 I felt like this was something that wasn't just an outlet for me," he says. "I went all-in on writing." Then came his big break: freelance assignments for ESPN. In 2001, he wrote an over-the-top piece about former Red Sox star-turned-nemesis Roger Clemens, "Is Clemens the Antichrist?" Simmons tore into one of the greatest pitchers in baseball history. "Fans. He doesn't have any. … He's like Wolf in Pulp Fiction—no attachment to anyone or anything, a hired gun, a means to an end." By the end of the column, Clemens was "Darth Vader with a Texas accent." ESPN hired Simmons later that year.
After a brief hiatus to write for Jimmy Kimmel Live!, Simmons returned to ESPN in 2004, just in time for the historic Red Sox World Series victory that elevated his Boston-centric columns to a national audience.
Then he really got to work. Simmons followed that 2004 season with his first book, Now I Can Die in Peace (ESPN, 2005), about the Red Sox, then another, The Book of Basketball (ESPN, 2009), about the National Basketball Association. Both were best sellers. He tried producing; in 2007 he cocreated ESPN's Emmy-nominated 30 for 30 documentary series. He also began recording The B.S. Report in 2007; by 2009 it was ESPN's most popular podcast, with more than one million downloads a month.
Simmons admits to a fear of stagnation. "I made the decision that I didn't want to look back and think I'd had the exact same year as the year before," he says. "My goal is to always keep moving, keep trying stuff." Whether it was because of his appeal to sports fans or his uncanny ability to navigate the shifting digital media landscape, his stuff kept succeeding.
"Simmons is the most prominent sportswriter in America," the New York Times Magazine declared in 2011—and he had done it his way. "Simmons makes no pretense of neutrality," Jonathan Mahler wrote. "He is the fan, the voice of the citizenry of sports nation."
Going Big
Shortly after the Times profile, Simmons launched Grantland, an ESPN-backed site focused on long-form journalism. For four years, they published a blend of stories that were uniquely Simmons, which is to say sports alongside—and sometimes mixed with—culture. Author Colson Whitehead covered the Summer Olympics. Critic Wesley Morris reviewed movies. Novelist Dave Eggers reflected on baseball and sports biographer Jane Leavy covered the Super Bowl.
That ended in 2015. Simmons was suspended by ESPN after a podcast where he called the commissioner of the NFL, Roger Goodell, a liar. Then the network declined to renew his contract. Some might have sulked after losing such a lucrative, high-profile gig. Simmons pounced.
Within a few months, he had struck a deal with HBO to host a weekly talk show, Any Given Wednesday with Bill Simmons, and develop future projects, while HBO would invest in his new media company: The Ringer. While the show only aired for one season, Simmons' relationship with HBO continued. Andre the Giant, which he produced, became HBO Sports' most watched sports documentary ever. Meanwhile, joined by his top editors from Grantland, Simmons began planning his next act.
The Audio Era
The Ringer plays to its strengths. It doesn't exhaustively cover every inch of the sports world, like ESPN, and it's not publishing box scores, like the local paper. But the staff goes deep on the major sports and covers pop culture the same way. "We realized we should double down on all this stuff, like Marvel and Star Wars," Simmons says. "Let's cover it like we cover the NBA." If your weekend starts with a Succession binge and ends with Sunday Night Football, The Ringer is there for you, with previews, recaps, long-form stories and podcasts.
Podcasts are more fun to do than writing at this point. They are so intimate. You want to feel like you're hanging out with your friends.

Bill Simmons
Amid all of that, one byline is notably absent: Simmons hasn't published a column in four years. Writing on the internet has changed: Readers don't want thousands of words and writers are more reluctant to experiment, he says. "I hate to be the old guy complaining about Twitter, but I think it's made people really self-conscious. People are afraid to take chances because they don't want the backlash." Reflecting on "Is Clemens the Antichrist?," he says, "Nobody would write that now, and maybe that's a good thing."
So Simmons has redirected his creative energy. "Podcasts are more fun to do than writing at this point," he says. "They are so intimate. You want to feel like you're hanging out with your friends." Sound familiar? It's the same formula that attracted readers to his early columns.
And Simmons is making the most of this moment. Since the Spotify sale, The Ringer has reportedly doubled its podcast output and increased the staff by 25 percent. In December, Simmons alone published 14 episodes of The Bill Simmons Podcast and four episodes of The Rewatchables, which revisits popular films. The Ringer's podcast network now includes 50 titles covering a wide range of topics, including cooking, Black culture and current events alongside lighter fare, like fantasy football, wrestling and reality TV.
Making Diversity the Most Important Thing
Like many people, Simmons has been reflecting on his role in promoting diversity, both at The Ringer and more broadly across the industry. In June 2020, he addressed the topic on his podcast. "It's like football," he said to his listeners. "You judge a coach by your record. You judge me by my record, and my record wasn't good enough."
You can say [diversity] is one of the many things you care about, but sometimes you have to make it the most important thing you care about.

Bill Simmons
Simmons knew he wanted to establish a foundation after the Spotify sale but wasn't sure how to focus it. "It wasn't until I spoke to my friend J. A. Adande's sports journalism class at Northwestern that fall that I came up with the idea," he says. "We did a Zoom and the lack of diversity in the class was pretty jarring."
That experience inspired a series of gifts. At COM, the Simmons Family Scholarship is intended to provide tuition for four alumni of historically Black colleges and universities (HBCUs) pursuing master's degrees in journalism; a similar gift to Northwestern's Medill School will provide scholarships in the sports journalism master's program. Simmons also donated to the Earl Monroe New Renaissance Basketball School, a charter high school in the Bronx, and is planning additional gifts.
"You can say [diversity] is one of the many things you care about, but sometimes you have to make it the most important thing you care about," Simmons says.
Simmons recognizes his privilege. He remembers a COM professor in a narrative nonfiction course, Mark Kramer. "He rocked my world. The stuff I learned in that class I've thought about for the rest of my career," he says. "Could that happen to the people who get the scholarship, where they meet somebody like that and it changes the trajectory of their life? I think that would be pretty cool."