Carmen Fields Tells Her Story
The groundbreaking journalist reflects on a career that has spanned from Boston's busing crisis of the mid 1970s to seeing a Black woman as acting mayor
7.26.21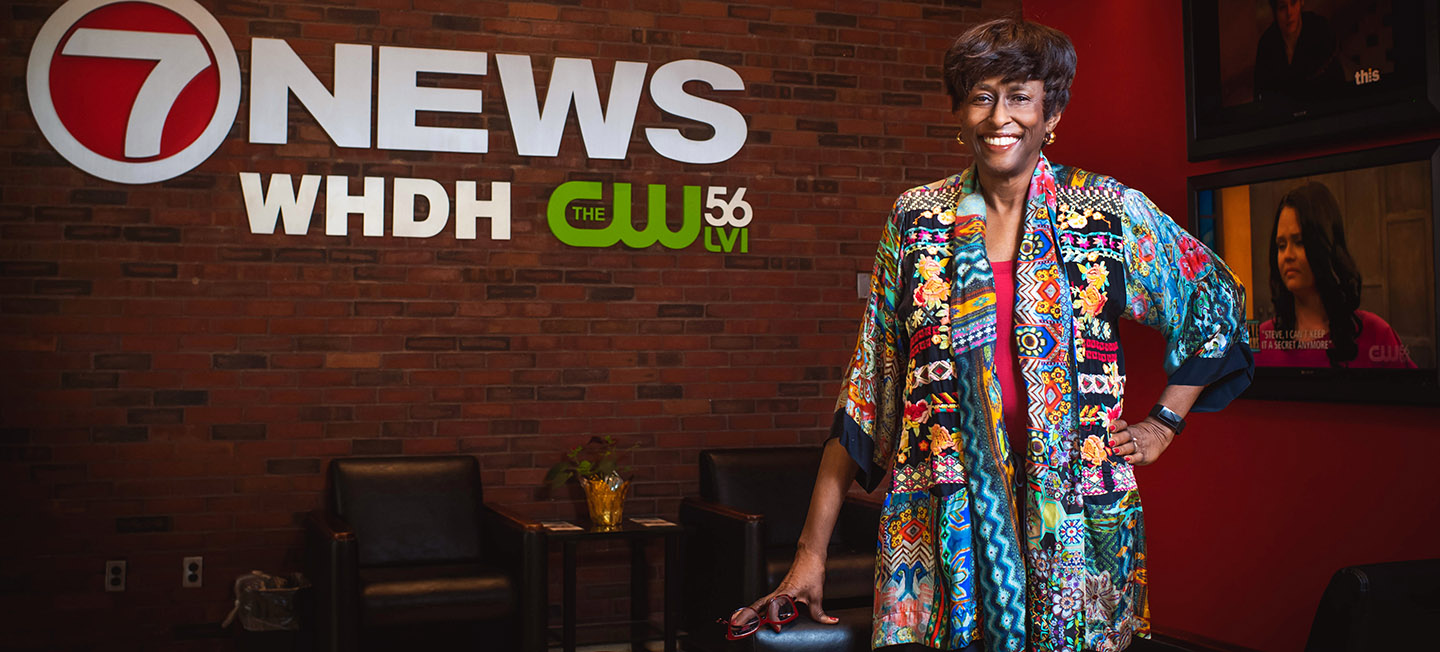 The photo is iconic: An angry white teenager brandishes an American flag like a weapon at a Black man in a business suit who has walked unknowingly into a protest against court-ordered busing to integrate Boston schools.
The Black man was Ted Landsmark, then a 29-year-old Yale-educated lawyer who was on his way to a meeting at City Hall that day, in 1976, when he was attacked by anti-busing demonstrators. The first journalist to get a sit-down interview with him was a Boston Globe reporter who'd graduated from COM three years earlier. Her name was Carmen Fields.
Yes, that Carmen Fields, whose presence and achievements as an Emmy award-winning local TV news anchor would make her a familiar face to Bostonians for decades. "A regal news queen," one local paper described her during her tenure, from 1987 to 1991, as cohost of WGBH's Ten O'Clock News. But back in 1976, she was just a young reporter on a story.
Landsmark told her of being punched, kicked and knocked to the ground—his nose was broken, his eyeglasses crushed beneath him—and hearing racist taunts. He also told Fields that "some white people may have been trying to help" him and that "not all whites are bad."
"I was just trying to get the story—just the facts, ma'am," Fields ('73) recalls with characteristic understatement.
But Fields, who grew up in a segregated Tulsa, Okla., the daughter of a schoolteacher, Bernice Copeland Fields, and the well-known bandleader Ernie Fields, wasn't just getting the facts. While Black children were riding buses to schools in hostile white neighborhoods, past mobs hurling racial epithets and rocks, Fields was breaking barriers of her own.
The Outspoken Oklahoman
In 1973, just out of COM with her master's degree, she became one of a handful of Black reporters at the Globe—and one of only two Black women in what was then a newsroom, like most newsrooms in America, dominated by white men. There were no Black editors or editorial writers until a couple years later, after Black reporters called on management to desegregate its editorial and editor ranks and, Fields recalls, "we walked out." Management responded quickly. As Anthony Lukas wrote in his Pulitzer Prize-winning book about the busing crisis, Common Ground, "An outspoken Oklahoman named Carmen Fields was named an assistant metro editor." She soon also became a columnist.
"Carmen was out there at the beginning," says another pioneering Boston journalist, Liz Walker, who in 1981 became the first Black anchor of a primetime newscast in the city. "She's the epitome of what it takes to make change. She was a supporter and a friend at a time when there weren't many supporters and friends. I consider her a sister."
Walker and Fields were in the vanguard of Black women journalists in Boston, and across the US, who would propel the long, slow, ongoing struggle to diversify America's newsrooms and, in the process, change how communities of color are reported upon and seen, with more coverage of people's everyday lives and less focus on interactions with the police.
Consider the sweep of Fields' life and trailblazing career: from Tulsa schoolgirl to journalism major at Lincoln University in Jefferson City, Mo., to television reporter at Jefferson City's CBS affiliate, to Boston and COM, to rookie reporter on the Globe team that won the 1975 Pulitzer Prize for public service for its coverage of school desegregation, to Channel 7 TV reporter and coanchor, to journalism fellow at Harvard's Nieman Foundation, to Channel 4 reporter and assistant professor of journalism at Northeastern University, to coanchor of WGBH's long-running Ten O'Clock News, to, for the past 24 years, host and producer of the monthly WHDH-TV Channel 7 public affairs show, Higher Ground.
"For a kid from Tulsa, Oklahoma, in a town like Boston that was hostile and unfriendly to people of color, I've had few complaints," Fields says. "I won't say no complaints. I've had my byline on the front page of the Boston Globe. I've had the lead story and live shots and all on television. And now I'm producing my own monthly public affairs show. Not bad."
In December 2020, the Roxbury Community College Foundation honored Fields, along with Liz Walker and Sarah-Ann Shaw, who in 1969 became the city's first Black woman television reporter, as Roxbury Legends at a fundraiser billed as "A Celebration of Black Women in Broadcasting." Addressing the students in the audience, Fields—whose own daughter, Karly Finison ('16), followed her footsteps to COM—quoted the playwright Lorraine Hansberry: "Write about our people, tell our story. You have something glorious to draw upon, begging for attention. Don't pass it up. Use it. The nation needs your gifts."
An Early Start
Fields jumped into journalism early. "My mother said, 'If you can read, you can do anything," she recalls. So, at 9 or 10, with the aid of a manual typewriter and carbon paper, she began publishing her own newspaper, Around the Block. "I was so confident in my news gathering skills that I would put it in the mailbox of the neighbors and ring the doorbell and run," she says. She estimates the circulation at "maybe 12 or 15."
Fields' seventh grade English teacher, Juanita Lewis, taught a unit on journalism. She had her students submit short articles about school events, from sports to theater, to The Oklahoma Eagle, Tulsa's Black newspaper. "That was the first time seeing my stuff in print and feeling affirmed in some seventh grade kind of way," Fields says. "That really opened my eyes to the field of journalism."
When Fields was a senior at Booker T. Washington High School, an Eagle columnist, Jeanne Goodwin, invited her to write a couple guest columns. Fields went on to earn her undergraduate degree from Lincoln, the only historically Black university at the time that offered a journalism major, and land her first job, at the CBS affiliate in Jefferson City. Next stop: Boston, and COM, where she majored in broadcast journalism.
In spring 1973, with her master's degree in hand, Fields began interviewing for jobs at Boston's radio and television stations. Someone at one of the radio stations "suggested I go talk to this fellow named Tom Winship," Fields recalls.
Winship was the editor in chief of the Boston Globe. When Fields telephoned the paper, she was put through to his then executive assistant, Katherine Kennedy, who would subsequently become a Globe reporter and, later, director of BU's Howard Thurman Center for Common Ground.
Fields ended up meeting with Winship, but no job was forthcoming—yet. She kept calling and calling until Kennedy, who was impressed by the recent COM grad, got Winship on the line with her. Fields recalls Winship's words: "Your persistence speaks well of you." He arranged for her to meet with a couple other editors. A few weeks later, the Globe hired her.
She and Kennedy remain close friends to this day. "We were two Black women in unique positions who supported each other," says Kennedy. "No matter what job Carmen has had, it's always been about educating people about what's right."
Fields started out as a general assignment reporter on what was then the Globe's evening edition, covering a mix of news and features—and writing her share of obituaries, including the one for civil rights leader Melnea Cass, who, Fields wrote, "was known as the first lady of Roxbury because of her many contributions to the local community over 50 years."
"There were a couple old-timers who took me under their wing and would tell me the difference between Warren Street and Warren Avenue, and where the border line, Blue Hill Avenue, was that separates Roxbury from Dorchester from Mattapan," Fields says. "I was just a sponge for all of this information and idiosyncrasies."
The eight or nine Black reporters at the Globe "mostly mentored ourselves," Fields says. "We were all mindful of our special role at the paper and in the greater community."
They were encouraged by the Globe's community relations director, Dexter Eure, who was then the only Black executive at the paper. Support came from outside the newsroom as well. "Sarah-Ann Shaw was my journalistic godmother," says Fields of the pioneering WBZ television reporter. "She was good about calling me and saying, 'I was at this meeting and it's not much of a television story, but you may want to call so and so of this coalition and see if you can do something in the Globe.'"
Fields and the other Black reporters at the Globe possessed something none of their white colleagues had when busing began, in 1974: The trust of the Black community. When the Globe needed a story about Black parents sending their children to school on a bus, despite the racially motivated violence that marked the start of court-ordered desegregation, Fields' hairdresser in Roxbury connected her with a mother of two who agreed to be interviewed.
The Globe, with its editorials staunchly supporting school desegregation and rebuking South Boston for its resistance, was itself under attack from antibusing leaders. The paper received bomb threats. Delivery trucks were hijacked. On a couple nights, bullets were fired at the Globe building on Morrissey Boulevard. While Fields recalls bulletproof shields in the newsroom, she doesn't remember being afraid at the office or on the street in South Boston, the heart of the antibusing movement, where she occasionally went on assignment. "I remember being careful," she says.
White reporters at the Globe went to Fields when they needed, say, a contact at the NAACP. It irked her. It was assumed that she knew her way all around the Black community and around City Hall and the State House, where her colleagues took for granted their easy access to the white men in power. And yet those same reporters rarely, if ever, went to Roxbury, or to Mattapan, where Fields lived. "I always tried to expect and coach our white colleagues that they should be as knowledgeable about my community as I was about their community," says Fields. "That's still the struggle today."
On the subject of Boston's power brokers, she reflects on Roxbury's Kim Janey, who made history this spring when she became Boston's acting mayor—the first woman, and the first Black person, to hold the top position at City Hall. "I never figured I would be alive to see this—Black women as Boston Mayor, Massachusetts Congresswoman and Suffolk County District Attorney, at the same time," Fields says. "I am beyond joyful."
From Print to On the Air
In 1979, one of Fields' COM professors, Robert Baram, telephoned to let her know he'd given her name to a friend at Channel 7. The station invited Fields in for an interview and, not long afterward, offered her a job as a reporter, with a raise. "So off I trotted on a new adventure," she says.
She was at Channel 7 in the early 1980s when Louis Farrakhan came to town to give a speech. The Nation of Islam leader grew up in Roxbury and Fields tapped into her neighborhood network for help in landing an hour-long sit-down interview with him. Her piece was nominated for a regional Emmy, one of six such nominations she would receive; she won two while at Channel 7, one for a segment on the Ku Klux Klan.
In 1987, WGBH and the Ten O'Clock News (TOCN) came calling. Coanchoring the program with Christopher Lydon, Fields interviewed politicians, professors, poets and psychiatrists. "There's a towering presence about Carmen—just being there on our TOCN desk radically improved our show," says Lydon, who is now the host of WBUR's weekly Open Source radio program.
"Egghead Lydon pairs well with common-sensical and cool coanchor Carmen Fields," media critic Mark Jurkowitz wrote in 1991, when WGBH ended the show over the protests of its legions of loyal viewers.
With public television struggling for funding, Fields took the opportunity to explore another side of the communications field. In 1992, Governor William Weld appointed Ralph C. Martin II as Boston's first Black Suffolk County district attorney—it was an office rife with white patronage and the man who'd been running it had resigned—and Fields signed on as Martin's press secretary. It was about the mission—and, says Fields, "I needed a job. I come from a long line of women who worked outside the home."
In 1997, Higher Ground, the monthly public affairs show, invited her to be a guest host—and eventually offered her a permanent position as producer and host. Fields also continued to work in communications for a number of years, as director of community relations for National Grid's northeast office and as senior director of communications for United Way of Massachusetts Bay.
With Higher Ground's focus on the moral and ethical issues of the day, Fields has done shows exploring everything from the role of district attorneys in deciding who goes to trial to a Suffolk County sheriff's culinary program designed to reduce recidivism to a local nonprofit that brings classical music to homeless shelters.
Going Home
The 100th anniversary of the 1921 Tulsa race massacre this spring brought renewed attention to one of Fields' crowning journalistic achievements—the 1993 PBS American Experience documentary, Going Back to T-Town. Fields helped develop the project and wrote the script. The film documents how Tulsa's segregated Greenwood district, known as America's Black Wall Street, had prospered, despite white hostility, until the evening of May 31, when it became the target of one of the nation's worst racially motivated massacres. White mobs burned and looted Greenwood's churches, theaters, restaurants, small businesses and homes, killing at least 300 Black people and leaving thousands of others homeless. No one was ever arrested or charged in connection with the massacre.
The title of the documentary is taken from the lyrics of the song T-Town Blues, which Fields' father wrote and recorded with his orchestra in 1939. Growing up in what she describes as the cocoon of a segregated Tulsa in the 1960s, Fields says she learned nothing about the conflagration of 1921 in school or from the adults around her. "I think the experience of the massacre had so intimidated generations of people," she says. "There were some people who said, 'What do you want to go and bring that up for,' I said, 'The story needs to be told.'"
The gratifying part of being a journalist is looking at things as the first draft of history—and it turns out that can be history itself.

Carmen Fields
Getting that story wasn't easy. Fields drew on her Tulsa roots to find survivors of the massacre who were willing to be interviewed for the film, along with others from Tulsa, such as the late historian John Hope Franklin, who knew the story of Greenwood, its devastation as well as its resilience. Residents rebuilt the district, which continued to thrive until the early 1960s, when it was decimated by urban renewal. Hearing some of those stories was painful, she says. "But it was also affirming of the spirit of my people—how strong and determined they were in the face of this horror."
Her oral histories are the kind of record historians and teachers treasure. All but one of those interviewees has since passed away, but their eyewitness accounts survive thanks to Fields. The documentary also prompted renewed interest in Greenwood's history, inspiring additional oral histories, the first public discussions of reparations for massacre survivors and their descendants and the addition of the massacre into the Tulsa and Oklahoma school curriculum.
"I'm very proud that it animated a whole new conversation and examination of what happened," says Fields. "When you're doing your work, in the moment, you don't think what this will mean 30, 40 years from now. You're just trying to shape the story, and your role as a storyteller, as best you can. The gratifying part of being a journalist is looking at things as the first draft of history—and it turns out that can be history itself."
History Made
Growing up, Fields says, she was nurtured not just by her family, but by Tulsa's close-knit Black community—by her parents' friends, neighbors, teachers, church members and civic leaders. That Tulsa instilled a confidence that carried her to Boston and to the Globe, where she became part of a small community of Black journalists navigating a white newsroom and a racially divided city. "We all knew what we were up against," Fields says.
Back in the 1970s, there were very few women reporters of any race, in Boston or anywhere else. As a young reporter, Fields would vent with a friend who worked at the Boston Herald—a reporter named Gwen Ifill, also a mentee of Sarah-Ann-Shaw, who would go on to become a PBS news anchor and one of the most respected journalists in the world before her death in 2016. Fields recalls how Ifill "would call up and say, 'He said this and they did that—and we would pump each other up and say, 'Hang in there, my sister.'" While no one labeled them microaggressions at the time, they occurred.
Today, says Fields, she is gratified by the visibility of rising numbers of Black journalists, especially the women. She marvels at the achievements of Isabel Wilkerson and Nikole Hannah-Jones, both of whom have been awarded Pulitzers for their work on Black history and racial justice. Closer to home, she follows the career of Kimberly Atkins Stohr (LAW'98, COM'98), senior opinion writer and columnist for the Globe. Atkins Stohr is also the inaugural columnist for The Emancipator, the online platform that the Globe editorial page and BU's Center for Antiracist Research, led by scholar Ibram X. Kendi, plan to launch this fall.
"I did not have that kind of vision," says Fields of this modern generation of journalists and scholars. "Thank God others came along who do."
And yet it was Fields and her peers in the Black journalism community who laid down the path. Atkins Stohr, who is also an MSNBC contributor and the former Washington bureau chief for the Boston Herald, recalls returning to the Globe in 2020, in the middle of the pandemic. "Being a Black woman in journalism, particularly in the Boston market, can be a lonely place. It's tough to build connections," she says. "But almost immediately, Carmen reached out to me. She's a connector, bringing people together—even across miles and during a quarantine. Her warmth and genuine commitment not just to the craft of journalism, but also to the people who do the work and the people who we cover shone through."
At the Roxbury Legends celebration, Fields acknowledged the responsibility she felt for those who might come after her. She recalled her first job, at the small CBS affiliate in Jefferson City, Mo. "I shot my own film. I wrote. I delivered on air. Being the first and only [Black reporter] was something I wasn't prepared for," she told the audience. "But I knew I had to represent and hopefully be successful because those that came behind me might be measured by what had happened to me."