Bob Fishman Is Ahead of the Game
By 9 am on a steamy Florida morning in September, tour buses have already begun unloading football fans outside Hard Rock Stadium. Nearby tailgaters begin setting up grills, coolers and beach chairs. Kickoff for the Miami Dolphins–New England Patriots matchup is four hours away, but the football world is already focused on this game. Fans, gamblers, fantasy football managers, Patriots lovers and Patriots haters all want to see if Antonio Brown—signed by the Patriots on the preceding Monday and accused of rape the next day—will play.
It's week two of the 2019 NFL season and seated in the second of four tractor trailers that make up his team's mobile production studio, Bob Fishman ('69), the director of CBS Sports' broadcast of the game, talks into his headset. "You're excused from the camera meeting," he tells one of his camera operators, giving him an early assignment: wait for the Patriots bus to arrive and get a shot of Brown stepping off. The CBS crew working the game consists of more than 40 people, but it's Fishman who will call the shots that make up the live broadcast.
Fifteen minutes later, he sits down with his camera crew in a nearby catering tent. "Dom, your day is about to change," he says to the operator of camera 20, perched high above the 50-yard line. He gives him the job of following Brown all game, whether he's playing or not. Then Fishman runs through other potential story lines for the day. He mentions the Patriots' past struggles in hot weather. "Watch for guys sucking oxygen or standing under fans," he says. And he mentions the two teams' owners: "Kraft and Steven Ross—we must get on-screen today," he says.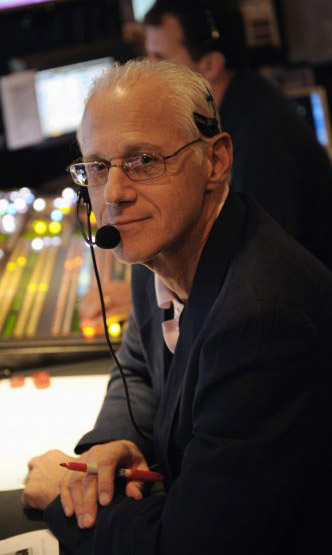 He's laying the groundwork for shots he may need in the game. Each play, and there will be more than 120 of them, is a mini-story that Fishman tells on the fly using replays and other shots that provide context for the action. To do so, he will coordinate with producer Mark Wolff, associate director Brian Jagoda and technical director Terri Rozic to select replays, reaction shots and graphics. All of this happens at a rapid pace, with Fishman directing cuts from one shot to another just seconds before the images appear on millions of television screens. "We're not creating the game, we're documenting the game," he says. "But you can turn it into a creative process by juxtaposing the winners and losers in a creative way."
Fishman ends his camera crew meeting with a simple message: "I love you guys being aggressive, but let's always get back for the snap."
In 44 years with CBS Sports, Fishman has directed 27 US Open Tennis Championships, 20 Daytona 500 NASCAR races, three Olympic figure skating competitions, two World Series and countless other events including college football, professional basketball, and horse racing. Fishman now works just NFL and NCAA basketball games. He's CBS' lead director for the NCAA basketball tournament—"March Madness"—a role he's filled since the first time it was broadcast, in 1982, with just one exception: Fishman missed the 1990 tournament to receive a bone marrow transplant for non-Hodgkin's lymphoma. He's received 16 Emmys, three Directors Guild of America awards, and in December he'll be inducted into the Sports Broadcasting Hall of Fame.
Broadcast Pioneer
Fishman's first exposure to broadcast sports came as a kid in the Virgin Islands where his parents managed a resort. He could pick up Spanish-language broadcasts from Puerto Rico and rebroadcast baseball games of his beloved Dodgers on shortwave radio early in the morning. "I wanted to be a baseball announcer," he says. He also played soccer, which took him to Claremont Men's College (now Claremont McKenna) before he transferred to BU. At COM, he studied film and television production and knew he wanted to apply that to sports. "I realized I wasn't going to be an announcer because there were a lot of people better than me," Fishman says. "But I had an affinity for behind-the-scenes stuff."
From COM, Fishman landed a job at a CBS affiliate in Philadelphia then jumped to CBS News in 1972. His big break came later that year during the Apollo 17 launch. The director got food poisoning and Fishman, the only other CBS crew member with a Director's Guild card, was suddenly in charge of Walter Cronkite's broadcast of the last US mission to the moon. He still had his eyes on sports though, and when his boss was named president of CBS Sports, Fishman finally got his chance. "The idea of working with multiple cameras, and the unpredictability of directing sports events, working without scripts, appealed to me," he says.
Televised sports, as we know them today, were just beginning to take shape, allowing Fishman to play a pioneering role. He directed the first version of <em>NFL Today</em>, the CBS studio show that still airs on Sundays. For Super Bowl X, he was associate director for an ambitious multisite pregame show. You could even give him some credit for NASCAR's popularity. He was the first director to put a camera inside the cars, and his 1979 broadcast of the Daytona 500—the first time the race was shown live, from start to finish—drew an audience of 15 million.
Even as he's found new ways to look at sports, Fishman has held the games themselves sacred. "My goal is to never miss live action," he says. "You stay on one camera until the play is over. Then do whatever you want to get your reaction shots, your replays, your emotional shots, your cheering crowd shots. That's always been my mantra, and that's my mantra when I'm teaching younger guys at CBS."
Despite that commitment to capturing every play, Fishman's favorite moments happen away from the action. When he talks about his first NCAA tournament, in 1982, he doesn't mention a teenaged Michael Jordan sealing the win for North Carolina with a jump shot in the closing seconds. Instead, he recalls Georgetown head coach John Thompson's emotional embrace of Freddie Brown, who had turned the ball over to end the game. Anyone who has watched March Madness, or even just the "One Shining Moment" montage that CBS produces at the end of the tournament each year, has felt the emotional tug of Fishman's shot selections.
"He has that sixth sense that I think the great directors in history have—whether it's in live television, episodic television, feature film—to understand what their audience wants," says Jim Nantz, CBS' lead play-by-play announcer for NFL, NCAA basketball and golf. "Now, what Bob does is harder. He doesn't get any second takes, or third, or fourth takes. You make a decision and you gotta live with it—and his shows are just mistake free."
Even watching something as mundane as Robert Mueller's testimony before Congress in July, Fishman sees missed opportunities. "If I was directing this and I had free reign, I would be going to town on the reaction shots, positive or negative," he says. He speculates that the expressions of a liberal listening to a conservative's line of questioning, or vice versa, would make good TV. "But we're not seeing that because they're keeping the camera on Mueller."
"He just has this keen ability, even though he's sitting in a production truck, to know what's going on inside of an entire arena," Nantz says. "He sees it all and feels it all better than anyone who's ever done it."
A Sunday Tradition
For tens of millions of Americans, Sunday means the NFL on TV. In the midst of an evolving television landscape, with streaming services and cable channels drawing viewers away from the major networks, the NFL has remained a ratings stalwart. In 2018, 64 of the 100 top-rated television shows were NFL games (another 25 were other live sports). On the day the Dolphins–Patriots played, an estimated 15 million people watched games on CBS.
"If you don't have a major sports package of some sort, you're not in the game," Fishman says. "I think CBS found that out when we lost the football contract [in 1993]. We had college football, but on Sundays we had nothing." In 2011, four networks—CBS, Fox, ESPN and NBC—agreed to pay nearly $40 billion for nine years of NFL broadcast rights. Given the symbiotic relationship between the NFL and its broadcast partners, it's not entirely surprising when the Patriots' billionaire owner, Robert Kraft, climbs into Fishman's trailer to chat with him and Wolff pregame before heading to his luxury box.
As the Patriots prepare to kick off, the broadcasting team of Ian Eagle and Dan Fouts does a two-minute intro and Fishman jumps into action. "Roll Elvis! Music! Font in! Roll B! Dissolve!" he calls out, cueing a series of graphics and replays. While each of Fishman's cameras is designated by number, various graphics (including Font) and replay feeds (like Elvis) have been named to avoid confusion. With that segment wrapped, it's finally game time.
"Your game!" Jagoda calls out. "Go, Bobby!" Wolff adds. On most of the screens, Patriots kicker Stephen Gostkowski boots the ball into the Dolphins' end zone. Fishman leans forward, body tensing as the action begins. "Ready 6! Take 6! Hit the slab!" he says, ordering a graphic over the left side of a shot of Dolphins quarterback Ryan Fitzpatrick. He waves a black Sharpie in his right hand, the anonymous conductor of a performance being watched by millions. "My goal is to put them in the best seat in the house," he says of the TV audience.
Fishman, Wolff, Rozic and Jagoda sit in front of a wall of monitors: 25 screens, some split into as many as nine feeds, display more than 100 images. Yet more monitors fill a second room deeper in the trailer, where the graphics team sits; next door, another trailer is home to the video replay team. Fishman focuses on the screens showing feeds from his 12 camera operators, who give him a 360-degree view of the field.
He just has this keen ability, even though he's sitting in a production truck, to know what's going on inside of an entire arena. He sees it all and feels it all better than anyone who's ever done it.

Jim Nantz
To an untrained eye, and ear, the pace is dizzying and the atmosphere frantic. Jagoda, Wolff and Fishman all speak at once. Fishman's left hand is perched over controls that allow him to talk to the announcers when necessary; his camera crew, on the other hand, gets an uninterrupted Fishman feed through their headsets. Rozic pulls the necessary instructions out of that chaos and calmly punches buttons on her massive control board. Her cuts, dissolves and sweeping graphics stitch the entire broadcast together.
The Dolphins punt and the Patriots begin their first drive. "Brown's coming in!" someone calls out. Fishman is ready. "Stay with him, 20 and 2," he says to the camera crew. Tom Brady passes to his new wide receiver for a gain of 18 yards and viewers immediately see the play again from multiple angles. Later in the half, Brown catches a 20-yard touchdown pass and leaps into the stands. "Whoa!" Fishman exclaims. "Ready 4! Take 4! Back to Y! Out to 3!"
Viewers see a sequence of replays and reaction shots that tell the story of the play in a neat 38-second package. "We are very aggressive with multiple shots after a play," Fishman says. "I'm like a kid in a candy store, looking at 12 monitors. I see a shot—then all of a sudden I see a better shot." Fishman cuts back to the live action moments before the extra point kick.
In the fourth quarter, with New England comfortably in the lead, Patriots linebacker Jamie Collins intercepts a pass and runs 69 yards for a touchdown. While Collins is still running, Fishman's slate blue eyes scan the screens for his next few shots. "I have a great reaction on camera 7," he says to Wolff. They run the replay and viewers see Kalen Ballage, the Dolphin who deflected the pass into Collins' arms, slow to a stop in front of the camera and bend over in frustration. In the background, Collins sprints into distance. The winner/loser juxtaposition perfectly summarizes the Patriots' 43-0 rout.
Once the clock runs out and the network has cut back to New York, Fishman begins letting his camera operators go and thanking others in the replay and graphics crews. In a few days, it'll be off to another game and another set of stories. "See you in Kansas City," he says, before removing his headset.
Fishman's Top Five
In 44 years at CBS Sports, Bob Fishman has directed thousands of broadcasts, from figure skating to football, swimming to stock-car racing. <cite>COMtalk</cite> asked for five of his all-time favorite moments:
1979 Daytona 500
NASCAR's marquee event had never before been broadcast live from start to finish, but the 1979 race offered a thrilling last lap that ended with leaders Cale Yarborough and Donnie Allison in a post-crash fistfight on the infield—and Richard Petty in the winner's circle (watch above). "That one show vaulted NASCAR to the front pages of every newspaper in the country," Fishman recalls.
1982 Men's NCAA Basketball Championship
One of Fishman's fondest memories comes from his first NCAA championship game. What he remembers best isn't the dramatic jump shot by freshman Michael Jordan to seal the win for North Carolina. He recalls what followed the game's final play, when Georgetown's Freddie Brown turned the ball over. Georgetown coach John Thompson hugged his player and whispered in his ear. "That's the essence of the tournament," Fishman says. "That's the essence of what I like, the emotion of the game."
1993 World Series
Only twice in 114 years has a World Series ended with a home run—in 1960, when the Pittsburgh Pirates' Bill Mazeroski homered against the New York Yankees, and again in 1993, when Fishman's cameras captured the Philadelphia Phillies' Mitch Williams' fateful final pitch to the Blue Jays' Joe Carter.
1994 Olympic Women's Figure Skating
Just seven weeks after being attacked by associates of the ex-husband of her rival—and Olympic teammate—Tonya Harding, Nancy Kerrigan skated to a silver medal at the Lillehammer Olympic Games.
2012 AFC Divisional Playoff
The Baltimore Ravens and Denver Broncos needed two overtimes to settle "The Mile High Miracle." In the closing seconds, the CBS team captured a moment the announcers had never seen before: a kicker practicing on the field in between plays. Moments later, that kicker—Justin Tucker of the Ravens—clinched the game with a 47-yard field goal.