COMtalk
COM Wire
And the Winner Is . . .
Off to the Races nabs top prize at Redstone Film Festival
By Leslie Friday
Above: Megan Lovallo (CGS'10, COM'12) won first place at this year's Redstone Film Festival. Álvaro Congosto ('12), left, won second place. Photo by Katherine Taylor
Megan Lovallo (CGS'10, COM'12) won first place at the 2013 Redstone Film Festival in both Boston and Los Angeles for her film Off to the Races, about two siblings thrown together for an unplanned night of adventure.
Lovallo, who received $3,000 and a Canon EOS 5D Mark III camera kit at the 33rd edition of the annual festival, said she hopes her film will inspire viewers to find a way to love family members as friends. A twin with an older sister, Lovallo drew on her own experience for inspiration in writing her film.
The Redstone Film Festival, BU's version of the Oscars, is sponsored by media mogul Sumner Redstone (Hon.'94), chair of Viacom. A panel of COM production faculty chooses semifinalists from dozens of submissions. In each award location, a panel of local film industry professionals selects the winners.
Festival organizers added three new prizes this year: for best cinematography, best screenplay and best sound design. In addition, Kelly M. Genois ('13), who wrote Rest in Peace, Albert Lively, won the $1,250 first prize in the Fleder-Rosenberg short screenplay contest, sponsored by screenwriters Gary Fleder ('85) and Scott Rosenberg ('85). Michelle Tsiakaros ('13) was awarded the second annual Adrienne Shelly Production Grant by the Adrienne Shelly Foundation, for directing Plastic Surgery. The grant is named for the late film director, who attended COM in the 1980s.
At the Los Angeles festival, Kristyn Ulanday ('10) and Max Esposito (CGS'08, COM'10) won the Alumni Short Film Contest with The Druid City, about efforts by the community of Tuscaloosa, Alabama, to rebuild after the devastating tornado of April 27, 2011.
Winning an award at the Redstone Film Festival is often a launching pad for aspiring filmmakers. Previous winners include Fleder, director of Runaway Jury, and Richard Gladstein (CGS'81, COM'83), producer of The Bourne Identity and Finding Neverland. Last year, previous Redstone finalists Josh Safdie ('07) and Benny Safdie ('08) won a Jury Prize in Short Film at the Sundance Film Festival for The Black Balloon.
This article was adapted from BU Today, with additional reporting by Julie Rattey. Watch interviews with Megan Lovallo and other Redstone winners here. Below, watch The Druid City, winner of the Redstone Alumni Short Film Contest.
Art of the Interview
NFL Network's Andrea Kremer teaches COM course
By Rachel Johnson
When COM announced it would offer a Spring 2013 class on interviewing taught by Andrea Kremer, NFL Network chief correspondent for player health & safety, the class immediately filled up. Of course, learning from an award-winning reporter with 30 years of experience is a draw. But while Kremer acknowledges the star power of being ESPN's first female correspondent, a reporter who has interviewed Michael Phelps and Michael Jordan and covered more than 20 Super Bowls, she says the real allure was the subject. "Interviewing is so important," she says, "but nobody ever teaches it. I certainly know that I never took any courses in it. But I've done tens of thousands of interviews. I know what's good. I know what's not good. I know what the pitfalls are. And to be able to share that is really gratifying."
Kremer first offered her insights in a seminar on interviewing techniques to a cohort of COM students covering the London Olympics. The stories the students wrote were picked up by major news outlets and resulted in at least three job offers. Susan Walker (GRS'09), the associate professor of journalism who arranged the Olympics program, was instrumental in bringing Kremer back to campus this year. "Students have the opportunity to take a class with one of the great interviewers working today," she says. "Few programs have an entire course focused on this basic part of journalism."
And you'd be surprised at just how many professionals don't know the basics, says Kremer, who admits to watching NFL press conferences the way other people watch the game. "My husband will watch me scream at the television, 'Ask a question!' [The reporters] will say, 'Oh, that was a really tough game.' That's not a question." Kremer tells her students to ask themselves: What does my audience really want to know? What does my audience already know?
For the Spring Semester, Kremer put her students through the paces, having them watch and assess interviews as well as conduct their own. In the process, she hopes to have instilled a bit of the grit that has advanced her career. "Ask," she told them. "The worst somebody says is no. And then ask again. And keep asking." Determination and patience, Kremer says, can pay off. "When you get people to reveal something—a small story, express their feelings, whatever it is—then, I feel you've done your job."
While Kremer is passing on the wisdom gained from conducting tens of thousands of interviews, her advice in the end is very simple: "Do your preparation. Listen. Don't be afraid of silence. Make a connection. Above all, be curious."
Did You Know?
BU is one of the few universities to offer an online Master of Science in Health Communication. The degree, offered jointly by COM and Metropolitan College, was the only one of its kind to be offered online when it launched in 2009, says Stephen Quigley (SED'87), program co-coordinator and a COM associate professor. The program attracts professionals from fields ranging from journalism to health insurance to health policy.
Bright Star
COM prof wins Fulbright grant to teach in Estonia
By Julie Rattey
John Bernstein, an associate professor of film in COM's Department of Film & Television, exchanged Comm. Ave. for cobblestone streets in fall 2012 as a Fulbright Scholar lecturing in Tallinn, the historic capital of Estonia. He competed with other scholars nationwide for the honor of participating in the United States' flagship international exchange program.
Since Scholars are ambassadors in both academia and the community, Bernstein's projects ranged from teaching at Tallinn University's Baltic Film and Media School to advising the Estonian Ministry of Culture on plans for a new National Film Institute.
COM students benefit from Bernstein's grant by getting to see and learn from some of his foreign students' works.
"As writers, it's always very critical that you bring life experience, and that's what I saw in those European students," Bernstein says, explaining that the students ranged in age and often had experience in the working world. "Many of them are very astute students of human nature."
BU in Kenya
BU, Kenyan universities create international student news network
By Rich Barlow
With mainstream media budgets collapsing, especially for overseas reporting, you probably don't know where maternal deaths worldwide have plunged the most in the last decade. (It's Afghanistan.) Might an international student news network help fill the void in developing-world health reporting?
That idea—pitched by the College of Communication and the Center for Global Health & Development (CGHD)—won $100,000 in fall 2012 from the Bill & Melinda Gates Foundation. This May, eight BU students—winners of a University-wide search for the best student storytellers—traveled on fellowship to Kenya to launch the Pamoja Student Foreign Aid News Network ("pamoja" means "together" in Kiswahili). The network is part of BU's Program on Crisis Response and Reporting.
Alongside peers from Great Lakes University in Kisumu and Jaramogi Oginga Odinga University of Science and Technology in Bondo, the BU students learned about public health and communication from BU professors, and gathered audio and images on coverage-worthy foreign aid projects. The projects were finalized in Kenya and at BU's production facilities and are available at www.pamojatogether.com.
One goal "is to tell an American audience where aid dollars go and how they impact those communities that receive them," says Anne Donohue ('89), a COM associate professor of journalism. "Aid is often criticized—rightfully so—for not being effective or appropriate for the community that receives it. But there are also many examples of successful projects where aid brings a significant positive change to a community, and we think those stories should be told as well."
They're often not told because, like the proverbial airplane that lands safely, success stories tend to go unnoticed, and "public health is invisible when it is working," says Jennifer Beard (SPH'06), a School of Public Health assistant professor of international health and a CGHD faculty member. "The same invisibility can be applied to aid. When it is working, health systems function, fewer women bleed to death in childbirth, babies of HIV-positive moms are not infected with the virus, sex workers insist on using condoms with clients, and injection drug users have clean needles."
The BU organizers are seeking additional foundation support to continue funding the project when its first phase concludes this summer.
A version of this story originally ran in BU Today. Additional reporting was contributed by Julie Rattey. Check back to BU Today later this summer for more coverage of this program.
Did You Know?
Jim Thistle ('64), the late broadcast journalism program director at BU and onetime chair of the journalism department, was inducted posthumously as a member of the Massachusetts Broadcasters Hall of Fame in September. He is the only person to have held the role of news director at all three of Boston's network affiliates (WBZ-TV, WCVB and WHDH).
COM in the Capital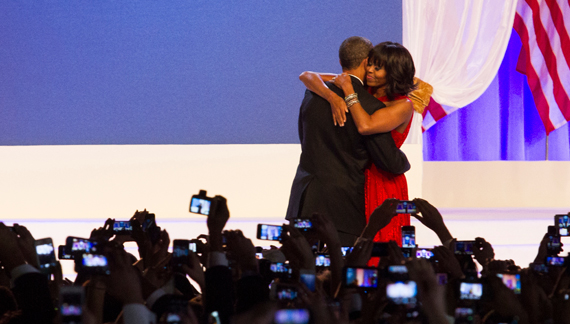 Micaela Bedell ('13) snagged this shot of President Barack Obama and First Lady Michelle Obama dancing at the Inaugural Ball during the 57th Presidential Inauguration. Bedell was one of a dozen COM students selected from about 50 applicants to cover the inauguration.
"There is nothing like working a story on deadline to build skills and confidence," says Associate Professor of the Practice of Journalism R. D. Sahl, who coordinated the trip with Associate Professor of the Practice of Journalism Michelle Johnson and colleagues at the BU Washington Journalism Program. "It beats a classroom exercise any day of the week."
The Accidental Journalists
An alum's documentary shows how a vegetable seller and a retiree are shaking up China
By Andrew Thurston
They're accidental journalists. And in modern China, home of an equivocal law banning "inciting subversion of state power," the accident is not necessarily a happy one. In the award-winning documentary High Tech, Low Life, Steve Maing ('97, CAS'97) follows two popular Chinese bloggers as they illuminate the untold and circumvent the ever-watchful authorities.
Zhang Shihe, aka Tiger Temple, and Zhou Shuguang, aka Zola, investigate, champion and inform. They don't do this for a living. One admits he doesn't even "know what journalism is." Yet as Maing chronicles the journeys of these two citizen journalists—a young vegetable seller and a retired advertising professional—their gritty, brave reporting spotlights hastily whitewashed murders, draws antigovernment stories from down-at-the-heel farmers and highlights the state-trampled rights of householders.
Maing says he was drawn to Tiger Temple and Zola because of their combination of the everyday and extraordinary: "They're average Chinese citizens expanding their freedom of speech in an evolving censorship environment. They take very calculated risks and make educated guesses about what they can and can't get away with; there can be a scary element to that, but one they learn to navigate."
At first, Maing wondered if one of those risks might be talking to him. That was until he checked with Zola, the blogging vegetable seller, who admitted he'd already posted the filmmaker's picture online, saying, "The police read my blog, so I would imagine they'll let me know soon enough if they have a problem with you filming." Still, says Maing, until the last, he was ready to pull High Tech, Low Life—five years in the making and cut from more than 600 hours of footage—if it appeared to put either protagonist in danger.
The film was never intended to be a crusade; Maing's interest began with the people, not the cause. "I aspired to make a film that complicated people's notions of China. We wanted to make a film that didn't create these fixed messages or a fixed moralization about what is right and what is wrong," he says. "The things I expected them not to be able to do, they were able to do, and then things I thought there'd be less problems with, had more problems."
High Tech, Low Life shows that censorship in China is complicated and capricious. What "inciting subversion" means might be anyone's guess, but citizen journalists like Tiger Temple and Zola are determined to find out.


High Tech, Low Life makes its national broadcast premiere July 22 at 10 p.m. on PBS' POV (check local listings). It is also available on iTunes.
WTBU Wins Station of the Year Award
WTBU, BU's student-run radio station, was named Station of the Year for the first time at the College Radio Awards in October 2012. WTBU beat three other nominees for the award, given in New York City by College Music Journal. WTBU, which broadcasts from COM, was also nominated for Best Use of Limited Resources, Biggest Champion of the Local Scene and Music Director of the Year (James Miller '14, CAS'14). Listen live to WTBU here.