COMtalk
COM Wire -Spring 2012
Probing America's Family Courts
By Andrew Thurston
A faculty- and student-made documentary highlights unsettling stories from courtroom custody battles.
Filmmaker Garland Waller deals in unpleasant facts. Take this one: According to the American Psychological Association, fathers who abuse their families are more likely to win custody of their kids than those who don't. In her latest documentary, No Way Out But One, Waller, a COM film professor, brings one desperate mother's custody struggle to the screen—and, she hopes, to living rooms nationwide.
In 1994, Holly Collins ran. Despite her broken nose, her son's fractured skull, and other terrifying reports of alleged abuse, a judge had awarded her husband full custody of their children. When her kids—then all under 12 years of age—pleaded with her to protect them, Collins took them and ran. The four unlikely fugitives swerved across the continent and away from the clutches of the FBI before making a dash for the Netherlands. There, Collins blurted out a plea for asylum; after years in refugee camps, she would become the first American woman to be granted sanctuary in the northern European country due to domestic violence.
No Way Out But One is a $40,000 documentary with all the ingredients of a taut big-budget flick.
Building a Case
Waller kept the price tag for her documentary about Collins below Hollywood proportions by adding her filmmaking students to the production team.
"I picked the students who were politically committed to this kind of issue and really wanted to go the extra mile," she says. "As a producer, not as a professor, I love working with those people who say, 'Teach me, show me, and I'll give you my time and energy.'"
Not everyone—the original family court judge included—has always been as convinced about the veracity of Collins' abuse allegations as have Waller and her students. Even 18 years later, Waller has faced down doubters at screenings. "I am confident, 100 percent, that we have told the truth," she replies. "We've got FBI documents, legal documents, documents from the hearings and letters from the doctors who saw the children."
The film's editor, graduate student Erika Street ('11), who also put together a 14-minute short of the documentary, shares that confidence. She sifted through a wealth of background information and, when she got lost in the details, appreciated being dragged up for a look at the bigger story: "The project was a good reminder of how important it is to have people watch your edits at various stages," says Street.
Mainstream Viewing
With the film complete, Waller is beginning to pitch No Way Out But One to TV executives. And she thinks it has a good shot. Her previous documentary on custody battles, the award-winning Small Justice: Little Justice in America's Family Courts, was largely restricted to film festivals; Waller suspects that was because it was such tough viewing: "I wasn't able to find one story that had a happy ending."
Collins' story is different (we won't completely spoil the surprise). But there's a wider tale that needs a happily-ever-after, too. Waller says abused women who want to win custody battles are often advised to keep quiet about the cruelty; it improves their chances in court. It's a wrong that Waller—and the students who worked with her—are determined to right.
Finding Direction
Directing an Onion writer's script and CFA talent
Strip a director's job to its essentials, says Associate Professor of Film Charles Merzbacher, and it comes down to working with the actors, getting the best performance out of those on camera. "That's the thing the director does that no one else does," Merzbacher says. "There are other people on a set who handle the lights and the camera and the sound and the rhythm of the edit." Those are all skills that COM students learn throughout the production curriculum, but "the directing class is where we can really focus on the relationship with the actors."
In Directing Theatrical & Television Film, COM students are given simple flip cams and encouraged to work through a series of directing exercises without worrying about editing or fixing sound later. Their goal is to shoot single-take master scenes in which the actors succeed in their roles—not to cut together the best of several takes and post a finished production on Vimeo. "It was kind of a load off," says Kyle Sauer ('12). "You're allowed to just work with people."
The actors they work with are BU College of Fine Arts theatre majors, who in the process are themselves learning how to work with film directors. "It's fun," says Sauer, "because everybody's very motivated to do the best work that they can."
Sauer learned how to strike a good balance in his collaboration with the screen talent. "When I read a script, I have a clear idea of how I would say that line, and I realized it is much better to let go of that when I hear what the actor brings to it." At the same time, Sauer had to rein in one actor doing an over-the-top Southern drawl that didn't fit the scene.
An aspiring comedy director, Sauer's big project was "A Date with Miss Massachusetts," a skit about an awkward dinner, written by Seth Reiss ('05) when he was a student, back before he became a head writer for the satirical news site The Onion. Reiss had given ­Merzbacher permission to put the script on file for future students' use, and Sauer, a member of Reiss' old sketch comedy troupe, Slow Children at Play, relished the chance to direct his predecessor's work.
"BU has a really long and very healthy tradition of sketch comedy," says Merzbacher. "The kids who are into that here are really into it. They take comedy very seriously."
Another uncommon element of the course was the option for students to turn in the final paper in the form of a video essay. Merzbacher thought, "Why am I having students do this through written papers or standing up in front of the class [presenting], when in fact this is about motion pictures? Let's have them use the medium."
Making a video in no way lets students off the hook from writing or synthesizing what they've learned. Sauer, for example, narrated a voiceover script and filmed title-sequence-style footnotes citing the course's required reading, Directing Actors, by Judith Weston. He essentially did write a paper and set it to film. "Kyle did exactly what I was hoping to see," says Merzbacher.
Summer in the City
A COM program shows high school students how to edit film, shoot news interviews, make movies and more.
By Rachel Johnson
What high school students need to know most if they are interested in COM's Academy of Media Production (AMP) summer program is that this isn't a "camp," says director Christophor Cavalieri. "The first day, students find out all work and performance gets evaluated and graded. It connotes rigor to them and sets the tone." Cavalieri, a COM assistant professor, shows no concern that this demanding program might scare off teenagers who are looking to relax during their summer vacation. He's looking for students who want a challenge. "Our expectations are high," he says. "Students are challenged to hone all of their communication skills, including their interpersonal skills. They learn if they fully engage, they'll have an exceptional experience. Students get a lot of responsibility and the staff's respect, and we expect the same in return."
Originally called the Institute for Television and Radio Production, AMP was created at COM in 1989, spearheaded by late COM Professor Lewis Barlow. While the aim of the program—to introduce high school students to media technology—has not changed, the technology itself has altered drastically. At the time of the program's inception, it was one of the few to offer media training to high school students. Today, many students arrive at AMP with some media skills, though Cavalieri says that is not at all a requirement. "Our students come with a range of experience and skill sets, but they're all bright, creative and eager to learn media production. The program design matches instruction with ability. If a student demonstrates basic proficiency in a particular skill, they'll explore more advanced tools and techniques, things they may only have heard about."
During the four-week program, students immerse themselves in three of the five workshops—film, television, radio, video and editing. They also attend seminars on various aspects of media production and visit field sites, from the Brickyard VFX visual effects studio on Boston's Newbury Street to the news station at local ABC affiliate WCVB-TV. Every site offers an opportunity to learn more about the ins and outs of the business that students likely haven't considered. "Instead of letting them think, 'Hey, let's just shoot this in Joe's dorm or set up a fake office,'" Cavalieri says, "we actually put them in situations where they're in locations and doing legitimate stories. We help them get access and teach them how to get it, and take them through the process."
The COM ties don't end with the program. Most of AMP's teaching and graduate assistants are COM students, AMP graduates, or, in many cases, both. BU's 2010 All-University Commencement student speaker Jonathan Priester ('10) first came to BU through AMP, as did current sophomore Jason Kashdan ('14), who has documented his COM experience on the award-winning Internet reality series COMlife (see sidebar). "We were exposed to professional-level equipment," says Kashdan. "Being able to shoot on television-grade, film and high-quality digital cameras provided for a wide spectrum of opportunities to get a real look into what I would be doing both in my studies and in my career."
As part of encouraging the next generation, AMP has also recently partnered with the nearby MATCH Charter Public School to create a scholarship for students interested in pursuing media studies to attend AMP. Cavalieri stresses that, while he's happy for participants to continue to pursue media production and find a foothold in the business, that's not the goal of the program. He wants AMP to challenge these students, to make them see media and the world in a new way, and to learn more about themselves and their goals in the process. "At the end," he says, "when they say, 'Wow, this was hard, but it was fun,' that's the response we're looking for."
Experience COM

COMlife is a student-produced web series in which COM students capture their four years at BU on camera. The series is currently in its second season and features Kate Scott ('14), Jason Kashdan ('14) and Alexa Galloway ('15). It is produced and edited by Mark Denega ('09, '12).
"We pride ourselves on our ability to inform and connect with prospective students, but the college experience is difficult to grasp without experiencing it firsthand," says Micha Sabovik, assistant dean for student services, graduate services and career services. "COMlife allows high school students to draw realistic insights that we might not be able to articulate otherwise. Producing the series provides our current students with valuable, hands-on experience—that's a great bonus—but at the end of the day, the primary focus is letting applicants see the College for themselves." See Season 2.
Genuine Class
Beloved professor wins Outstanding Educator Award, to no one's surprise
By Rachel Johnson
Ask his students: No one deserved the Public Relations Society of America (PRSA) 2011 Outstanding Educator Award more than COM Professor Stephen Quigley. A BU faculty member for more than a decade, Quigley is acclaimed as much for his genuine desire to help each of his students, past and present, as he is for his PR knowledge.
"Professor Quigley is one of the most inspiring, exciting and intelligent professors that I've had," says Ginny Soskey ('12, CAS'12). "He gets completely jazzed about new media, PR and how they affect companies today, and it is contagious. He pushes his students to be creative and thoughtful instead of just churning out a response to earn a grade."
"Professor Quigley is the most selfless person I've ever met," says former student Eric Leist ('10). "He cares about the people in his classroom way more than the papers they write or the tests they take. He is the kind of professor you stay in touch with because you know he always has your best interest at heart."
This is not Quigley's first award. In his 12 years at Boston University (and, before teaching, in 10 years as a partner in the PR firm Schneider Associates), Quigley has earned so many honors, your eyes would glaze over if we listed them all, but two highlights are the Publicity Club of New England's John J. Molloy Crystal Bell Lifetime Achievement Award and BU's Advisor of the Year Award.
"He'll never want to talk about all of the awards he wins or amazing things he does inside and outside the classroom," says Leist. "He just purely wants to help people, and he does." Leist, who worked under Quigley as vice president of the BU chapter of the Public Relations Student Society of America and as part of a student-run social media agency, credits Quigley with starting him on his career path: "Whenever I got lost, he would put me on the right track." Leist now works for the Massachusetts marketing firm Allen & Gerritsen.
Quigley is the third currently active COM professor (along with Don Wright and Otto Lerbinger) to earn the PRSA award. In addition to his teaching duties as an associate professor of public relations, Quigley is co-director of COM's Master of Science in Health Communication program and coordinator of the PR program. He is also on the editorial board of the Journal of Communication in Healthcare and recently co-authored Managing Corporate Communication: A Cross-Cultural Approach.
"He is one of those teachers you not only remember 20 years after you graduate but also have coffee with every month," says Soskey. "It is obvious when you are his student that he cares about you and your future, and that is something for which we are all grateful."
Alumnae Dynamae
By Leslie Friday
Which university graduates women with more power than Oprah Winfrey and Lady Gaga? Apparently, Boston University.
Three alumnae, including two from COM, ranked within the top 10 among The Hollywood Reporter's 2011 Women in Entertainment Power 100 list at the end of last year, beating the likes of Winfrey (No. 20) and Gaga (No. 30).
Bonnie Hammer ('71, SED'75), the NBCUniversal Cable Entertainment chairwoman, who was profiled in the last issue of COMtalk, tied for second, and CBS President Nina Tassler (CFA'79) came in seventh.
Nancy Dubuc ('91), president of the History and Lifetime channels, ranked No. 9. COM Assistant Professor of Advertising Christopher Cakebread made a lasting impression on her, she told BU Today.
"He very early on saw a fire in me that I didn't see in myself," Dubuc said. "I think that's something that's invaluable for a student and is often something you probably don't realize until there's some hindsight and years behind you." They still keep in touch. Cakebread wrote her a note after she was featured in a December New York Times article.
Dubuc also said her time at the Daily Free Press gave her a sense of independence and an entrepreneurial spirit that prepared her for the working world well before graduation day.
Like Hammer, Dubuc began her career at WGBH, as a production coordinator for This Old House and then a producer for Discover. She started working for A&E Television Networks and became the president of History and Lifetime several years later. Since then, she has catapulted History from the top 20 to the top five among cable channels, attracting hundreds of thousands of viewers with hit reality shows like Pawn Stars and Swamp People. She "breathed new life into programming that was in search of some kind of identity and edge," says COM Dean Tom Fiedler ('71).
The No. 2-ranked Hammer helmed Syfy and USA on her rise to the top at NBCUniversal. Fiedler says she and Dubuc have been "great ambassadors," noting that Hammer serves on the Dean's Advisory Board and was the College's 2009 Commencement speaker. He says she brands each of her networks with a distinctive personality that draws loyal audiences and, most important for business, a big advertising base.
This article was adapted with permission from a longer piece in BU Today.

Travis Roy ('00), motivational speaker and founder of the Travis Roy Foundation, chats with CBS News anchor Erica Hill ('98) last fall after both received COM Distinguished Alumni Awards. Samantha Swindler ('02), publisher of the Tillamook, Ore., Headlight-Herald, and Shauna Brook ('97), David Yurman vice president of marketing, were also honored.
Recommended Reading
There's a good chance you've read Professor Mitchell Zuckoff's book Lost in Shangri-La: A True Story of Survival, Adventure, and the Most Incredible Rescue Mission of World War II (HarperCollins, 2011). It was named to Amazon.com's top 10 books of 2011. Here are a few other recent releases by COM journalism faculty.

Covering America: A Narrative History of a Nation's Journalism (University of Massachusetts Press, 2012)
Associate Professor Christopher B. Daly
Daly places journalism's current crisis in historical context, showing today's upheaval as just the latest of the industry's technological and cultural revolutions.
"This is grand narrative as it should be—deftly balancing nuanced and consequential portraits of individual characters (Mencken, Luce, Hearst, Winchell, Lippmann) with compelling accounts of the big developments."
—Bruce Schulman
www.journalismprofessor.com

The Wiley-Blackwell History of American Film (Wiley-Blackwell, 2012)
Associate Professor Roy Grundmann (editor), with co-editor Cynthia Lucia
From political themes to production methods, this ambitious four-volume set explores all aspects of American film history through more than 90 scholarly essays.
"A tremendous double achievement: both a definitive collation of American cinema's history and a presentation of the personal perspectives of the top scholars working productively on that history. A research must-have!"
—Dana Polan, New York University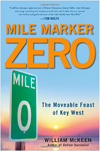 Mile Marker Zero: The Moveable Feast of Key West (Crown Publishers, 2011)
Professor William McKeen
Like Paris in the '20s and Greenwich Village in the '50s, Florida's Key West was a happening Bohemian haven that attracted a colorful collection of artists in the '70s.
"A tall but telescopic-sight-true tale of Hunter S. Thompson, Jimmy Buffett, Tom McGuane, and a large cavorting cast running around with sand in their shoes at 'ground zero for lust and greed and most of the other deadly sins, Key West.'"
—Tom Wolfe
http://williammckeen.com
Memoirs of a Rugby-Playing Man: Guts, Glory, and Blood in the World's Greatest Game (Thomas Dunne Books, 2012)
Lecturer Jay Atkinson
Atkinson's rough-and-tumble tale about the love and sting of his sport explains the life and sacrifices of physically demanding athletics—and why it is worth the pain.
"Atkinson, wised up from lessons on the rugby field and off, has created a brawny, engaging treat for followers of the sport and the curious." —Publishers Weekly

Field Guide to Covering Local News: How to Report on Cops, Courts, Schools, Emergencies and Government (CQ Press, 2011)
Associate Professor Fred Bayles
Bayles's book, addressing the how-to's of news coverage in a rapidly changing industry, has been adopted by over two dozen journalism programs since its October 2011 publication.
Writing in the Works (Wadsworth Publishing, 2012)
Associate Professor Susan R. Blau with co-author Kathryn Burak
A textbook that engages writers of every level, Blau and Burak cover writing assignments from application essays to editorials, teaching their readers to hone their individual styles while encouraging them to think critically about their work.
"Writing in the Works engages the student by getting him/her to think about the kinds of writing one might actually do." —Mark Baggett, Samford University
The First Amendment and the Fourth Estate, The Law of Mass Media (11th Edition) (Foundation Press, 2011)
Professor T. Barton Carter with co-authors Marc A. Franklin, Amy Kristin Sanders and Jay B. Wright
Using case studies, Carter's textbook delves into laws related to ownership, privacy, defamation, copyright, trademark and other topics as they relate to mass media, including the Internet and new media.

Where's Whitey? Tonto Books, 2011
Lecturer Phyllis Karas with Kevin Weeks
Karas and Weeks discuss the infamous history of Boston mobster Whitey Bulger and partner Catherine Greig and speculate on their years on the run in a fictionalized "what-if" account. The recent re-issue includes updates that address Bulger and Greig's recent capture.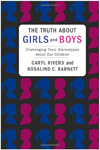 The Truth About Girls and Boys: Challenging Toxic Stereotypes About Our Children (Columbia University Press, 2011)
Professor Caryl Rivers with co-author Rosalind Barnett
A taking apart of the pop science that says girls' and boys' brain development and cognitive abilities are so different as to require separate education.
"A bracing antidote to the conventional wisdom. Like Malcolm Gladwell, Rivers and Barnett take the reader into the world of research and emerge with surprising—and unsettling—conclusions. Teachers, educators, parents, journalists and researchers would do well to read this book before hopping on the bandwagon about the 'differences' between boys and girls." —Jonathan Kaufman