Centers and Programs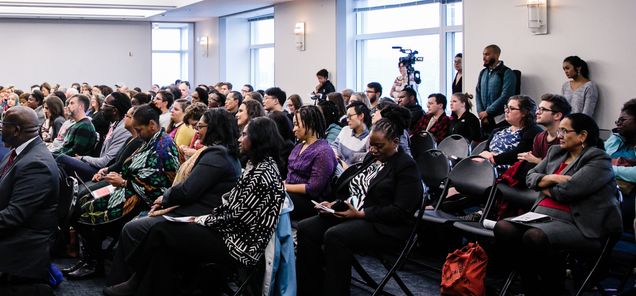 Boston University School of Theology Centers and Programs help students to connect their academic studies with the practice of ministry lived out in faith communities and the world.
Anna Howard Shaw Center
The Anna Howard Shaw Center provides research, education, support, advocacy, and fellowship for women who are dedicated to making a difference. Named after the Rev. Dr. Anna Howard Shaw, a Methodist minister, medical doctor, and suffragist, the Center is active in the lives of STH students through its Thursday lunch events, discussion groups, fall and spring retreats, workshops, presentation series, and worship services.
Center for Global Christianity and Mission
The Center for Global Christianity and Mission aspires to be a community where people live out their missional callings through critical reflection, faithful witness, and thoughtful engagement with multiple cultures around the world. The Center was established in 2002 to explore the most important development in Christianity during the late twentieth and early twenty-first centuries: the shift of Christianity's demographic center to the southern hemisphere and parts of Asia. The Center also seeks to document and digitize the contours of global Christianity.
Center for Practical Theology
The Center for Practical Theology brings together scholars and ministry leaders to strengthen the relationship between theological research and the experiences and visions of faith communities. The Center sponsors research on vocation, spiritual formation and church life, finding faith today, and youth ministry. It also hosts consultations on preaching and postcolonial theology, poverty and justice, and feminist practical theology.
Faith and Ecological Justice Program
For almost 20 years, the School of Theology has been building strength in ecological justice, beginning with courses and projects, sustainable practices, curriculum tracks, and LEEDS-certified renovations. In 2017, the School joined the second cohort of theological schools in the Green Seminary Initiative's certification process. As part of that certification process, Dean Mary Elizabeth Moore gathered a team of faculty, staff, and students. The School undertook a self-audit of ongoing ecological justice efforts in education, buildings and maintenance, community life, liturgy and worship, and public leadership. The School began discussing the possibility of launching a program centered on ecological justice, which in 2018 was aptly named the "Faith and Ecological Justice Program".
The Certificate in Faith and Ecological Justice signifies a student's concentrated development of research and/or practical competencies in ecotheology, environmental ethics, and ecologically-informed spirituality and practices. The goal of the certificate is to prepare students for meaningful and effective work in faith-based environmental initiatives and to explore the rich depth of religious resources for such work. Courses in theology and ethics introduce students to the ways that religious traditions have portrayed human relations to the natural world as well as how they have responded to environmental challenges. Travel seminars and colloquia offer students training in ecologically-informed spiritual practices and activism. Successful completion of the program consists of passing three approved courses in the subject area and completing three one-credit colloquia. The certificate can be earned in conjunction with degree program requirements or as a stand-alone certificate. If a student wants to substitute other courses including those from one of the other schools in the Boston Theological Institute, they will need to consult with Dr. Rebecca Copeland, Assistant Professor of Theology, and receive approval by petition to the academic dean. Students wanting more information about the Faith and Ecological certificate or the value of such certification may contact Dr. Copeland.
Faith and Ecological Justice Certificate Plan of Study
Raíces Latinas Program
Established in 2019, the Raíces Latinas Program at the BU School of Theology (STH) offers students the unique opportunity to pursue Latin American and Latinx studies, leadership formation, and research, as well as the opportunity to build collaborative partnerships at Boston University, the church, and the wider community. The program draws on the multi- and interdisciplinary interests of STH students and constituents, and the strength of the STH faculty. A strong foundation and commitment to Latinx initiatives already exist at STH and includes student group Raíces Latinas, which provides support and mentoring for Latinx students; The Raíces Latinas Leadership Institute, an international leadership semillero in which Christian Latinx college and seminary students discern their vocations; and the Hispanic Youth Leadership Academy (HYLA), a program of the United Methodist Church that supports high school students as they explore their lives with a cultural and theological lens and develop as leaders.
The Theology and Latinx Studies Certificate trains students in specialized theology and Latinx studies for service in faith communities and exploration of Latinx religious traditions in the world. This certificate program is offered to students enrolled in degree programs, as well as non-degree students who are seeking to advance their education and receive training and certification in the area of Latinx studies. Every aspect of the Raíces Latinas program emphasizes contributions to the Latinx community both locally and globally and prepares its students to passionately serve with  Latinx communities after graduation. For more information, please contact Rev. Dr. Cristian De La Rosa or Dr. Filipe Maia.
Theology & the Arts
Each year the Theology & the Arts Program sponsors art and religion-related competition. Previous competitions include poetry, hymn-writing, and photography.
The Tom Porter Religion & Conflict Transformation Program
The Tom Porter Religion & Conflict Transformation Program prepares students to lead change and build peace through imaginative action. Its certificate program trains leaders in the theology, theory, and practice of faith-based conflict transformation in faith communities and in the world. The program provides opportunities for practical engagement and contextual education beyond the classroom through internships and contextual education placement. First established in 2004 with generous funding from the Luce Foundation, this program prepares religious leaders to become a resource for peace in a multi-cultural, multi-faith world. The program emphasizes the following focal areas: conflict studies, trauma healing, restorative justice, human security, and spiritual formation of peacebuilders. The program is offered to students enrolled in degree programs, as well as to students in non-degree students, ministers and other professionals in the field seeking to advance their education and receive training and certification in the area of religion and conflict transformation.