Anna Howard Shaw Center
Check out the Anna Howard Shaw Center's latest newsletter fresh of the press! Click the link below!

Women in the World Conference is canceled because of the COVID-19 pandemic.
Boston University School of Theology Anna Howard Shaw Center and ACLAMEN (The National Association of Latina Methodist Clergy Women) will have this conference next year 2021!
This week The BU Prophet will shine a light on women's voices!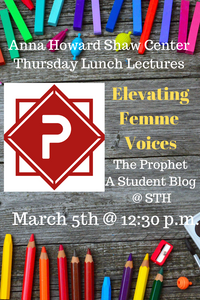 ---
Join us this coming Thursday to learn more about a local upcoming inter-generational yoga and meditation retreat for inner transformation and social change!

Set your calendars for the Divine Femme  Graduation Celebration on April 23!

Also…

---
Join us in the Anna Howard Shaw Center this Thursday for our special guest speaker Dan Hauge, who will be sharing about his PhD work at the School of Theology!

A couple we all know and love who met right here at STH will share their intercultural love story with us during this week's Thursday Lunch!

Thursday Lunch Lectures!

Beloved Community,
I want to invite you to participate in the Anna Howard Shaw Center Spiritual Stress Support Group that starts next Thursday. Every Thursday from 2-3 PM we will meet in the Shaw Center with Dr. Choi and a counselor from the Danielsen Institute.
After taking Sabbath Theology, I have come to realize that this support group has the potential to be an hour of Sabbath in my week in solidarity and community with others- major themes of the Sabbath according to the ancient traditions of Judea.
Please consider committing to showing up for yourself and each other for the next 10 -11 weeks (during the semester). There is usually a limit for up to 10 people so please respond ASAP to me to let me know to save you a seat (cjones92@bu.edu)!
Flyer is attached!

You are invited to our first Thursday Lunch Lecture series of the semester! Free lunch and lecture in the Shaw Center on January 30th, 12:30-1:30 pm!
Read our Fall 2019 Newsletter!
The 35th Volume of the Anna Howard Shaw Newsletter is now available!

Welcome to the Anna Howard Shaw Center
The Shaw Center Staff wish you luck on final exams and papers!  Happy Holiday, see you next semester!

The Fall 2018 Newsletter has been published! Learn about the ways women find healing in their lives!
 Take a look at our video celebrating the Anna Howard Shaw Center's 40 years! 

Mission:
---
The Anna Howard Shaw Center exists to promote structures and practices that empower women and honor diversity.
Student Testimonials:
"The Anna Howard Shaw Center is one of the more concrete spaces that fosters a sense of community. Anyone can come here and know that they can get a cup of tea and a couch to sleep on. I also like that it is a space within the School of Theology that provides solitude for persons of gendered minorities and free lunch." —Nathan Bakken, (MDiv, 2017)
"Without the Shaw Center, I would probably not survive. The place, coffee, food, people, and conversation–everything the Shaw Center sustains and nourishes me."–Hyebin Hong, (MTS, 2012/PhD, 2019)
"Anna Howard Shaw has been a great resource for students; outside of their weekly events, they are supportive of student lead initiatives. Ideas come to fruition with the support of the institution, and AHSC will be one of the change agents in the process of making ideas into reality."– Ylisse Bess-Washington, (MDiv, 2017)
---
Research:
---