snapshot
SPH at APHA 2023
From panel sessions and poster presentations to a night celebrating at the Georgia Aquarium, the SPH community gathered in Atlanta, GA for the American Public Health Association Annual Meeting & Expo.
The 2023 American Public Health Association Annual Meeting & Expo was held November 12-15 in Atlanta, Georgia. Over the 4-day conference, the School of Public Health community was well-represented, with faculty, staff, students, and alumni speaking on panels, presenting at poster sessions, and gathering to celebrate one another's accomplishments in the field.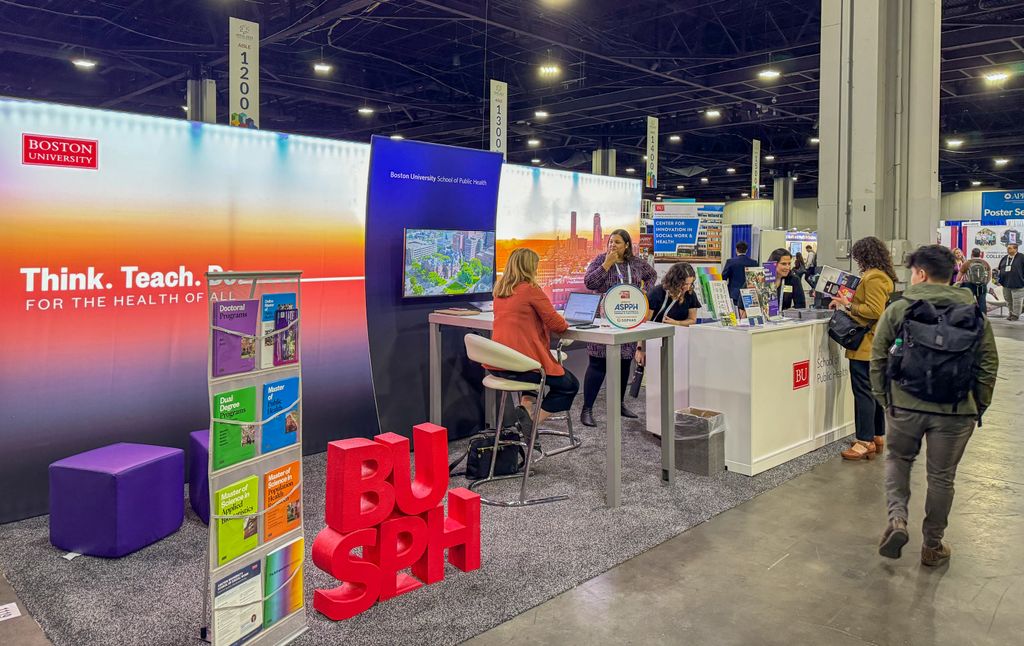 At the School's exhibit hall booth, new and old faces stopped by to reconnect with friends and colleagues, learn more about degree offerings at SPH, and grab highly sought after lanyard pins that answer the question: What does public health mean to you?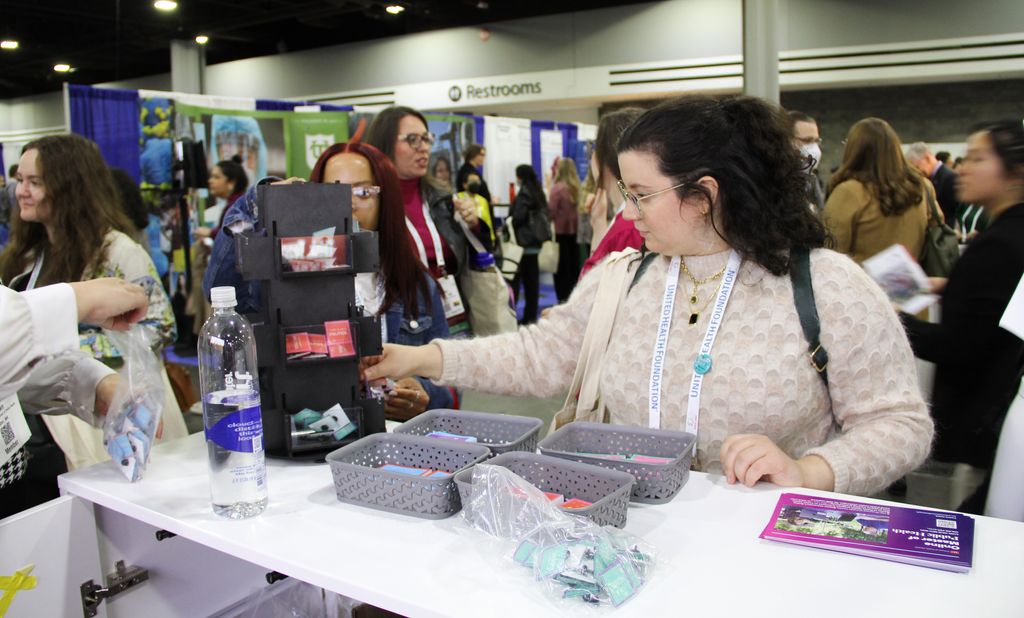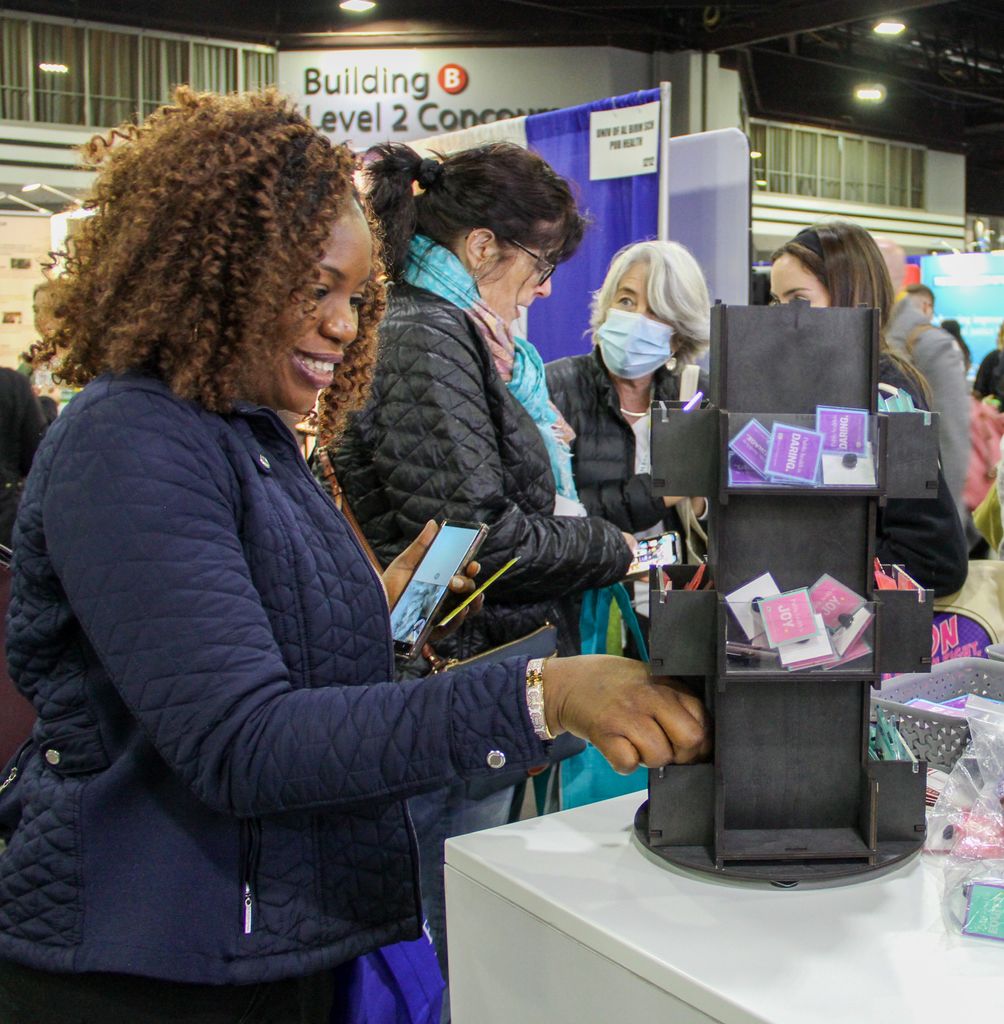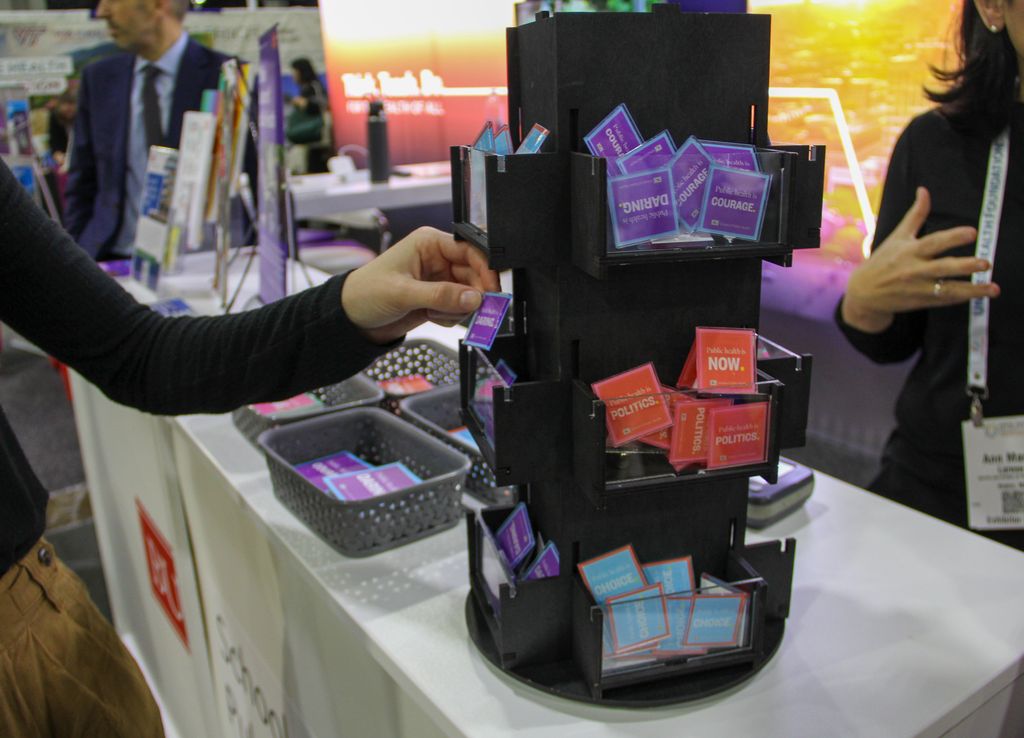 Chris Chanyasulkit (CAS'98, SPH'01) (right), alum and president of APHA, paid the booth a visit to reconnect and take a selfie with Yvette Cozier, associate dean for diversity, equity, inclusion, & justice.
Dean Sandro Galea spoke at an APHA General Session, titled "Declining US Health: A population health emergency!" His co-panelists were Mary Bassett (middle), director of the François-Xavier Bagnoud (FXB) Center for Health and Human Rights at the Harvard T.H. Chan School of Public Health; Steven Woolf (right), director emeritus of the Center on Society and Health at Virginia Commonwealth University School of Population Health; and Donald Warne (not pictured), co-director of the Center for Indigenous Health at the Johns Hopkins Bloomberg School of Public Health. The session, which centered on declining health across the country and the challenges we are facing in creating a healthier nation, was moderated by Stephen Bezruchka (left), associate teaching professor emeritus at the University of Washington.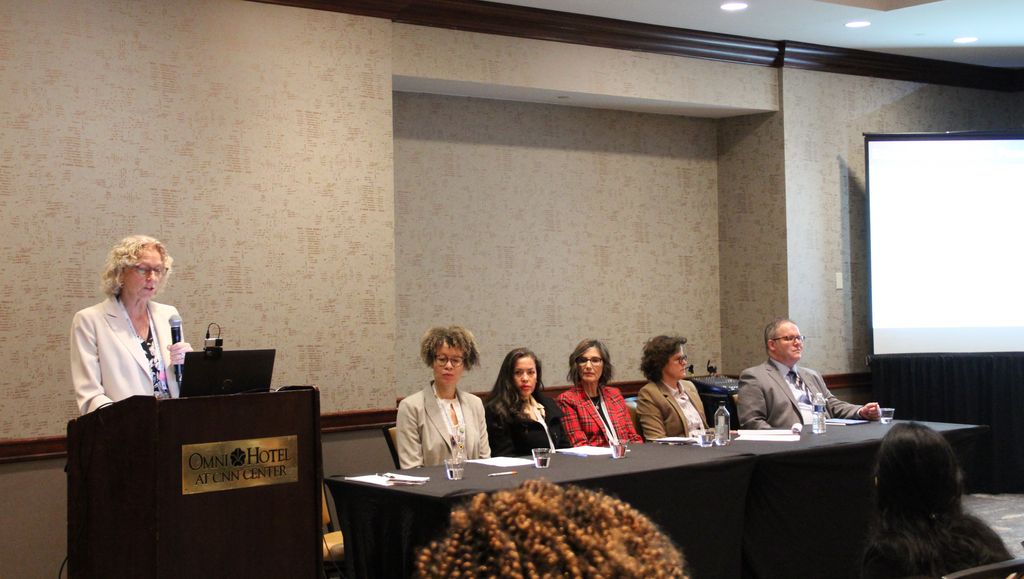 On left, Lisa Sullivan, associate dean for education, moderated the Academic and Practice Linkages in Public Health Caucus, hosted by the American Schools and Programs of Public Health (ASPPH). Panelists shared how they are working to prepare and develop the future public health workforce.
On right, Tomeka Frieson (SPH'23), spoke on a panel session about child and adolescent health. She and her co-author Lilin Tong (left), a student at Boston University Chobanian & Avedisian School of Medicine, shared their recent work developing a screening, intervention, and resource referral program to improve health equity in the pediatric emergency department at Boston Medical Center.
Stacey Cunnington (COM'17, SPH'22) (back right), program communication manager in community health sciences, shared her work, conducted under Jacey Greece (back left), clinical associate professor of community health sciences, at a poster presentation. She discussed how practice-based teaching plays an essential role in preparing and building up the future public health workforce. Cunnington's co-author, Eva Nelson (SPH'22), also dropped by to show her support for her colleague.
Student Juliana Stoneback also shared her work at a poster presentation. Her project centered on exploring the role of midwives in the dynamics between maternal race and medical interventions during childbirth. Stoneback conducted this research as part of her maternal and child health research fellowship, under the guidance of Eugene Declercq, professor of community health sciences.
"I was honored to have the opportunity to present my research at APHA. It was incredible to share my work with such a large public health audience," says Stoneback. "I'm interested in pursuing a career that creates policy solutions in the maternal and child health space, and this felt like an important stepping stone for getting started."
On Sunday, November 12, SPH alumni and friends gathered at the Georgia Aquarium for a night catching up with old friends and celebrating one another's achievements (with a great view!). Alums Muka Chikuba-McLeod (SPH'98) and Kate Onyejekwe (SPH'03) were presented with 2023 Distinguished Alumni Awards for their outstanding contributions to the public health field.