Language and Love: An Alum's Approach to Public Health Leadership
.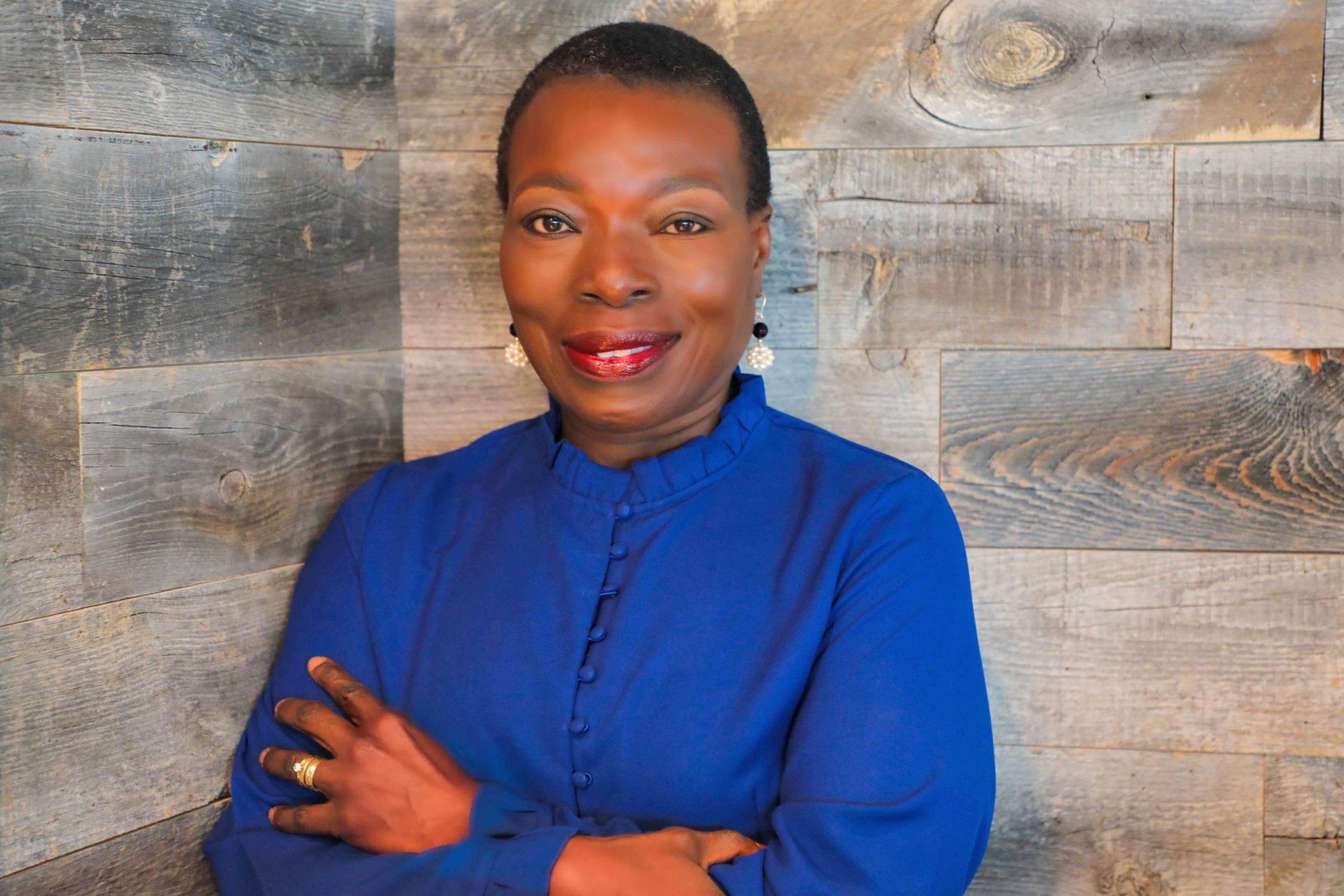 Global Health
Language and Love: An Alum's Approach to Public Health Leadership
Kate Onyejekwe (SPH'03), director of the international division of John Snow, Inc. in Washington, D.C., recounts her journey from English major in Nigeria to global public health leader.
From writing grant proposals to save the Nigerian office of a global health nongovernmental organization from imminent closure, to directing a $1.2 billion portfolio of global programs for a global public health consulting firm, Kate Onyejekwe's (SPH'03) career stands as a testament to the profound power of effective written and interpersonal communication to advance public health.
"You can't do public health without clear articulation of the problem and of your solutions. You can't lead people without a clear articulation of your vision and clear contextualization of your language," says Onyejekwe, a Rhodes Scholar who earned her master's in English Studies at the University of Oxford.
Onyejekwe vividly recalls her disappointment at her first meeting with her tutor at Oxford when she saw more red ink than black on a draft paper she had written. Having studied English for four years in undergrad and graduated summa cum laude, it was a humbling experience, she says. But in time, she learned to communicate more clearly; it is a skill she says has served her well in the field of global health, where organizations must pitch a compelling story to secure the funds that enable them to serve to those in need.
"I always thought I'd be a philanthropist because I was committed to helping people," says Onyejekwe. "I never made enough money to become a philanthropist, but I'm doing philanthropy right now with other people's money and it's a privilege."
Upon returning home to Nigeria from Oxford, Onyejekwe worked in journalism and later in advertising. She enjoyed the creativity of her advertising work, she says, but several years in, a friend she met while at Oxford suggested her writing skills could help the Nigeria office of Pathfinder International, a global health nongovernmental organization.
At the time, Pathfinder Nigeria primarily focused on family planning initiatives and heavily depended on funding from the United States Agency for International Development (USAID) , says Onyejekwe. As a result, they struggled to maintain operations under the United States' Mexico City Policy, a rule instituted by several Republican administrations requiring aid organizations agree not to provide or promote abortion-related services in order to receive U.S. assistance.
Pathfinder International sued USAID, claiming the policy (also known as the global gag rule) violated its First Amendment rights, but were unsuccessful in overturning it. In response, Onyejekwe says, Pathfinder's headquarters in Watertown, Mass. gave its Nigeria office three months to secure alternative sources of funding.
"My introduction to public health was, 'Let's work with [Pathfinder], with your English skills, to write [grant] proposals that will pass muster and get funded!'" says Onyejekwe. "And because we were trying to survive, there were no limitations. We were no longer limited by Pathfinder's commitment to family planning alone—we got funding to do institutional capacity building from the Ford Foundation, and then we got funding to do HIV/AIDS work from DFID, and then we got funding to do quality of care training from the British Council. We got all kinds of funding that enabled us to do some really fun, innovative things in Nigeria."
For eight years, Onyejekwe traversed the country gaining technical expertise in family planning, reproductive health, maternal health, youth programming, and institutional capacity building. People frequently asked if she was a doctor, the former English major says, so she decided to train as a public health practitioner by pursuing a master's in public health at Boston University School of Public Health.
"I really liked the program at BU—it was very practical. It was good for practitioners like me, who already had the experience and basically needed to align that with the knowledge in the industry," says Onyejekwe, who became well known in her global health cohort for raising two toddlers while studying full-time. "I had a wonderful experience. That was really the solidification of my commitment to working in international public health."
After graduating from SPH, Onyejekwe spent over a decade at Management Sciences for Health in Medford, Mass., another global health nongovernmental organization, where she acquired knowledge of the finance, operations, and administrative side of the industry before John Snow Inc. (JSI) tapped her for her next role: public health leadership.
In addition to overseeing multiple global projects, Onyejekwe also directs an array of technical competency centers at JSI, including the centers for immunization, health supply chain management, monitoring and evaluation, digital health, behavior initiatives, capacity building, HIV, maternal and child health, and community health. She ensures that JSI delivers on what it promises its clients and that its programs have a measurable impact.
"I'm very privileged that I'm supervising people who are competent," says Onyejekwe. "I'm supervising people who, in their own right, are at the top of their careers."
Onyejekwe says that holding positions that often defied others' expectations of her taught her how to have the difficult, but necessary conversations required of a leader. The biggest challenges she has faced in her career have not been with the work, she says, but rather "navigating the relationships that enable the work to happen." She credits her success to her articulate communication, as well as something she thinks most people would not think of as a strategy: love.
"It is the way you instill trust with your colleagues," says Onyejekwe. "That is what makes this work, and what makes us across-the-board better implementers of public health programs."