Volume 27
Arion 27.1 Spring/Summer 2019
Essays and Verse
Woah!
John Shoptaw
Little Eternities: Henry James's Horation Sense of Time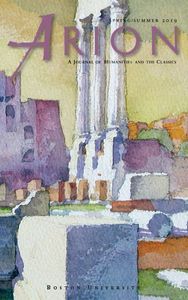 Kathleen Riley
Five Poems
Deborah Warren
Epigram into Lyric: Francis Bacon Translates from the Greek Anthology
Gordon Braden
Seven Poems
Nicolas Calas, Translated by Ari Sharon
Iago's Roman Ancestors
James Tatum
Five Poems
Amit Majmudar
Classics and complexity in Walden's "Spring"
M. D. Usher
Note From a Narcissist (Amores I.II)
Ovid, Translated by Caleb M. X. Dance 
An Epiphany in Munich
Lincoln Perry
Canti VI, Bruto Minore
Giacomo Leopardi, Translated by Steven J. Willett
Reviews
Classical Art: A Life History. Caroline Vout, Classical Art:  A Life History from Antiquity to the Present
David Cast
Poems Ancient and Contemporary. A. E Stallings, Like: Poems
Helaine L. Smith
Arion 27.2 Fall 2019
Essays and Verse
After the War
David Gomes Cásseres
A Milanese Quartet
Fred Licht
English Classical: The Reform of Poetry in Elizabethan England
Stephen Orgel 
The Arrows of Apollo
Brooke Clark 
Women Poets and the Origin of the Greek Hexameter
W. Robert Connor
Two Sonnets
Daniel Galef 
Parmenides: The Road to Reality. A New Verse Translation
Richard McKim
Kykilkoi Logoi
Benjamin Haller 
Attis at Large
Catullus, Translated by Anna Jackson
Two Poems
Josephine Balmer
Reviews
Reach Without Grasping: A Retrospective Appreciation. Anne Carson's Eros the Bittersweet
Louis A. Ruprecht Jr. 
Ovid, Art, and Eros. Ovidio, amori, miti e altre storie, ed Francesca Ghedini et al.
Paul Barolsky