Visiting the School of Theology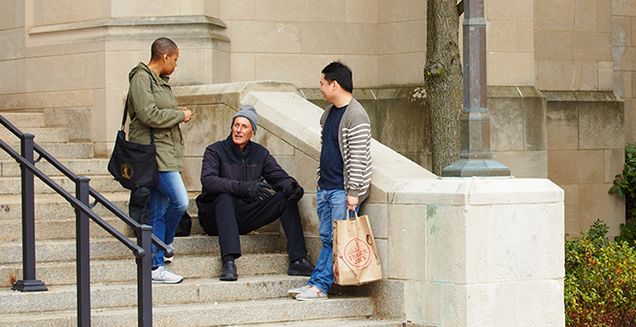 The School of Theology's Admissions Office typically loves prospective student visits to campus, as we believe it's the best way to experience the fullness of our community life and educational opportunities. However, due to the public health restrictions put in place to curb the spread of COVID-19, Boston University is not currently welcoming any visitors to its campus. This means that, unfortunately, we cannot welcome prospective students for on-campus visits at this time. We look forward to a time when individual on-campus visits will begin again. In the meantime, we are planning a number of "virtual visit days" that you can sign up to attend below, and our whole Admissions Office staff is available for individual meetings by phone or Zoom. Feel free to call, text, or email our Admissions Office (617-383-9347 or sthadmis@bu.edu) to set up a time to speak with an Admissions Office representative.
Already Admitted? Attend Our "Admitted Student Open House" Events
Once you've been admitted to one of our programs there's still a lot to ask as you discern a transition to the School of Theology. Life in Boston, housing, whether or not to bring a car to campus, job opportunities, community life and student groups, and registration – these are the types of things we discuss at our Admitted Student Open House, which will take place once each month, March through May. Sign up to attend using the form below.
(If you haven't yet been admitted to a degree program at the School of Theology, please see our "Catch-a-Glimpse" visit days below, which are more attuned to the questions of prospective students.)
Before You're Admitted: Attend Our Virtual "Catch-a-Glimpse" Visit Days
Catch-a-Glimpse is our longstanding open house event where we welcome prospective students to campus to "catch a glimpse" of all that's happening in the life of our school. This year we're moving Catch-a-Glimpse online, via hour-long Zoom events structured to help prospective students learn the basics about BUSTH. These events will include presentations on the School's academic and community life and important information about housing and financial aid. By the end of the hour we hope you'll have a sense of what makes BUSTH so special among seminaries. And from there you can always schedule an individual visit with an Admissions representative if you'd like to ask further questions. We hope to see you at a future virtual Catch-a-Glimpse event.
Download a Copy of our Viewbook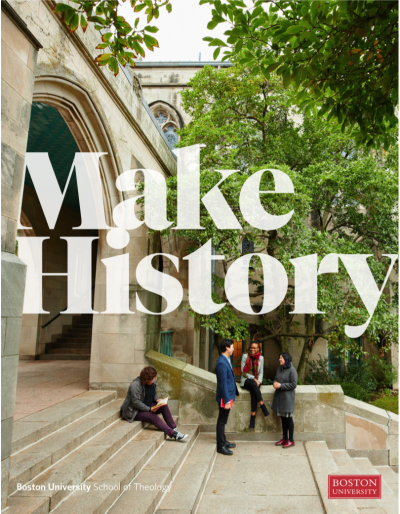 As a means of getting to know the School of Theology from afar, here's a sneak peek of our Viewbook. This publication includes current student and graduate profiles, letters from our Deans, and pictures of our community life. You can download a copy here.