Madrid Spanish & European Studies, Summer
---
The Madrid Summer Spanish Studies Program offers six weeks of study and cultural immersion, with different levels based upon language proficiency. This program takes place at the Instituto Internacional. 
Students enroll in two courses. Their preparation and background in Spanish will determine placement in different levels from intensive Spanish language courses to liberal arts courses that introduce students to topics such as Spanish history, culture, art, literature, etc. Course offerings vary each Summer Term. 
---
Courses Offered Summer 2022
Students can take almost any combination of the following classes:
11:00 am – 1:00 pm: 
CAS LS 211

Third-Semester Spanish
CAS LS 312 Spanish through Cultural Destinations: Madrid en Vivo
5:00 – 7:00 pm: 
CAS LS 241 Cultures of Spain: Past and Present
CAS AH 258 Spaces of Art: from Velázquez to the Private Gallery in Spain


CAS SP 345 Spanish Contemporary Politics
Students are highly encouraged to reach out to BU Madrid staff (ashw@bu.edu or amaliapj@bu.edu) prior to registering for classes. 
Students are also encouraged to consult with their academic advisor prior to enrolling in the BU Madrid Summer Term.
---
Burgos trip
The group field trip for the Summer 2022 session will take place on the Camino de Santiago (Way of St. James)! The Camino de Santiago was a Christian pilgrimage in the Middle Ages, starting from your front door and ending in the city of Santiago de Compostela, in Galicia. Now a cultural path recognized by UNESCO as a World Heritage Site, students on this trip will be surrounded by various historical sites and the natural beauty Northern Spain has to offer. Don't miss out on this important piece of Spanish culture. As this is an outdoors field trip, we ask that you bring sneakers fit for walking.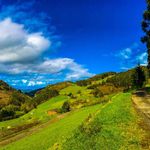 ---
Toledo trip
---
Additional Links
Madrid Summer Spanish Studies Program: Syllabi – Schedule