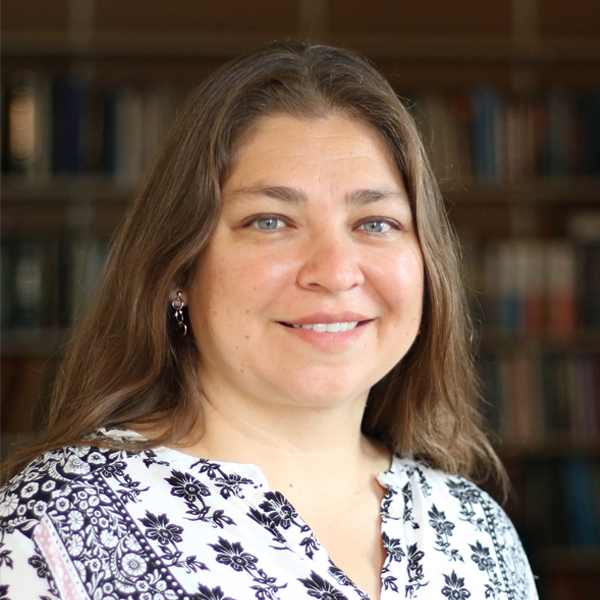 Profiles
M. Patricia Fabian

,

ScD
Associate Professor

,

Environmental Health

-

Boston University School of Public Health
Biography
M. Patricia Fabian is an Associate Professor of the Department of Environmental Health, Associate Director with the Boston University Institute for Global Sustainability and affiliated with the Hariri Institute for Computing and the Graduate Program in Urban Biogeoscience and Environmental Health. She conducts research and teaching focused on health and environmental health disparities in the built environment, and built the first systems science model linking housing, indoor air quality, energy use, and health. She is the BU site PI for the Consortium for Climate Risk in the Urban Northeast and co-directs a study of heat exposure and vulnerability in the cities of Chelsea and East Boston. Her research teams are highly interdisciplinary and projects leverage big data at many scales, including electronic health records, remote sensing, and geospatial databases of social and environmental determinants of health (SDOH). Her research group has published over 100 articles in the peer-reviewed literature. Dr. Fabian was a Steering Committee member for the Massachusetts Executive Office of Energy and Environmental Affairs on the 80x50 Greenhouse Gas Reduction Study.
Current research interests: quantifying the energy-indoor air quality-health tradeoffs of decarbonization initiatives in current and future climate through systems science modeling, evaluating energy-health tradeoffs of interventions to reduce Covid-19 transmission in buildings, and supporting the design of heat adaptation and mitigation interventions at the individual, household, community, and city levels through community engaged research.
Education
Harvard School of Public Health

,

ScD

Field of Study:

Environmental Health

University of Colorado Boulder

,

MS

Field of Study:

Environmental Engineering

Tecnológico de Monterrey

,

BS

Field of Study:

Industrial Engineering
Publications
Published on 7/9/2022

Tieskens KF, Smith IA, Jimenez RB, Hutyra LR, Fabian MP. Mapping the gaps between cooling benefits of urban greenspace and population heat vulnerability. Sci Total Environ. 2022 Jul 09; 845:157283. PMID: 35820520.

Read At:

PubMed
Published on 6/30/2022

Bozigar M, Connolly CL, Legler A, Adams WG, Milando CW, Reynolds DB, Carnes F, Jimenez RB, Peer K, Vermeer K, Levy JI, Fabian MP. In-home environmental exposures predicted from geospatial characteristics of the built environment and electronic health records of children with asthma. Ann Epidemiol. 2022 Jun 30; 73:38-47. PMID: 35779709.

Read At:

PubMed
Published on 6/9/2022

Milando CW, Carnes F, Vermeer K, Levy JI, Fabian MP. Sensitivity of modeled residential fine particulate matter exposure to select building and source characteristics: A case study using public data in Boston, MA. Sci Total Environ. 2022 Sep 20; 840:156625. PMID: 35691344.

Read At:

PubMed
Published on 6/1/2022

Connolly CL, Milando CW, Tieskens KF, Ashmore J, Carvalho L, Levy JI, Fabian MP. Impact of meteorology on indoor air quality, energy use, and health in a typical mid-rise multi-family home in the eastern United States. Indoor Air. 2022 Jun; 32(6):e13065. PMID: 35762242.

Read At:

PubMed
Published on 2/1/2022

Vanoli, Jacopo Coull, Brent A Ettinger de Cuba, Stephanie Fabian, M. Patricia Carnes, Fei Massaro, Marisa A. Poblacion, Ana Bellocco, Rino Kloog, Itai Schwartz, Joel Laden, Francine Zanobetti, Antonella. Postnatal exposure to PM2.5 and weight trajectories in early childhood. Environmental Epidemiology. 2022; 6(1):e181.
Published on 1/29/2022

Jimenez RB, Lane KJ, Hutyra LR, Fabian MP. Spatial resolution of Normalized Difference Vegetation Index and greenness exposure misclassification in an urban cohort. J Expo Sci Environ Epidemiol. 2022 03; 32(2):213-222. PMID: 35094014.

Read At:

PubMed
Published on 1/4/2022

Chu MT, Ettinger de Cuba S, Fabian MP, Lane KJ, James-Todd T, Williams DR, Coull BA, Carnes F, Massaro M, Levy JI, Laden F, Sandel M, Adamkiewicz G, Zanobetti A. The immigrant birthweight paradox in an urban cohort: Role of immigrant enclaves and ambient air pollution. J Expo Sci Environ Epidemiol. 2022 Jul; 32(4):571-582. PMID: 34980894.

Read At:

PubMed
Published on 11/10/2021

Spangler KR, Patil P, Peng X, Levy JI, Lane KJ, Tieskens KF, Carnes F, Klevens RM, Erdman EA, Troppy TS, Fabian MP, Leibler JH. Community predictors of COVID-19 cases and deaths in Massachusetts: Evaluating changes over time using geospatially refined data. Influenza Other Respir Viruses. 2022 03; 16(2):213-221. PMID: 34761531.

Read At:

PubMed
Published on 7/16/2021

Tieskens KF, Patil P, Levy JI, Brochu P, Lane KJ, Fabian MP, Carnes F, Haley BM, Spangler KR, Leibler JH. Time-varying associations between COVID-19 case incidence and community-level sociodemographic, occupational, environmental, and mobility risk factors in Massachusetts. BMC Infect Dis. 2021 Jul 16; 21(1):686. PMID: 34271870.

Read At:

PubMed
Published on 4/6/2021

Milando CW, Yitshak-Sade M, Zanobetti A, Levy JI, Laden F, Fabian MP. Modeling the impact of exposure reductions using multi-stressor epidemiology, exposure models, and synthetic microdata: an application to birthweight in two environmental justice communities. J Expo Sci Environ Epidemiol. 2021 05; 31(3):442-453. PMID: 33824415.

Read At:

PubMed
View 102 more publications:View Full Profile at BUMC
News & In the Media