Amid Climate Change, SPH Researchers Study Chelsea's 'Heat Island'
.
heat exposure
Amid Climate Change, SPH Researchers Study Chelsea's 'Heat Island'
Madeleine Scammell and Patricia Fabian are studying air and ground temperatures in Chelsea, Mass., an urban "heat island" that's getting hotter from climate change.
A version of this article originally appeared in BU Today.
The usual urban symphony—background traffic din, a man's bullhorn of a voice pontificating about something or other—is in full swing as Madeleine Scammell climbs a stepladder by a tree in Chelsea's Bellingham Square. Amid the lower branches, she fastens a white device that looks like a spiral lightbulb, assisted by Alina McIntyre.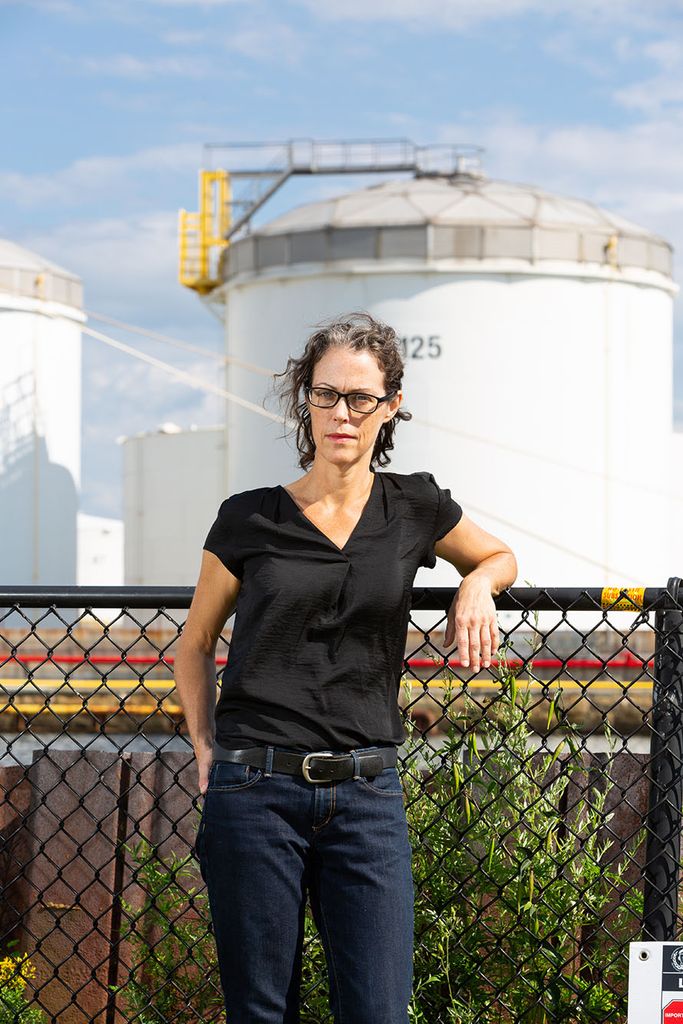 After two and a half years of such work, Scammell (SPH'08), a School of Public Health associate professor of environmental health, and her street acrobatics are a familiar sight to many in this majority Latin American city of 41,000. As she and her PhD student McIntyre (SPH'25) walk to outfit another tree with a sensor, an acquaintance greets them with a friendly "Mucho trabajo" (Lots of work).
"Siempre" (Always), laughs Scammell, who with Patricia Fabian, also an SPH environmental health associate professor, is studying temperatures in one of the hottest places in Massachusetts—and ways to dial down the thermostat.
Her device will record the temperature every 10 seconds and send the data to researchers' phones. "Bellingham Square is among the hotter hot pits in the city," she says. You'd never know that on this late spring evening, cooled by shade and a gentle breeze blowing. But the bulk of Chelsea is "one of the worst" heat islands in the state, Scammell says—"heat island" meaning a locale with hotter-than-average air and land temperatures.
With climate change, it's getting even hotter. Enter the C-Heat Project, teaming SPH and Greenroots, a Chelsea environmental and public health nonprofit. Led by Scammell and Fabian, the project is stringing more than 20 heat sensors on trees to track temperatures around the city. Municipal officials are part of the project's advisory team, and parallel to the research, they've designated a "cool block" not far from Bellingham Square that will become a laboratory for throwing all but the kitchen sink at the heat problem.
The city planted 47 elm, crabapple, cherry, and hawthorn trees to shade the stretch. It's redoing sidewalks with porous pavement that captures rain, evaporation of which may reduce the heat island effect. Lighter gray asphalt will replace its black cousin on the road. There are plans to make a vacant lot greener and cooler and to install a white roof on a nearby Boys & Girls Club.
Chelsea's mercury can soar 20 to 50 degrees higher than in tree-shaded suburbs; paved land surfaces have sizzled at 140 degrees on July days. Summertime living not only isn't easy, it's potentially deadly when it gets that hot. Dehydration, heat stroke, lung impairments such as asthma, and kidney disease can afflict the medically vulnerable. Chelsea's deputy fire chief told WBUR, the University's NPR station, that medical calls spike during summer.
"There's a health toll to living in an urban heat island," says Scammell. "People's experience of heat vastly differs, and having resources to cope makes a huge difference that can be life or death. And the most vulnerable people—like those who live in Chelsea and East Boston—don't often have those resources.
"We know that the black tarmac pavement contributes" to the heat, she says. "The flat, black rubber roofs on buildings contribute. [Buildings] have to have coolant capacity inside themselves [air conditioners], and that energy creates more heat. So you see the exhaust of the AC from City Hall goes right out into the square.
"And we're driving in our air-conditioned vehicles, and all of the particles emitted from the tailpipes are heat-trapping particles that contribute to the greenhouse effect and the urban heat island effect."
The role of air conditioning is "a delicate balance," McIntyre says, as that coolant is a public health need that low-income residents of heat islands often can't afford. Scammell says the city gave away free air conditioners last summer; 1,000 people entered a lottery that culled 200 lucky winners.
Scammell acknowledges that with so many cooling Band-Aids being applied to the "cool block," it might be difficult to parse which ones work better than others. But the main thrust of the study is data collection: "If we were trying to determine the efficacy of just pervious paver interventions, we would have to have designed the study with that intention from the beginning," she says. "But this was more like, let's characterize the hot areas in the city, and then think about solutions.
"I think we'll be able to see the effect of the trees over time. And trees around the city have been planted by the [state], and they're also interested in the cooling effect of those trees… Really, the jury's out on a lot of these things, whether or not they do actually reduce the need for other cooling interventions like the use of AC, or if they improve the experience for people walking down the street."
Also, ideas like planting trees may not work in regions of the country where water shortages are an issue, she says.
As the climate warms, siphoning off some heat from heat islands is preoccupying other cities besides Chelsea. Phoenix created a municipal office to mitigate potentially lethal heat, a move some experts advocate for all cities. A Norwell, Mass., filmmaking team is including Scammell's and Fabian's work in a documentary about climate change.
The C-Heat Project was funded with $600,000 from Boston's Barr Foundation. Scammell and Fabian are seeking funding for two additional years of data collection. "We're looking at…what drives the extreme heat in the heart of this urban area," Scammell says. "We're going to continue monitoring to see if there's a change in temperature along the cool block, in an effort to take some of the burn off of Chelsea."