COVID-19 Story Map Illustrates Vulnerable Populations in Massachusetts
.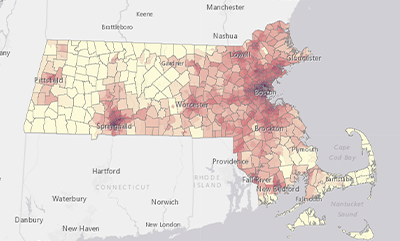 As COVID-19 continues to severely and disproportionately impact Massachusetts' communities of color, a team of faculty members, researchers, and students at the School of Public Health have created an interactive mapping tool that offers visual and analytical insight into exactly which populations, cities, and towns are most vulnerable to the coronavirus in the Commonwealth, based on a range of health, economic, environmental, and social factors.
The story map helped inform an environmental justice policy brief released by the Massachusetts Office of the Attorney General on Tuesday, May 12. The report, titled "COVID-19's Unequal Effects in Massachusetts," draws a parallel between coronavirus vulnerability and air pollution among communities of color and immigrant communities, and provides recommendations on how the Commonwealth can strengthen environmental regulations that protect public health.
"Environmental justice communities have been disproportionately burdened by COVID-19, because of a combination of factors ranging from workplace exposures to overcrowded housing to environmental exposures that lead to higher rates of respiratory and cardiovascular disease," said Jonathan Levy, chair and professor of environmental health, during a press conference about the report with Attorney General Maura Healey on May 12. "Only by understanding the influence of environmental exposures can we protect vulnerable populations from this pandemic and future crises, including climate change."
The story map, spearheaded by Patricia Fabian, associate professor of environmental health, is a collaborative project produced by faculty members and doctoral students in the Department of Environmental Health, researchers in the Center for Research on Environmental and Social Stressors in Housing Across the Lifecourse (CRESSH), and students in Fabian's spring 2020 GIS for Public Health Data Analytics (EH811) course.
Populated with short-term COVID-19 data compiled by Healey's office, as well as health and demographic information from public government sources, the SPH team swiftly launched the mapping tool in early April, before state officials began releasing weekly data on town-by-town infection rates and the race and ethnicity of those who have tested positive for coronavirus. The work was sparked by the efforts of Madeleine Scammell, associate professor of environmental health, who was one of the first to identify the surge of COVID-19 cases in Massachusetts' hardest-hit City of Chelsea and who helped identify town-by-town data on positive COVID-19 cases.
While daily totals of positive COVID-19 cases in Massachusetts have started to decline, the Commonwealth remains one of the epicenters of the virus in the US, and cases in communities with high percentages of black and Latinx residents continue to surge.
Updated regularly, the mapping tool presents six categories of COVID-19 vulnerabilities that have most affected residents—health, economic, social, quarantine/isolation, environmental, and heat (housing vulnerabilities will also be added soon)—and it displays the burden of each vulnerability in every city and town. It also explains how each vulnerability exacerbates COVID-19 infection and symptom severity. For example, the economic vulnerability tab illustrates the financial burden of rent costs, as well as single-parent stressors, including childcare and school closures.
"One of the main goals with this project was to highlight the fact that vulnerability isn't just what the CDC defines, such as being older, or diabetic, or having high blood pressure," says Fabian, who also leads a geospatial project at CRESSH, an environmental health disparities center and partnership among SPH, the Harvard T.H. Chan School of Public Health, Health Resources in Action, and GreenRoots. "People are vulnerable for many reasons, and we are highlighting what those disparities are in different neighborhoods and towns across Massachusetts."
The idea for the mapping tool stemmed from a student midterm project in Fabian's EH811 class in the spring. MPH student Mark Hernandez developed a Boston-specific COVID-19 story map that highlighted three vulnerable populations: seniors, people with comorbidities, and single parents.
"I wanted my initial analysis to highlight how the COVID-19 crisis impacts health in a variety of ways, whether it be through job loss or isolation," says Hernandez, who collaborated with MPH student Bilqis Williams on the project.
After finishing the midterm project, Hernandez says he felt like many of his fellow classmates: "overwhelmed but eager to contribute to the COVID-19 response." So, over the course of two weekends, he channeled his energy back into the map and expanded it to include 10 vulnerable populations, including factors such as disability, language barriers, internet access, and disrupted industries.
"The hope was that the map could become a useful tool for resource allocation. After receiving positive feedback from friends, family, and colleagues, I realized that it could also be a great informational tool for the general public," says Hernandez, adding that the project is a testament to Fabian's course, as he had no prior mapping experience.
After discussions to produce a statewide vulnerability map, Fabian leveraged the CRESSH geospatial database and enlisted the help of additional students, faculty, and staff in the Department of Environmental Health, including MPH student Flannery Black Ingersoll, who compiled data, and Fei Carnes, GIS research analyst who helped design the story map. Koen Tieskens, a postdoctoral associate, Raquel Jimenez, a doctoral student, and Levy, who is also the co-director of CRESSH, used the data to produce graphs that compare COVID rates by town. Doctoral students Lindsey Butler (SPH'14), Kate Connolly, and Leila Heidari composed the descriptions of each COVID vulnerability.
This crisis "stands out as a teachable moment," says Butler.
"In the initial days of the pandemic, there was a lot of surprise expressed in the general media that people of color were being disproportionately impacted, but any epidemiologist or environmental health scientist would tell you that's not a surprise at all," she says. The maps showcase the communities that are experiencing a heavier burden of COVID-19 due to chronic conditions, age, and racial disparities in health, she says. "We now have this mapping component to tell where these vulnerable populations are in Massachusetts, and we have these stories to say why."
Fabian, Hernandez, and Butler say that the ultimate goals of the project are for the story map and data to be utilized to identify relationships between vulnerabilities and COVID-19 infection rates in Massachusetts communities, and as a tool for resource planning within all levels of government. The Attorney General's report does just that, outlining steps that the Commonwealth should take to reduce pollution in vulnerable communities, including investing in clean energy jobs and opposing a reduction of federal environmental protection laws.
"We hope that local boards of health will use the map as a tool, as well," says Butler. "We have a lot of data at the census-tract level, so they can see the disparities that exist within their communities and know where to allocate resources where they are most needed."