This Squad of Researchers Is a Real-Life Justice League
.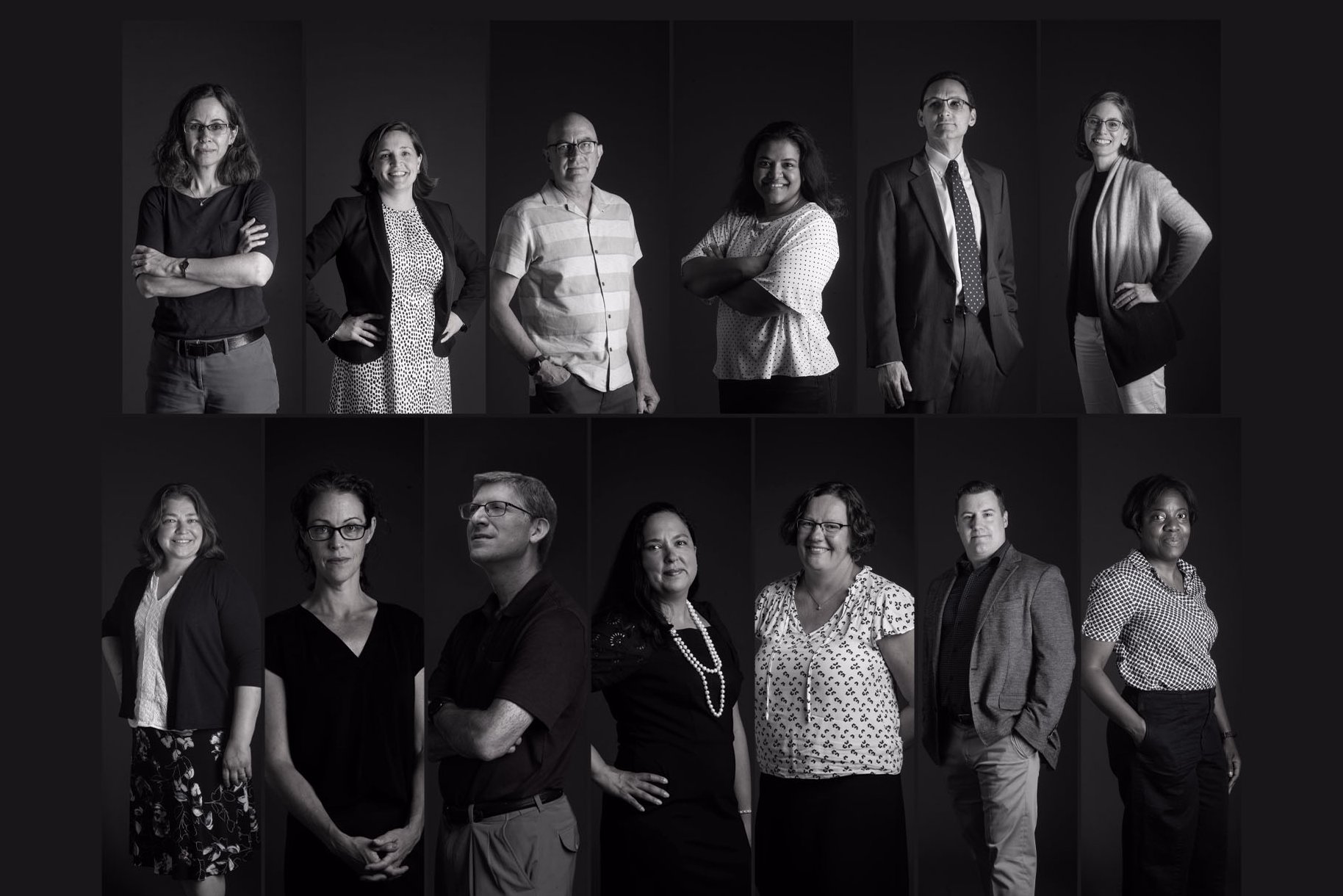 climate change
This Squad of Researchers Is a Real-Life Justice League
BU scientists from a range of disciplines are lobbying for new policies to protect the world's most vulnerable people from the consequences of climate change.
A version of this article originally appeared in The Brink.
In Boston, a city recognized as a leader in progressive climate action, more than a dozen public health and environmental scientists are sparking broader conversations about how to inject increased weight and urgency into local, national, and international climate policies.
The sprawling team of Boston University researchers are working outside any clear lines, partnering with experts from other fields, to illuminate ties between human sickness and disease and extreme weather, heat, fires, pollution, and other environmental factors.
They are driving climate policy discussions aimed at shielding human health from the worst collateral damage of our planet's rapidly changing climate. They are using the most robust and latest scientific evidence available that irrefutably links (sometimes startlingly so) associations between climate change, environmental health, and human health.
Talking with the team feels like getting caught up in the do-gooder energy of an underground force of antiheroes—they humbly wield their power by rolling up their sleeves and sampling bits and pieces of environments around Boston, the US, and the world. Going a step further, they meticulously comb through datasets containing information about human health, social and economic factors, geographical information, infrastructure, and more, sifting through the noise to pinpoint direct (and often indirect) paths from climate change to the emergence of new illness, allergies, and injuries in people.
One cause is especially close to their hearts. Although they want to protect health for all people and our planet, they've had more than a glimpse into the unfair blight climate change is spreading across Earth. Climate change simply doesn't affect everyone the same way. The poorest, most marginalized communities are already feeling the choking effects worse than their more socially and economically advantaged counterparts. And it's only going to get more extreme.
Together, they've spelled out the consequences climate change can have for people of all ages: injuries or deaths linked to severe storms, extreme heat, or uncontrollable forest fires; heightened risks for infectious diseases transmitted by ticks, insects, and other animals; increasing rates and severity of allergies; rising respiratory illness and cardiovascular diseases linked to deteriorating air quality; less access to safe drinking water and sanitation; and nutritional shortages, as a fallout of climate's impact on farming and food contamination.
They've also described concrete actions that can reduce the risk of those consequences reaching their full potential.
At the top of the list? Preventing further carbon emissions and taking steps to reduce the existing carbon load in Earth's atmosphere. And planning for a new way of living. Adaptation, and providing pathways for people to cope with coming environmental changes, are key areas that the BU team says policies can help address. Especially, they say, policies that intentionally create tools or systems to ensure all people have equal access and opportunity to adapt to climate change.
Who are the researchers guiding this vision? Meet the key players:
Patricia Fabian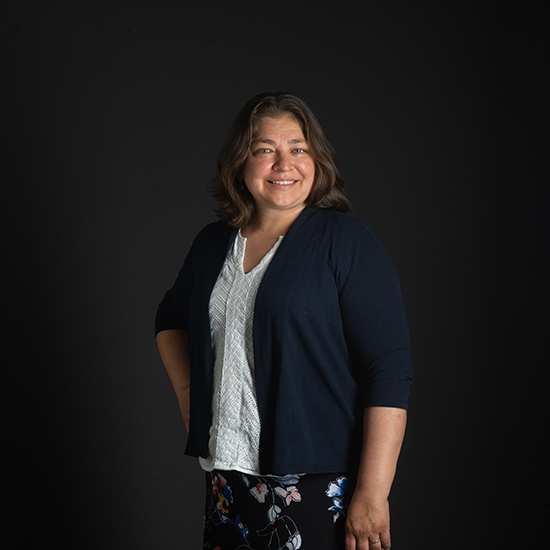 Geographical information systems (GIS) and geospatial databases that map environmental conditions to specific locations are a central part of Fabian's research, which focuses on environmental exposures related to housing, indoor air quality, and transmission of respiratory diseases.
Fabian, a BU School of Public Health associate professor of environmental health, and collaborators developed the first-ever modeling tool for integrating information about housing, indoor air quality, energy use, and individual and neighborhood housing characteristics to predict and study pediatric asthma and strategies for mitigating it.
During the COVID-19 pandemic, Fabian gathered data on air pollution and urban heat to better understand how risk factors for contracting COVID-19 differ across different neighborhoods and populations. She's diving deeper into researching the urban heat island effect in Chelsea and East Boston, and detecting which residents of those neighborhoods are most vulnerable to heat's dangerous health risks.
Madeleine Scammell
Scammell has been an environmental justice advocate for a long time, her BU collaborators say. Partnering with Fabian and others, she's researched heat exposure amongst residents of Chelsea, where she is a resident and activist.
Beyond the Boston area, Scammell, a BU School of Public Health associate professor of environmental health, has done pivotal studies in El Salvador and Nicaragua, linking chronic kidney disease to heat exposure among bricklayers and other laborers who work outside in often blistering temperatures.
She has deep experience connecting non-scientists with research that matters. Scammell also works closely with Boston Housing Authority, the Boston Public Health Commission, and researchers at the BU School of Social Work to investigate and mitigate health stressors in the homes of city residents—health risks that are being exacerbated by climate change and predominantly fall to vulnerable members of the community who are socially and systemically marginalized, including the elderly and people of color.
Pamela Templer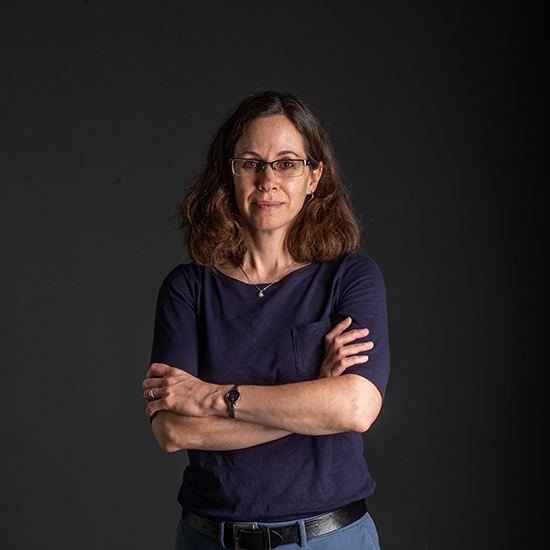 Templer, a professor of biology at BU College of Arts & Sciences, conducts research to examine how air pollution, climate change, and the spread of cities has altered the natural ecosystems, waterways, and air quality of forests in the northeastern United States, California redwoods, and tropics of Mexico and Puerto Rico.
"Having a broad understanding of how natural ecosystems work allows me to better understand the impacts that human activities have on urban ecosystems and how those changes, in turn, impact human health," Templer says.
She and her lab are examining how increasing temperatures are impacting the way trees absorb and store atmospheric carbon, as well as take up other chemicals and nutrients. Although warming temperatures could theoretically lead to a longer growing season, and therefore more carbon absorption by trees, Templer's team has found that shrinking snowpack in the winter could disrupt the freeze-thaw cycles of the forest, damaging trees and negating their ability to efficiently take in atmospheric carbon and other nutrients.
For more than 20 years, she's been studying nitrogen and carbon cycles in New Hampshire and Massachusetts forests, applying her skills to understand how changes in climate, air quality, and urbanization impact trees' ability to filter air and water, and mitigate the effects of extreme heat events in cities. Those insights also allow her to identify when the benefits of trees and other natural systems are not being equitably or sustainably shared across urban communities.
Templer also directs the BU URBAN (Urban Biogeoscience and Environmental Health) program, which focuses heavily on training graduate students in the best ways to partner with governments, nongovernmental organizations, and private sector companies to incite action and policy. She has extensive experience in working with funding from the National Science Foundation and is helping to guide BU collaborators on how to garner more federal funding to support research and policy guidance at the intersection of climate, environment, and health.
Jon Levy
"This group is really about making change, doing work that is meant to directly inform policy," Levy says. "We're very solutions-oriented."
Levy, BU School of Public Health professor and chair of environmental health, studies how environmental health risks are distributed throughout cities and members of their communities, with a keen interest in leveraging research to improve health equity among urban populations.
Recently, he's been examining COVID-19 disparities and how social and environmental factors disproportionately affect certain communities more than others. With Fabian and Scammell, he's been investigating extreme heat in some of Boston's most vulnerable urban neighborhoods, and he's also been measuring how housing policies impact cases of pediatric asthma, and studying how air and noise pollution stemming from airports and overhead airplane routes affect people who live near those flight paths. He looks at how environmental exposures vary across communities, factoring in elements like motor vehicle emissions, power plants, and green space.
As more policies related to energy efficiency and renewable power arise, Levy is interested in tracking how the economic and health benefits of those programs are distributed among communities: Does everyone get equal access to reaping the rewards?
Lucy Hutyra
​​How do human activities influence the way our planet absorbs or releases carbon, and how do these fluctuations impact the amount of carbon in our atmosphere? Hutyra, a BU College of Arts & Sciences professor of earth and environment, is particularly interested in how natural vegetation and how humans land usage—for agriculture and other purposes—affect the cycle of carbon transferring between the atmosphere and plants, soils, and other living systems.
Her research also looks closely at how vegetation and green spaces affect how carbon is stored across cities, and how that knowledge can be used to make cities more livable and equitable for their inhabitants. Hutrya, colead of the BU's Urban Climate Initiative and interim faculty director of BU's Initiative on Cities, says she's particularly interested in cities, because they are where greenhouse gas emissions are so heavily concentrated.
Greg Wellenius
"We care about climate change because it impacts the way we play and the way we live," Wellenius says. "It's not just an energy issue, it's about the health of your family."
As director of the Program on Climate & Health at BU School of Public Health, Wellenius looks at the impact of climate change on local and global human health. He studies how the physical environment affects the health of people who live nearby, especially in the context of how quickly those environments are destabilizing and changing as a result of human-caused climate change. The rapid warming of our planet due to greenhouse gas emissions is "the biggest threat to public health," Wellenius says.
But the impacts of climate change aren't being felt equally across populations. Climate-related problems are highly localized—Newton, Mass., for example, has more trees to offset rising temperatures and atmospheric carbon than the nearby city of Chelsea—and people living in predominantly Black, Latinx, and socioeconomically disadvantaged neighborhoods are more likely to feel the pain of increasing heat and pollution, he says.
Working with Levy and other collaborators across BU, Wellenius is focused on building scientific evidence about the links between climate change, human health, and social inequality to inform new local and national policies that can help communities offset and adapt to their changing environments and health risks.
Amruta Nori-Sarma
Nori-Sarma studies environmental exposures associated with climate change and how heat waves and air pollution impact the most vulnerable members of society. Toward that goal, she's conducted research on the intersection of climate change and health in disadvantaged communities in India, South Korea, and across the US.
"Climate change is no longer a theoretical future threat, extreme weather events are impacting communities around the world today," Nori-Sarma says. "Often, the frontline communities that experience the brunt of these events—and resulting short and longterm health impacts—don't contribute to or benefit from the [human industrial] activities that cause climate change."
Those same communities are also less able to adapt to climate change, she says, due to a lack of resources and other challenges.
A BU School of Public Health assistant professor of environmental health, Nori-Sarma is currently investigating how extreme weather events—stemming from climate change—are affecting the mental health of Americans.
"Our initial work has shown that higher temperatures during the summertime are associated with higher rates of emergency department visits for a variety of mental health outcomes, including substance use disorders, mood disorders, anxiety disorders, schizophrenia, and self harm," she says.
Nori-Sarma also analyzes policies put in place to mitigate the effects of climate change on health, applying new methods to evaluate how well those policies actually protect the health of people.
Patrick Kinney
Since joining BU more than four years ago, Kinney, the Beverly A. Brown Professor for the Improvement of Urban Health at BU School of Public Health, has shifted from studying air pollution to looking more broadly at the link between climate and human health, such as how climate change is impacting the amount of pollen given off by trees and plants, and how increased exposure to pollen is boosting risks for allergies and asthma. In partnering with Levy, Wellenius, and other collaborators, Kinney is further shifting his focus away from the pure study of cause and effect and more toward research that will set the stage for climate action and solutions.
"We did a modeling study, looking at what would happen if we 'shut off' Boston's air pollution—how would those effects roll out across the city, how many lives would be saved?" Kinney says. This kind of evidence helps cities build their ambitions for developing and instituting new policies that mitigate climate-related harms. Boston and New York City, for example, have already set many aggressive goals, Kinney says. He and Wellenius are collaborating on new planning tools that cities can use to measure how urban heat islands—densely populated areas of the city that lack green space and have an abundance of asphalt and concrete—will get hotter or cooler, depending on infrastructure or policy changes that a city is considering.
"We want to develop relatively simple tools for cities to analyze heat patterns and guide climate-related interventions: how do reflective roofs change the equation? Or planting more trees along certain streets? If you do 'x' amount of this one thing, how much cooling effect can you achieve?"
Katharine Lusk
Lusk is codirector and founding executive director of BU's Initiative on Cities, which studies urban transformation and seeks to develop new strategies for empowering cities to evolve into more sustainable, just, and inclusive communities.
At BU, Lusk has been an integral partner on efforts to connect scientists measuring local-scale greenhouse gas emissions with urban leaders, and led research on the role of cities and city networks in climate mitigation and adaptation. BU's Initiative on Cities runs a one-of-a-kind annual survey of American city mayors, gleaning new insights into mayoral perspectives on climate action, parks and streets, public health, racism and discrimination, and more.
"Cities have been at the forefront of climate action for decades," Lusk says. "Mayors understand the many dimensions of environmental justice—clean air and water, green space, affordable multimodal transit—are health-prolonging, quality-of-life issues that need attention now."
Kevin Lane
Lane, a BU School of Public Health assistant professor of environmental health, studies how climate change impacts health on local, national, and international levels using a big data approach: he's developed new ways of integrating remote sensing data, geographic information sensors, and algorithms to see how environmental exposures seep through and impact a population over time.
He's currently mapping out different social and environmental determinants of disease across the United States, and looking at what happens to health when people are exposed to traffic and major roadways—and the ultrafine particulate matter emitted from automobiles—over time.
Lane is also the lead researcher for a huge project with the Federal Aviation Administration that is examining how emissions from planes change air quality. He studies the relationships between airborne particulate matter linked to pollution and other sources, nitrogen oxide, and social stressors to assess how these factors combine to cause preterm birth and low birth weight.
Diana Ceballos
Ceballos, a BU School of Public Health assistant professor of environmental health, has made it her life's work to detect and address environmental and occupational hazards that can cause disease or injury. She is an expert at parsing apart an array of environmental, social, and individual factors to identify which exposures and activities within a community can lead to adverse effects, and in pinpointing the ways in which harmful environmental exposures affect different people disparately.
"As science evolves, we are better able to identify the effects of multiple factors in our environment—specifically social and physical determinants of health—through our research," Ceballos says. "This blending of [scientific] fields is critical for understanding the overlapping vulnerabilities in underserved communities."
Ceballos has special interest in how new and emerging technologies can present hazards to health, and in sifting through complex chemical mixtures to find problematic compounds that threaten human health—recently taking a scrutinizing look at nail polishes used in salons and at lead exposures in children of construction workers. She directs BU's Exposure Biology Research Group.
Jessica Leibler
Leibler, an epidemiologist, began collaborating with Levy and other team members during the COVID-19 pandemic. She researches infectious diseases among vulnerable populations, such as people who work in meatpacking facilities, agricultural workers, homeless populations, and more.
A BU School of Public Health assistant professor of environmental health, Leibler seeks to understand how pathogens travel through food systems, as well as how environmental exposures disproportionately affect the lowest income people living in America's cities.
"I've worked specifically with food processing workers and industrial farmers, looking at disease transmission between animals and people in the context of meat production," Leibler says. "Those issues led me to think about other populations that have exposure to zoonotic pathogens, including people experiencing homelessness in urban areas. People experiencing homelessness are exposed more than others to rodents and wild birds, which we know can carry pathogens."
Recently, Leibler and collaborators found evidence of wild rodents in Boston carrying antibiotic-resistant genes, specifically genes related to drug resistance in S. aureus, bacteria that can cause skin infections. The findings suggest wild rodents help maintain a presence of drug-resistant genes in the environment.
"A shift in temperatures will impact how animals interact with humans in densely-populated spaces like cities," she says. "Wild rodents—as well as birds—are sensitive to climate and also are well adapted to urban or suburban human environments, so climate change will undoubtedly affect disease transmission between animals and humans."
Junenette Peters
Peters, a BU School of Public Health assistant professor of environmental health, looks at environmental exposures and their impact over time. Specifically, she wants to know what factors for exposure can contribute to cardiovascular disease, cognitive impairment, and high blood pressure in older adults, and in causing respiratory disease in children.
She leads a research effort funded by the National Institutes of Health and the Federal Aviation Administration to evaluate the long-term health impacts of noise emanating from airports and airplanes overhead, investigating how those exposures—and the proximity in which people live or work near airports or flight paths—can increase the risk for cardiovascular disease. Her research findings stand to influence policies controlling acceptable levels of aircraft noise.