At Antiracism Symposium, Experts Move Beyond Awareness to Action
.
health inequities
At Antiracism Symposium, Experts Move Beyond Awareness to Action
At a recent symposium hosted by the Center for Antiracist Research, SPH faculty and other scientists, policymakers, and community leaders explored the intersection of racial health and economic inequities exacerbated by the COVID-19 pandemic.
On Friday, October 1, the Center for Antiracist Research at Boston University hosted "What the Science Tells Us: Racial Health and Economic Inequities During the Pandemic," the Center's first large-scale public event since its founding in June 2020.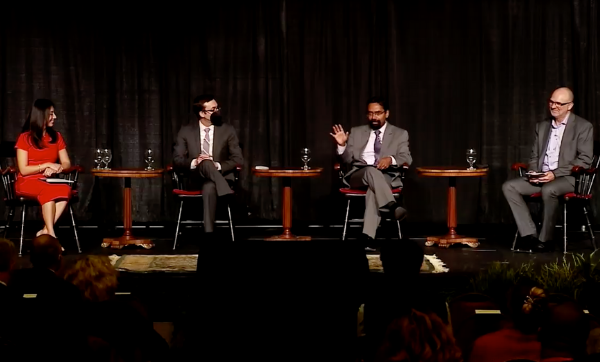 The symposium, co-sponsored by the Vertex Foundation, explored the intersection of health and economic inequities that were exposed and exacerbated by COVID-19 and provided research-driven solutions and innovative approaches to promote health and economic equity as society emerges from the pandemic.
Among the many scientists, policymakers, healthcare experts, and community leaders who spoke at the event were Marcella Nunez-Smith, chair of the presidential COVID-19 Health Equity Task Force; Boston Mayor Kim Janey; Rochelle Walensky, director of the Centers for Disease Control and Prevention; and Ibram X. Kendi, founding director of the Center for Antiracist Research.
Monica Wang, associate professor of community health sciences and associate director of narrative at the Center for Antiracist Research, chaired the event, and SPH faculty members Megan Sandel, associate professor of environmental health, and Julia Raifman, assistant professor of health law, policy & management, were discussion panelists.
"The events of the last several years have brought into high relief the work still to be done to make our nation an equitable and inclusive place for all," said President Robert Brown in his opening remarks. "The searing imagery of George Floyd's death helped galvanize us to address, with greater conviction and urgency, the inequalities in our society, and the measurably differentiated impact of COVID on many communities has reminded us of how high the mountain is we must climb."
Throughout the event, the message from all speakers was clear: documenting and spreading awareness around health inequities in the United States is not enough anymore. Now is the time for finding sustainable solutions.
In a conversation moderated by Wang, economic and health system transformation experts discussed the past, present, and future impacts of redlining—a racist policy that created segregated neighborhoods and prevented communities of color from gaining wealth, health, and education in the 1930s. Jayakanth Srinivasan, research associate professor at the BU Questrom School of Business, highlighted that the push for telehealth care during the pandemic revealed a modern-day depiction of redlining, which he called digital redlining, because not everyone has access to reliable internet, devices to use this internet, and/or the understanding of the complexities of Zoom and how to maintain their privacy online.
"I fundamentally believe we have to make broadband access for health care an entitlement," said Srinivasan on potential solutions to this problem. "It is unfair to say that you can only receive healthcare if you can afford to pay for the underlying infrastructure. In the richest country in the world, we are telling families to make trade-offs between closing the education gap or closing the healthcare gap, and that is wrong."
For a discussion on climate change, child health, and COVID-19, Raifman and Sandel served as panelists with Cutler J. Cleveland, professor of earth and environment and interim director of the BU Institute for Sustainable Energy. The conversation was moderated by Joe Betancourt, senior vice president of equity and community health at Massachusetts General Hospital.
During the discussion, Sandel highlighted how structures and systems have intentionally concentrated inequities in the United States through the places in which people live.
"History has led us to a place where zip code is more important to your health than genetic code," she said. "To close these equity gaps, we have to be very place-based in our approaches, and we have to be just as intentional in un-designing the redlines. I think this is going to be our way forward with moving from awareness to action."
Raifman also discussed the disproportionate impact of the Delta wave on communities of color and younger age groups, and the collective action we need to take to address both COVID-19 and climate to make communities less vulnerable in the future.
"When we look by age groups, disparities are much larger than they appear when we look at the full population," she said, pointing to recent research that shows that among those under age 65, people who are Black and Latinx died during the pandemic at three to five times the rate of those who are white, while indigenous peoples died at 19 times the rate of whites.
"The disparities are devastating, and they have gotten even worse now with the Delta wave, which came on the heels of a vaccination campaign that prioritized older people" she said. "Children and all other age groups under the age of 50 have had higher deaths now than at any prior point during the pandemic."
To better control the pandemic, Raifman suggests distributing and promoting the COVID-19 vaccine to people in their own communities, neighborhoods, and schools to ensure safe and equitable access. What we have learned from this moment, she adds, is that when we have the funding to deliver vaccines, we shouldn't give it to consulting companies, and should instead give it to the health centers and community leaders who are communicating and supporting people in becoming more informed about vaccines and their importance.
In closing the symposium, Kendi encouraged the audience to continually be thinking about how we can come up with solutions to eliminate racial health disparities in the United States and beyond.
"If we are not going to be bold," he said, "we are going to pass these issues on to our children and our children's children, and they are going to be very upset with us."
To read an overview of the symposium in its entirety, click here.