Message from Antiracism Symposium: "Move from Awareness to Action"
Race, Health & Economics
Message from Antiracism Symposium: "Move from Awareness to Action"
BU's Kendi, CDC's Walensky, Boston Mayor Janey highlight first Center for Antiracist Research major public event
The Center for Antiracist Research held a star-studded symposium on Friday at the George Sherman Union Metcalf Hall. Among the speakers were Rochelle Walensky, Centers for Disease Control and Prevention director; Marcella Nunez-Smith, chair of the presidential COVID-19 Health Equity Task Force; Reshma Kewalramani, Vertex CEO and president (a BU alum); Boston Mayor Kim Janey, and of course, the center's founding director, Ibram X. Kendi. Congresswoman Ayanna Pressley (D-Mass.) was scheduled to speak, but she was called away at the last minute to meet with President Biden.
The symposium, What the Science Tells Us: Racial and Health Inequities During the Pandemic, was the first large-scale public event held by the center since it launched in June 2020 and was supported by its founding partner, the Vertex Foundation. The message from virtually all the speakers, who included BU public health, science, and economics researchers as well as public and private sector health leaders, was consistent: when it comes to racial and health inequities in this country, the time for documenting and debating the problem is past. Now is the time for finding solutions.
"I don't want to document the problem anymore," Walensky said. "We know we have a problem. We need to start looking at interventions to fix the problem."
Kendi, BU's Andrew W. Mellon Professor in the Humanities and a College of Arts & Sciences professor of history, echoed Walensky—and the mission statement with which the launched the Center for Antiracist Research at BU. "We have to get to a point in which we're trying out big, bold solutions to seemingly intractable racial problems," said Kendi, who just three days earlier was awarded a MacArthur "genius" fellowship in recognition of his contributions—and promise—toward the betterment of humankind. "We have to move from a period of awareness to action. That's what we're trying to do at our center, that's what's happening at the CDC."
BU President Robert A. Brown took the stage as well, welcoming the more than 1,000 attendees (roughly 150 people were in the GSU audience, while nearly 900 tuned in from around the country). Congratulating him for his MacArthur fellowship, Brown introduced Kendi, who moderated the first panel, on racial health and economic equity, with speakers Nunez-Smith, Peter Slavin, former president of Massachusetts General Hospital, and Thea James, a BU School of Medicine associate professor of emergency medicine and Boston Medical Center associate chief medical officer.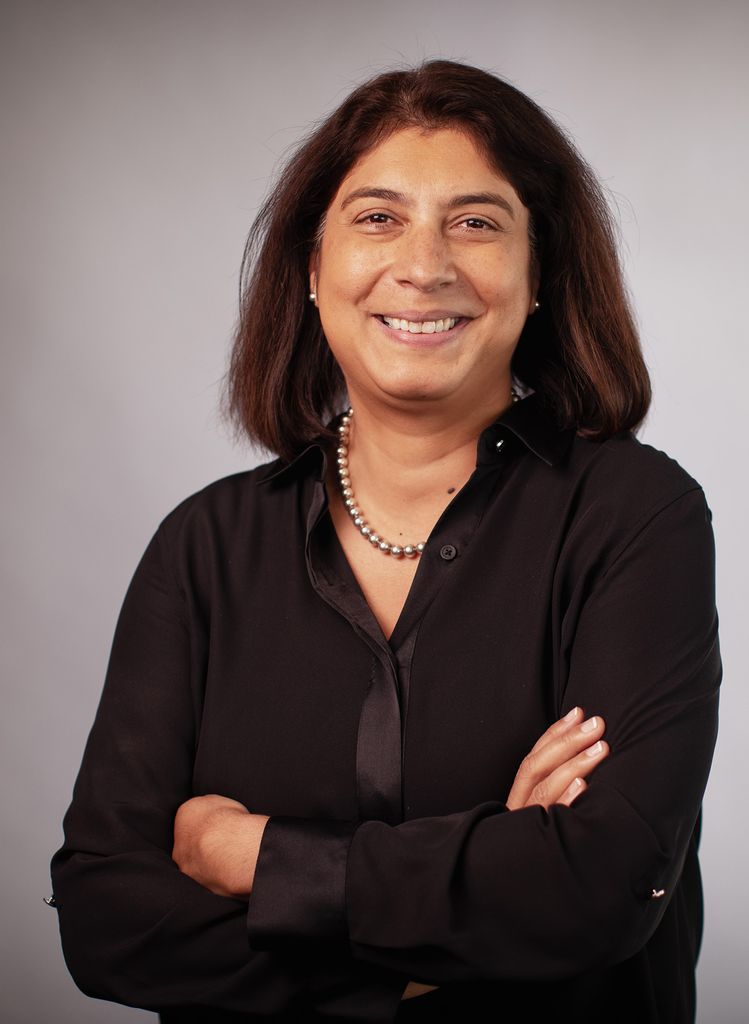 The first speakers, and those on subsequent panels, reflected the shift in conversation since the onset of the pandemic more than 18 months ago: the call by Kendi and others who were once considered outsiders to address the racial inequities behind the pandemic, and beyond, is now being taken up at the highest levels of government.
"COVID-19, we know, took advantage of what were preexisting structural inequities," Nunez-Smith told the audience. "We've all had a collective witnessing to that in the past 18 plus months, and we cannot unsee what we have all seen… And that disproportionate burden—I long for the day when I don't use that [term] anymore, when we can finally disrupt the predictability of who is always harmed first, and who is harmed worse."
Equity is one of the core principles of the Biden administration, said Nunez-Smith, who is also senior advisor to the White House COVID-19 Response Team. She reminded the audience that among the executive orders Biden signed on his first day in office was the one creating the COVID-19 Health Equity Task Force. "And that was expressly saying that we bring together voices inside and outside the US government to come up with recommendations to mitigate those inequities now and to create resilience so we don't see these inequities in future pandemics," she said. "The task force holds as its north star: what are the systemic problems, what are the systemic solutions?"
During the keynote panel—which was to have included Pressley—Kewalramani (CAS'98, MED'98) asked Walensky about a recent bill introduced by Pressley, along with US Senators Elizabeth Warren (D-Mass.) and Barbara Lee (D-Calif.), that would establish a national center for antiracism on health within the CDC. Walensky said she looked forward to partnering with Pressley and the other bill sponsors.
"When I came in, we declared that racism is a serious public health threat," Walensky said. Her team has created a core strategy "that cultivates comprehensive health equity science, optimizes interventions, reinforces and expands robust partnerships, and enhances capacity and workforce engagement," she said. "I've said that we need to weave health equity into everything that we do, in every center across the CDC, in everything in health."
Last spring, Walensky said, she called for proposals from across the CDC for ways to address racial health inequities within a one-year period. More than 150 proposals have poured in and are being vetted now, she said. "We're going to establish the science. Some things will work, some won't. We're going to learn. Everyone's been energized, everyone wants to do this."
Among other points made by the symposium speakers:
When it comes to health outcomes, your zip code matters more than your genetic code. "Where you live, where you get care, the overwhelming thing that drives outcomes are social—things that are the legacies of unintentional policies," said Nunez-Smith.
Walensky recalled sending patients home with a prescription in Baltimore in the 1990s, during the height of the AIDS crisis. "They come back several days later, and you say, 'Why are you back?' They say they couldn't get their prescription filled. Fast forward to now, with COVID, we sent people home and told them to quarantine. What became very clear was that the word quarantine is a privilege. Not everyone could quarantine."
A "data revolution" is needed. "The data [on racial and ethnic health disparities] hasn't been there because even when they started releasing data, some states only had 20 to 30 percent of the data," Walensky said. "If we can't measure it, we can't improve it. We've been working very hard over the past months to measure it." And Nunez-Smith said: "We need data that makes everyone visible, that focuses on lived experience, as we try to make equitable decisions."
The telehealth care that was widely touted as the future during the pandemic revealed a modern-day version of the redlining that created segregated neighborhoods and prevented Black people from accumulating wealth: digital redlining, as one speaker, Jayakanth Srinivasan, a Questrom School of Business research associate professor and a system analysis and health system transformation expert, termed it. Not everyone has reliable access to the internet or understands the complexities of Zoom and how to safeguard their privacy.
Because of the cost of broadband access, people with limited resources have to choose between spending their cell phone minutes on their children's Zoom schooling or on telehealth appointments, Srinivasan said during a panel on the impact of redlining on racial health inequities: "I fundamentally believe we have to make broadband health care a requirement. In the richest country in the world, we're telling people to make choices about broadband access between health and education?" Boston Medical Center designed a system to improve access to telehealth, he said. "We see significantly different adoption of telehealth. The lived experience matters. The place and space matter."
Listen to people in the community and meet them where they are. Boston dramatically improved vaccination rates among Black and Latinx people, Janey said, by providing vaccines—and reliable information—in senior centers and public housing, and at neighborhood festivals. "Mattapan had low vaccination rates, so we launched Mattapan Cares," said Janey, who gave a shout-out to her father, the late Clifford Janey (Wheelock'84), as a BU alum. People who were trusted in the neighborhood, who'd been vaccinated themselves knocked on doors, she said. "We met with faith leaders, civic groups. We worked with Haitian leaders in that area to make sure we were getting the information out on indoor mask mandates, employee vaccination verification programs, making sure we were doing everything to slow the spread of the virus."
It's important to measure racial health disparities within age groups. Recent research shows that among those under 65, people who are Black and Latinx died during the pandemic at three to five times the rate of those who are white, while indigenous peoples died at up to 19 times the rate of whites, said panel speaker Julia Raifman, a School of Public Health assistant professor of health law, policy, and management.
The chair of the symposium was Monica Wang, Center for Antiracist Research associate director of narrative and an SPH associate professor of community health sciences.
"I want to highlight, emphasize, underscore the word community," Kendi said. "And one way we should understand the word community is in the sense of building community health.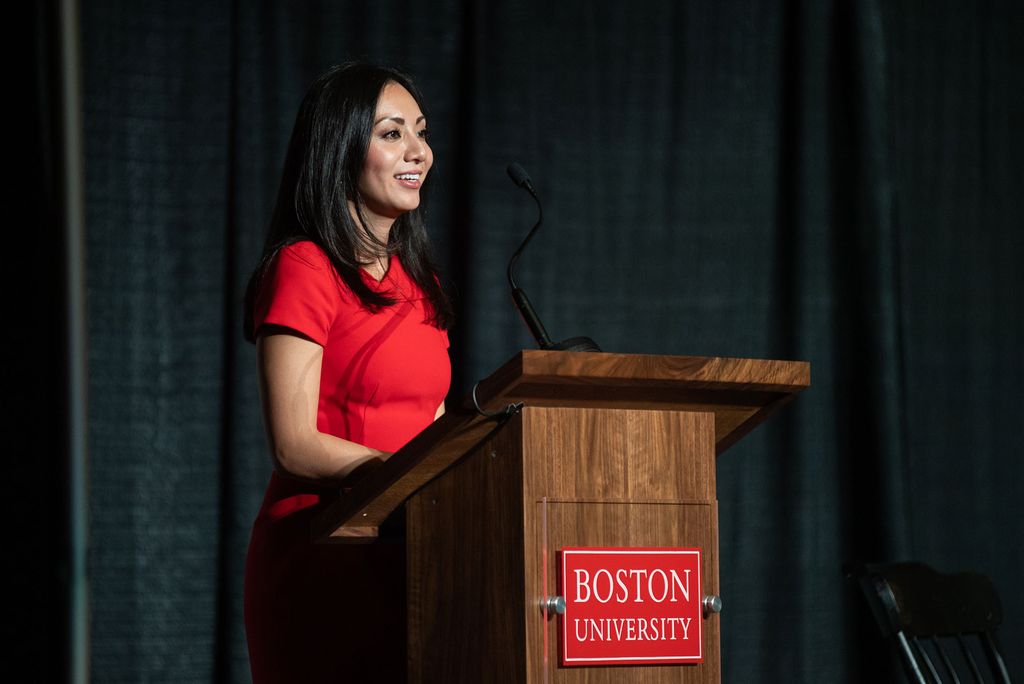 "Hopefully we've learned from the pandemic how interconnected our health is. That's how we'll be able to build and support policies that are beneficial for the community and to be less concerned for the individual from the standpoint of that person's ability or freedom to wear a mask. I'm sorry, but it should be about the community.
"People are increasingly recognizing that climate change is an existential threat to our existence, that pandemics are an existential threat, but we should also recognize that racism is an existential threat. People are being degraded because of the color of their skin, but most importantly, people are getting sick, people are dying."
Then, with a sheepish smile, he said, "Okay, I'll get off my soapbox now." The attendees in the auditorium gave him a warm round of applause.
In his closing remarks, Kendi addressed the audience, at the GSU as well as online: "I want to encourage everyone to be constantly thinking: how can we solve this problem and come up with solutions to eliminate racial health disparities?
"If we're not going to be bold," he said, "we're going to pass this on to our children and our children's children—and they're going to be very upset with us."