Fighting COVID-19 on Every Front
.
SPH This Year
Fighting COVID-19 on Every Front
Whether locally or globally, in every area, the SPH community responds to the pandemic.
In January 2020, Davidson Hamer was vacationing in Japan while keeping an eye on reports regarding the outbreak of a new disease in China, and a few confirmed cases in other countries as well.
"I don't think any of us had any idea that this would turn into a global pandemic with more than 10 million cases, over half a million deaths, and every country in the world affected," says Hamer, professor of global health and medicine at SPH and the School of Medicine; faculty at the BU-based National Emerging Infectious Diseases Laboratories (NEIDL); an infectious disease specialist at BU's teaching hospital, Boston Medical Center (BMC); and co-principal investigator for GeoSentinel, a global surveillance network that gathers health data from international travelers and immigrants.
For much of 2020, Hamer's days were packed with media interviews, helping coordinate the Massachusetts effort, and advising BU's administration, Major League Soccer, Venezuelan religious leaders, and countless other groups and organizations.
In a year defined by the new coronavirus, every member of the SPH community—students, faculty, staff, and alums—put their shoulder to the wheel.
Some studied the disease, and some treated patients at BMC. Others helped local public health officials and advocated for hard-hit communities. Many served as expert voices for media, explaining new developments and key concepts to a scared and confused public. When physical distancing emptied campus, all worked to shift the school online by adapting courses and seminars, supporting students as the crisis underscored the value of a public health education. And many began to look beyond the disease itself to the injustices that it spotlighted, its long-term effects, and the powerful possibilities of a post-COVID future.
---

COVID-19 is the latest chapter in the book about how structural disparities shape the burden of disease in America.

---
Front Lines
As the number of COVID-19 cases in Massachusetts climbed to the thousands in March, many members of the SPH community put on personal protective equipment (PPE) and got to work at BMC.
"The first time I have donned scrubs in 25 years!" tweeted Sondra Crosby, professor of health law, ethics & human rights and a BMC physician who specializes in treating refugees and survivors of torture. Crosby screened and treated COVID-19 patients until she—like so many healthcare workers who took every precaution—got sick too, and spent months recovering.
Seeing how vital it was to protect healthcare workers and their patients, alum Raagini Jawa (CAS'11, MEDSPH'14), a BMC infectious disease and addiction medicine fellow, started BMC Need PPE, a grassroots initiative of BMC house staff and BU students and alums who worked with BMC to acquire PPE and develop innovative, sustainable solutions to preserve it.
"As a recent SPH alum, it is really impressive to see students and professionals who are balancing school, jobs, and life during a pandemic, band together and use their public health skills to address the current crisis," Candice Bangham (SPH'19), also a BMC staff member and volunteer in the group, said in April. "Our education has prepared us for the inevitable."
Nicholas Bosch (SPH'20), a BMC pulmonary and critical care fellow with a master of science in epidemiology from SPH, led a randomized controlled trial to test an easy, low-cost way of keeping patients out of the ICU by having them lie prone, a position in which the lungs work more efficiently. "It's as simple as flipping on your stomach," he says.
With so little known about the new disease, such studies had to get up and running at an unprecedented pace. In the flurry, BU's Clinical & Translational Science Institute (BU CTSI) played a key role as "organizer, clearinghouse, and facilitator for a wide range of COVID-19-related research," says Richard Saitz, professor and chair of community health sciences and a co-principal investigator on BU CTSI's five-year, $38.3 million National Institutes of Health renewal funding awarded in May.
---

Everyone got used to sailing the ship as they're building it.

---
The accelerated research and implementation processes have been vital, according to Natasha Hochberg, associate professor of epidemiology: "Everyone got used to sailing the ship as they're building it." Hochberg led testing efforts for BMC personnel and patients, trained new infectious disease specialists, and worked on a broad range of coronavirus research.
"When I've dealt with outbreaks in the past, we knew what the pathogen was, we understood transmission and prevention, and we had effective federal leadership," she explains. "This is just a different ball game."
What's Going On?
Amid uncertainty, fear, and misinformation, public health experts have been in high demand.
The SPH community convened many of them in a series of seminars on the state of the science and how the pandemic intersected with a wide range of topics. SPH researchers also became go-to sources for journalists.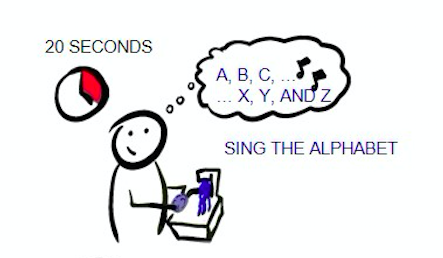 When the pandemic reached Boston, Eleanor Murray, an assistant professor of epidemiology well-known on "Epi Twitter" for accessible explanations of complex concepts, helped create a series of COVID-19 factsheets for BMC patients in stick-figure cartoon form.
"COVID-19 is really scary for people, and there's a lot of uncertainty and a lot of discomfort, so being able to inject some levity and some clarity into the messaging around it is really useful," Murray says. She took a similar approach with her educational Twitter threads about COVID-19, and in daily (or even more frequent) media interviews.
The Coronavirus Doesn't Discriminate, But…
It quickly became clear that some US communities had been much harder hit than others. "COVID-19 is the latest chapter in the book about how structural disparities shape the burden of disease in America," says Matthew Raifman, a doctoral student in environmental health, who led a study showing that Black, Indigenous, and lower-income people in the US are much more likely to have one or more of the risk factors linked to more severe and fatal cases of COVID-19, such as asthma and diabetes.
"Being able to stay home and socially distance is a privilege with a price tag," says Laura White, associate professor of biostatistics and senior author on a study using New York City subway ridership data to identify which communities had to continue going to work even when the city shut down.
A spring focused on the coronavirus—and avoiding large gatherings—gave way to a summer of protests against racial injustice, particularly police violence against Black people. Elaine Nsoesie, assistant professor of global health, cautioned against the narrative that the Black Lives Matter movement threatened efforts to contain COVID-19: "I wouldn't weigh these crises
separately," Nsoesie told NPR in June, explaining that the protests were against the same structural injustices shaping America's unequal epidemic.
---

The numbers matter. Every number is a person. Every person counts.

---
Using COVID-19 to help spotlight environmental injustice, Patricia Fabian, associate professor of environmental health, led a team of faculty members, researchers, and students in creating an interactive mapping tool to show which communities are most vulnerable to the coronavirus in Massachusetts, based on health, economic, environmental, and social factors. The map helped inform a policy brief from the Massachusetts Office of the Attorney General released in May.
Chelsea is one of these environmental justice communities, and became the epicenter of COVID-19 in Massachusetts. Madeleine Scammell, associate professor of environmental health and a Chelsea resident who has long served on the city's health board, found that her community's rate surpassed New York City's hardest-hit boroughs in early April. Scammell and other Chelsea leaders sent an urgent letter to Governor Charlie Baker, who immediately made Chelsea a top priority in COVID-19 response. And practically overnight, Scammell and alum Roseann Bongiovanni (CAS'99, SPH'01), executive director of GreenRoots, turned the Chelsea environmental justice nonprofit into a 24-7 pandemic response organization.
"The numbers matter," says Scammell. "Every number is a person. Every
person counts."
Public Health Education in a Public Health Crisis
The coronavirus has offered a difficult but indispensable learning experience for SPH students, whose public health knowledge has proven invaluable to the COVID-19 response.
In the spring, the Massachusetts Board of Health formed the Academic Public Health Volunteer Corps to connect public health schools and programs with understaffed local boards of health. Hundreds of SPH students (plus faculty, staff, and alums) comprised the largest segment of the corps. "When the full gravity of COVID-19 was setting in, my first thought was, 'I need to find the call for volunteers, because if that is where I am needed, that is where I am going,'" recalls MPH student Amanda Canavatchel, who served as an operations manager for a local health board. "It has been a great honor and privilege to be able to answer that call."
While students were helping face a public health crisis, they were also continuing the rest of their public health education.
Over just five days in March, SPH moved its entire spring semester online. "There really isn't a word to describe the magnitude of this shift from on-campus to remote teaching— 'monumental' or 'enormous' just don't capture it," says Lisa Sullivan, associate dean for education and professor of biostatistics. Over the summer, SPH experts helped inform BU's plan for the fall semester: The Learn from Anywhere (LfA) hybrid teaching format gives students the flexibility to attend class on campus or remotely.
"The New Normal"
While many members of the SPH community worked directly on responding to COVID-19, others turned their attention to the far-reaching implications of the crisis, exploring its impact on intimate partner violence, fertility, alcohol taxation, the mental health of isolated queer teens, deaths from extreme heat, and other public health issues.
Public health will never be the same, Murray says. "For better or worse, everyone knows that we exist. Since we have the attention, I think it behooves us to put the spotlight on some of these bigger problems that nobody wanted to talk to us about before."