Career & Practicum Fairs
.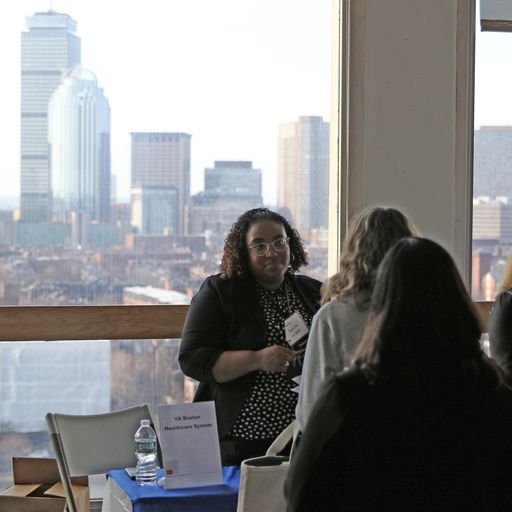 Spring 2024 Fairs
SPH Career Fair – In-Person
Date: Thursday, Feb 15, 4:00 pm – 6:30 pm
Location: 72 East Concord St., Boston
Register here
SPH Virtual Career & Internship Fair
Date: Thursday, March 7th, 11:30 am – 2:00 pm
Register here (*hosted on the Handshake platform)
SPH Internship & Practicum Expo – In-Person
Date: Wednesday, March 27th from 4:00 pm – 6:00 pm
Location: 72 East Concord St., Boston
Register here
Discover Top Public Health Talent
Gain direct access to a diverse and talented pool of master's and doctoral students at the BUSPH Career & Practicum Fairs
Connect with over 300 motivated candidates seeking jobs and internships.
Brand and market your organization on the BUSPH campus and to our community
Develop connections with BUSPH staff and faculty in your areas of interest for future engagement activities and opportunities
Receive high-touch support and follow-up. After the fairs, employers will have the chance to continue conversations with students and access other recruiting activities and events.
BUSPH Students Excel in Various Sectors and Roles
Data Analysis
Project Management
Health Communication & Promotion
Monitoring & Evaluation
Health Economics & Outcomes Research
Quality Improvement
Advocacy for Health Equity
Population Health Analysis
Evidence-Based Design
Virtual Career Fairs: What You Need to Know
Our virtual career fairs are held on Handshake, our career management platform. Not only does this provide a more intimate setting for you to meet with students, but you also have complete control over your schedule.
Upon registration, you will be prompted to choose your virtual engagement format which includes:
Group Sessions: Schedule (up to three) 30-minute group sessions to meet with 50 students at one time, in one virtual room provided by Handshake (or your own virtual platform).
1:1 Sessions: Set up these 10-minute one-on-one sessions prior to the fair to meet with interested students. You also can set them up after the group session and set parameters around the type of qualifications students must meet to participate.
Contact Us:
Questions? Contact Justine Lusardi, Recruiting & Operations Manager, at justined@bu.edu
Please Note:
Professional opportunities only.
No third-party recruiters.
No fee-charging organizations or graduate schools.
---