Pardee School Faculty Explore Trends in Global Democracy and Democratic Decline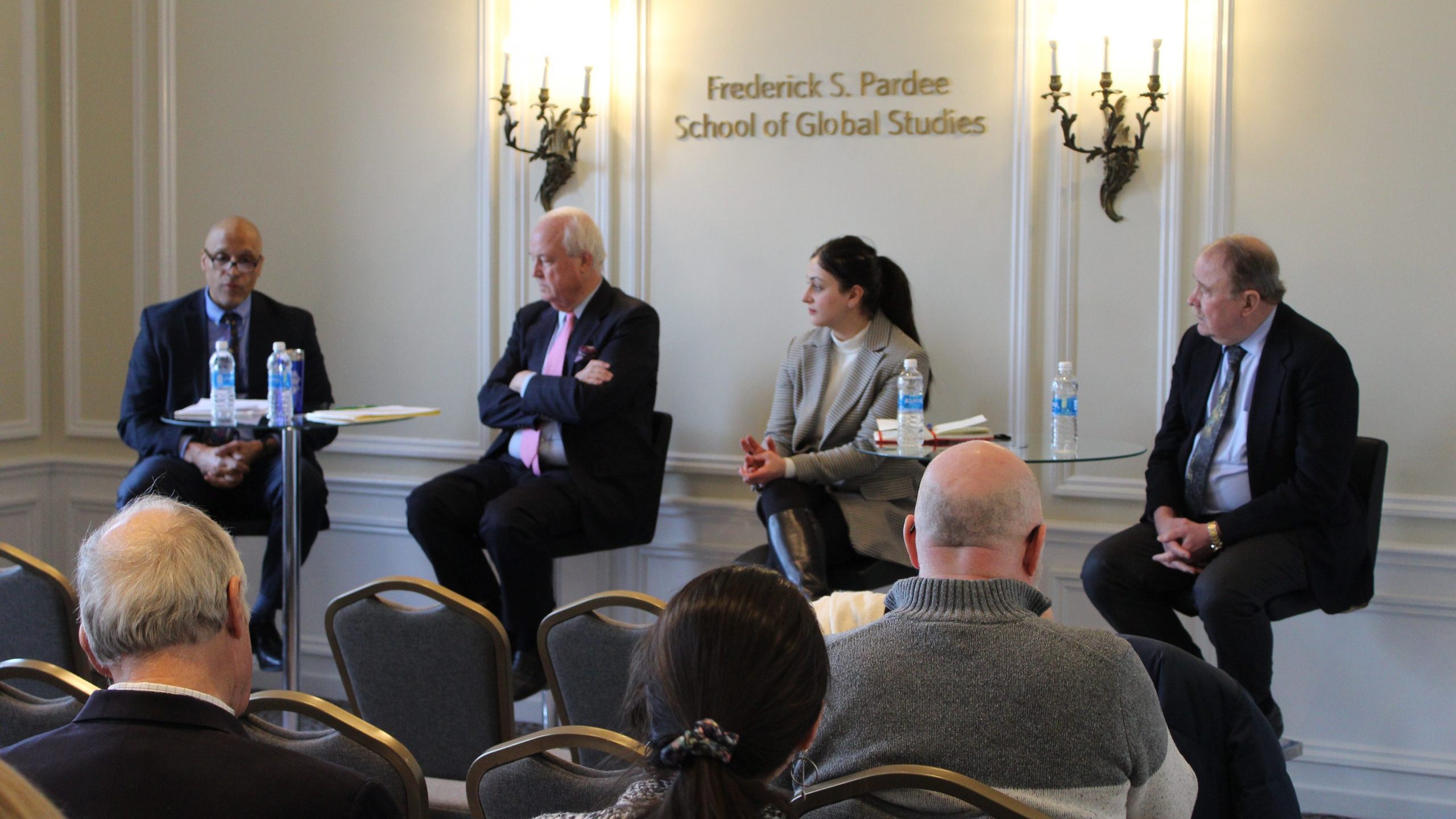 On February 2, 2023, Boston University's Frederick S. Pardee School of Global Studies hosted a Beyond the Headlines event, during which a panel of Pardee School professors discussed the state of global democracy, the prospects for democracy and democratic backsliding in different areas of the world, as well as the factors contributing to the apparent decline in democracy.
The panel discussion was led by Scott Taylor, Pardee School Dean and Professor of International Relations, who was joined by his colleagues Joseph Fewsmith, Professor of International Relations and Political Science; Jorge Heine, Research Professor and Interim Director of the Frederick S. Pardee Center for the Study of the Longer-Range Future; and Shamiran Mako, Assistant Professor of International Relations. Taylor kicked off the discussion by laying out the emerging global patterns that threaten to undermine democracy – election denialism, the emergence of nationalist regimes, and the removal of democratically elected governments to name a few. He then asked each panelist to comment on these trends in their regions of study as well as the implications for global democracy.
Fewsmith led by discussing the prospect of democracy in parts of Asia, China's influence on these efforts, and China's own aversion to democratic politics. Needless to say, the prospects for democracy in China are not good. In the past, China had shown some signs of democratic practice – a raising number of township and village elections post-Mao – however, the 1999 United States bombing of the Chinese embassy in Belgrade was a major turning point, and China rapidly retreated from western notions of democracy. Under President Xi Jinping, Fewsmith noted that Chinese politics have changed quite a bit becoming more personalistic with Xi at the center of the Chinese Communist Party and seeking to tighten his control over the party. With Xi's continued consolidation of power and attempts to establish himself as a cult figure in Chinese politics, the big question for observers now is what happens next; as Fewsmith said, history has shown that it's probably nothing good.
Turning to the Middle East and North Africa (MENA), Mako offered regional projections on democratization and why multiple efforts to date have met similar ends. Using Tunisia and Iraq as examples, she broke down the reasons for the decline in democracies. According to Mako, Tunisia was the only country that actively moved toward a democratic system of government after the Arab Spring; it made great democratic gains in that time but was hampered by regional and economic shocks as well as the war in neighboring Libya. The country was democratizing, but it was backsliding economically leading to frustration among the country's young, highly educated population. This culminated in 2021 when President Kais Saied dismissed the parliament, consolidated his power, abolished the Constitution, and proceeded to rule by decree. What followed was complete apathy from the population – only ~11% of voters participated in recent elections – who had lost faith in their leaders and democratic institutions. Both Tunisia and Iraq, whose government is fragmented and in disarray in part because of the U.S. invasion and expedient state-building process, raise the question of what the prospects are for democratic growth in fragile states.
Heine offered insights into how democratic institutions and the political situation as a whole are evolving in the Global South. He offered three examples – Brazil, Peru, and El Salvador – of the volatile Latin American political landscape. On Brazil, Heine expressed hope that President Luiz Inácio Lula da Silva's re-election is a sign that the country's democracy is on the rise; however, it will be an uphill battle as former President Jair Bolsonaro took some hardline stances – election and pandemic denialism as well as threats of a coup if not reelected – that damaged trust in democratic institutions and sowed the seed for the attack January 8 on Brazil's legislature. Peru and El Salvador, by contrast, are experiencing ongoing political backsliding. In December 2022, Peruvian President Pedro Castillo unsuccessfully attempted a coup and was ousted from office. In El Salvador, President Nayib Bukele basically "rules by Twitter" and operates in a constant state of emergency. The latter is symbolic of what Heine says is a problem with democracy today; people want instant gratification and feedback, so as inequality reigns and legislation takes too long to address it, people get impatient and look for alternatives.
Drawing on the panelists' comments, Taylor mentioned the Anglo-American view that "the big man reigns strong" in Africa and how that concept is unique to the continent; the global situation described by his colleagues showed that this notion is more global in scale with the rise personality-driven authoritarians. Turning an eye to the U.S., Taylor also said there is very much a Wilsonian mission to spread democracy abroad, ironic given the country's own deep political divisions and struggles with its own democracy.
Following formal remarks, the panel fielded inquiries from the audience of BU students, faculty, and visiting scholars during an extensive Q&A session. Questions ranged from the role of international organizations, the importance of trust in democratic institutions and leaders, whether different political cultures are conducive to democracy, the economic impact on political structures, and much more.
Beyond the Headlines is a regular series at the Pardee School that seeks to cultivate informed conversations among experts and practitioners on issues that are currently in the news headlines, but to do so with a focus on intellectual analysis and longer-range trends. Recent Beyond the Headlines discussions have focused on topics including the legacy of Queen Elizabeth II, COVID-19 vaccine diplomacy, civil-military relations, and Brexit. If you would like to be informed of upcoming Beyond the Headlines events, be sure to subscribe to the Pardee School's newsletter. View past Beyond the Headlines recaps and recordings on the Pardee School website.