Hello, and welcome to the Frederick S. Pardee School of Global Studies.
By visiting our school, you have chosen to embark on a global journey to advance human progress.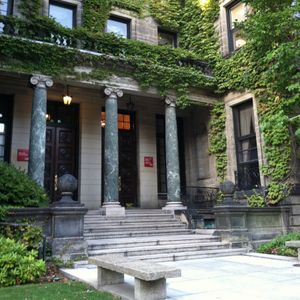 The Pardee School opened its doors in 2014. We have always thought of ourselves as the school for making the world a better place, and we take task to heart. We are a professional school of international affairs that brings together rigorous education, analysis, and academic training with in-depth, expertly led professional training that prepares our students to go out into the world and advance human progress. No matter the field of focus — international health, economics and development, diplomacy, foreign policy, human rights, security, or climate change — we prepare our students to tackle pressing issues that are global in scope.
Guided by our world class faculty — current and former practitioners in diplomacy, development, human rights, global affairs, and more — you will be well versed in our four P's of global studies by the time you graduate: peace, prosperity, polity (politics and policy), place. These foundational ideas drive our ambitions. During your Pardee School journey, you will build on these ideas to create your own global specialization through interdisciplinary studies, research opportunities, and real-world academic and policy experiences.
While we are a young school—the youngest at Boston University — we have built a diverse community of roughly 9,000 illustrious alumni working across industries and around the globe. We proudly uphold Boston University's values of diversity, equity, and inclusion to help create a positive and welcoming campus climate and ensure that our community brings together world-class students, staff, and faculty whose experiences and viewpoints embolden our academic endeavors. Even if you are not yet a member of the Pardee School family, we encourage you to engage with us. Explore our website to see what classes are offered and what research is being conducted; visit Boston University's website to see all the opportunities available to our students; check out BU Today to read stories of what our students are doing, and think of yourself as one of those students; and follow us on social media to join the conversation and become a part of our global community.
We are proud to continue Boston University's tradition of 'globalness.' This ideal is enshrined in the hearts of every member of our faculty, staff, and student body.
We do not shy away from difficult questions or compromising issues; we charge headlong towards them. These are trying times, and while the challenges ahead may seem daunting, we will tackle them together. At the Pardee School, we are dedicated to making the world a better place, no matter the cost.
If you dream of a better world for everyone and have the drive to advance human progress, we want you at the Frederick S. Pardee School of Global Studies.
– Dean Adil Najam