Welcome to the Frederick S. Pardee School of Global Studies!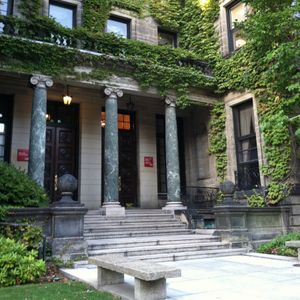 The Pardee School opened its doors in 2014. We have always thought of ourselves as the school for making the world a better place, and we take that task to heart. We are a school of international affairs that offers rigorous exposure to academic disciplines, accomplished scholars and expert practitioners, coupled with opportunities for professional training and skills development that prepares our graduates to be global leaders and advance human progress. No matter the field of focus – international health, economics and development, diplomacy, foreign policy, human rights, security, or climate change – we prepare our students to tackle pressing issues that are global in scope.
The Pardee School is animated by four foundational ideas (the four P's): Peace, Prosperity, Polity, and Place. Guided by our world-class faculty, Pardee students have unique opportunities to build on these ideas and integrate them into their own academic and professional pursuits. Their global affairs education includes interdisciplinary studies, research opportunities, and real-world academic and policy experiences.
While we are a young school — the youngest at Boston University — we have built a diverse community of roughly 10,000 alumni working across industries and around the globe. We proudly uphold Boston University's values of diversity, equity, and inclusion to help create a positive and welcoming campus climate and ensure that our community brings together world-class students, staff, and faculty whose experiences and viewpoints enrich our academic endeavors.
We encourage you to engage with us. Explore our website to see the courses taught and research conducted by our outstanding faculty; visit Boston University's website to see all the opportunities available to our students; check out BU Today to read stories of what our students are up to; and follow us on social media to join the conversation and become a part of our global community.
We are proud to enshrine within the Pardee School Boston University's long tradition of international outreach and history of global engagement. We do not shy away from difficult questions or vexing challenges. Instead, we prepare our students and graduates to confront and address the world's most daunting problems. At the Pardee School of Global Studies, making the world a better place informs everything we do.
We invite you to join us!