Pardee Center Seeks Two Research Fellows to Start Summer 2015
The Pardee Center invites applications for two Research Fellow appointments, at either the Postdoctoral or Assistant Research Scientist level, starting in the summer of 2015, each for a two-year appointment. The Pardee Center is also seeking a Postdoctoral Research Fellow to begin in early 2015. Applications should be sent to pdpardee@bu.edu.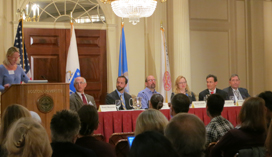 Experts Discuss Sea Level Rise and Coastal Cities at Pardee Conference
More than 200 people participated in the "Sea Level Rise & the Future of Coastal Cities" conference co-sponsored by the Initiative on Cities and the Pardee Center on Thursday, November 13 and Friday, November 14. Pardee Center Director Anthony Janetos was the keynote speaker on "The Science of Sea Level Rise and Climate Change" panel.
NEW: Pardee Center Seeks Postdoctoral Research Fellow to Start Early 2015
The Pardee Center invites applications for a one-year Postdoctoral Research Fellow appointment starting in early 2015. This position will play a lead role in conducting a comparative analysis of large-scale systems for energy security in developing countries.
The Future is Now: Urban Asia in the 21st Century
This conference was held on October 8, 2014. Experts from Boston University and elsewhere explored aspects of the social and environmental impacts of urbanization in Asia. From the Multimedia Library.
"Capital Account Liberalization in China: The Need for a Balanced Approach"


This is the third report stemming from the Pardee Center Task Force on Regulating Capital Flows for Long-Run Development, a project of BU's Global Economic Governance Initiative (GEGI). From the Publications Library.