Remembering Mayor Thomas Menino
The Pardee Center staff is deeply saddened by the loss of Thomas Menino, former long-time Mayor of Boston and most recently co-director of BU's Initiative on Cities. We had the good fortune to work with Mayor Menino and to experience first-hand his excitement for helping people, including BU students. We join the many others who will miss his wisdom, his wit, and his passion for people, and we extend our deepest sympathy to his family, friends, and colleagues.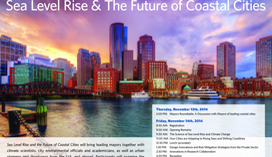 Sea Level Rise & the Future of Coastal Cities, November 13-14
The Initiative on Cities and the Pardee Center will co-sponsor the conference "Sea Level Rise & the Future of Coastal Cities" on Thursday, November 13 & Friday, November 14 in the Metcalf Trustee Center. The conference will examine how cities are planning for and adapting to rising sea levels, extreme weather events, and changing coastlines.

The Future of Urban Housing: Enhancing Energy Efficiency
This Pardee House Seminar was held on September 17, 2014. Panelists were members of the Madison Park Housing Energy Efficiency research project at Boston University. From the Multimedia Library.
"Capital Account Liberalization in China: The Need for a Balanced Approach"


This is the third report stemming from the Pardee Center Task Force on Regulating Capital Flows for Long-Run Development, a project of BU's Global Economic Governance Initiative (GEGI). From the Publications Library.
Join the Pardee Center Email and Mailing Lists!


We welcome you to sign up for our email and mailing lists! Sign up here: Email and Mailing Lists.