Protect against Cyber Attacks
Available online, on campus, and in a blended format, the Master of Science in Computer Information Systems concentration in Security at Boston University's Metropolitan College (MET) is designed to immerse you in the fast-paced world of technological innovation—preparing you for IT leadership positions in all sectors.
Program at a Glance
Top 10 Online Program since 2014
Online, On Campus, and Blended
Part-Time or Full-Time Study
40 Credits
12–20 Months to Completion
17 Core Faculty
No GRE/GMAT
Tuition & Fees Range—Part-Time Study*: $33,280–$35,020
*Based on 2022–2023 Boston University tuition and fees. Merit scholarship may reduce cost.
Advance Your Career with a Master's in Computer Information Systems
In 2019, the FBI's Internet Crime Complaint Center (IC3) received 467,361 complaints, with losses exceeding $3.5 billion. The number of complaints since 2015 is close to 2 million, with $10 billion in losses. From email compromises, phishing scams, and ransomware to corporate data breaches or even cyberterrorism, businesses face unprecedented threats from cybercriminals.
Having information security systems in place to protect the assets of the organization, employees, and clients is essential. The BU MET master's in Computer Information Systems concentration in Security positions you for exciting careers protecting organizations against acts of cybercrime. Roles such as information security analyst are expected to surge through 2028, according to the U.S. Bureau of Labor Statistics, with much faster than average job growth of 32 percent and median annual salaries in excess of $90K. There remains, however, a significant talent gap as organizations scramble to employ and retain qualified cybersecurity engineers, cybersecurity analysts, cybersecurity consultants, cybersecurity managers/administrators, cybersecurity architects, and others.
"My job is extremely diverse, it involves risk management, security policy and procedure development, vendor reviews, network security, and enterprise security as a whole. These are all subjects that I took directly at BU MET with professors who are experienced and elevated within their fields. I was not only able to gain more knowledge, but my security insight matured to a level that I thought unachievable prior to entering my master's program. All of the topics covered in my program I used in my job interviews, and in my job. Best choice I made."—Ian Hill (MET'19), Information Security & Privacy Cloud Analyst, Partners HealthCare
Why BU's Computer Information Systems Degree Has Been Top 10 since 2014
Recognized & Certified: Boston University is recognized by the National Security Agency and the Department of Homeland Security as a Center of Academic Excellence (CAE) in Cyber Defense and Research. BU MET's information security programs are certified by the Committee on National Security Systems (CNSS).
Active Learning Environment: BU MET's Computer Information Systems courses ensure you get the attention you need, while introducing case studies and real-world projects that ensure you gain in-depth, practical experience with the latest technologies. BU's Center for Reliable Information Systems and Cyber Security (RISCS) offers opportunities to collaborate and participate in research on system reliability and information security.
Engaged Faculty: In BU MET's Computer Information Systems master's program, you benefit from working closely with highly qualified faculty and industry leaders who have hands-on involvement in information security and fighting cybercrime for the world's top companies.
Extensive Network: Study information systems alongside peers with solid business experience, learn from faculty who have valuable IT contacts across several sectors, and benefit from an alumni community with strong professional connections.
15:1 Class Ratio: Enjoy an exceptional student-to-instructor ratio, ensuring close interaction with faculty and access to support.
Valuable Resources: Make use of Boston University's extensive resources, including the Center for Career Development, Educational Resource Center, Fitness & Recreation Center, IT Help Centers, Mugar Memorial Library, Center for Antiracist Research, Howard Thurman Center for Common Ground, George Sherman Union, Rafik B. Hariri Institute for Computing and Computational Science & Engineering, and many others.
Flexible Options: Study at the pace that works for you, evenings on campus, fully online, or in the blended format that combines on-campus and online learning. Courses begin fall, spring, and summer; online courses have two starts per term.
Track Record: Learn from the best—BU MET's Department of Computer Science was established in 1979 and is the longest-running computer science department at BU. Over its four decades, the department has played an important role in the emergence of IT at the University and throughout the region.
Merit Scholarships: All applicants are automatically considered, and admitted students are nominated based on eligibility.
Master the Tools to Excel in Computer Information Systems
The Security concentration is part of BU MET's Master of Science in Computer Information Systems (MSCIS). BU's industry-leading MSCIS curriculum combines in-depth technical skills and emerging technology management. The concentration in Security provides thorough knowledge of emerging security threats and solutions to prepare technical leaders to identify, develop, and implement highly secure systems and networks that support organizational goals. Graduates are prepared for careers as information security analysts, system analysts, or information system leaders, among others.
BU MET's Computer Information Systems master's degree prepares you for jobs that are seeing faster-than-average growth and excellent salaries. According to the U.S. Bureau of Labor Statistics, the median annual wage for computer and information systems managers (for instance) is more than $146,000. And with seven concentrations, the Computer Information Systems master's encompasses several other fast-growing and well-paid segments of the IT job market, providing the foundation for work as an application analyst, data analyst, data scientist, cybersecurity analyst, IT consultant, network and computer systems administrator, computer systems analyst, database administrator, and many other integral positions in an organization.
Graduate with Expertise
In addition to the learning outcomes derived from Metropolitan College's Computer Information Systems master's degree program, the concentration in Security will equip you with:
Advanced knowledge of information security concepts, governance, biometric systems, and database systems security, as well as network security and cryptography.
Proficiency in risk management, such as asset assessments, architectural solutions, modeling, and design.
Competence in security policies, processes, technology, and operations.
Certificate-to-Degree Pathway
You can also earn the master's in Computer Information Systems with a concentration in Security by completing the BU MET Graduate Certificate in Information Technology and Graduate Certificate in Information Security, plus two additional courses: Introduction to Probability and Statistics (MET CS 546) and either Information Structures with Java (MET CS 520) or Information Structures with Python (MET CS 521). An alternative path is to complete the Graduate Certificate in Information Technology and Graduate Certificate in Digital Forensics, plus MET CS 546, MET CS 520 or MET CS 521, and two additional courses: IT Security Policies and Procedures (MET CS 684), and Enterprise Cyber Security (MET CS 695). To be eligible for the degree, you must apply for admission and be accepted into the degree program. Connect a with a graduate admissions advisor at csadmissions@bu.edu to learn more about this option.


Master's in Computer Information Systems Curriculum
A total of 40 credits is required.
Students who are declaring an MSCIS concentration in Security must complete the core and required concentration courses.
Core Courses
(Five courses/20 credits)

MET CS 625

Business Data Communication and Networks

Summer '23

Fall '23
MET CS 669

Database Design and Implementation for Business

Summer '23

Fall '23
MET CS 682

Information Systems Analysis and Design

Summer '23

Fall '23
MET CS 782

IT Strategy and Management

Summer '23

Fall '23
And one of the following*:
MET CS 520

Information Structures with Java

Summer '23

Fall '23
MET CS 521

Information Structures with Python

Summer '23

Fall '23
*If a student chooses to take both MET CS 520 and MET CS 521, the first course completed will fulfill the core requirement and the second course completed will count as an elective.
Students who have completed courses on core curriculum subjects as part of their undergraduate degree program or have relevant work-related experience may request permission from the Department of Computer Science to replace the corresponding core courses with graduate-level computer information systems electives. Please refer to the MET CS Academic Policies Manual for further details.
Security Concentration Requirements
(Five courses/20 credits)
MET CS 546

Introduction to Probability and Statistics

Summer '23

Fall '23
MET CS 684

Enterprise Cybersecurity Management

Summer '23

Fall '23
MET CS 695

Cybersecurity

Summer '23

Fall '23
And two courses selected from the following (some courses may not be available in the blended or online format):
MET CS 674

Database Security

Fall '23
MET CS 690

Network Security

Summer '23

Fall '23
MET CS 693

Digital Forensics and Investigations

Fall '23
MET CS 694

Mobile Forensics and Security

Summer '23
MET CS 763

Secure Software Development

Fall '23
MET CS 789

Cryptography

Fall '23
MET CS 793

Special Topics in Computer Science
MET CS 799

Advanced Cryptography
Computer Science Faculty
View All Faculty
Tuition & Financial Assistance
Competitive Tuition
Our part-time rates are substantially lower than those of the traditional, full-time residential programs yet provide access to the same high-quality BU education.
Comprehensive Financial Assistance
Our services include
scholarships
, graduate loans, and payment plans.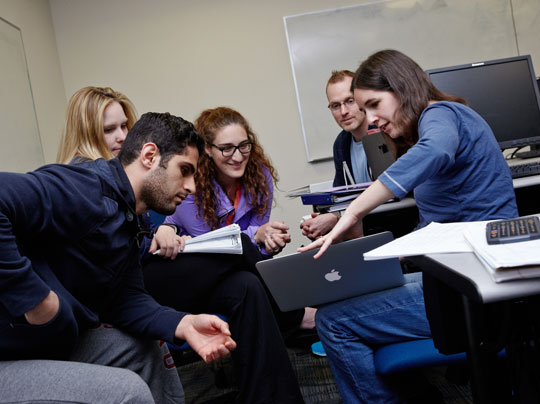 Get Started
Please visit the BU MET admissions page for details on how to apply, financial assistance, tuition and fees, requirements for international students, and more.
What to Read Next: MET Computer Science & IT
News & Events