Archives 2014-2015
55th Annual Program
2014–2015
Download the BCPS 2014-15 Program
Multi-Model Approaches in the Sciences
Friday, October 10th, 2014
The Castle
225 Bay State Rd.
3pm – 6pm
Pathways to Conceptual Innovation: Multi-Model Approaches in Neuro-Engineering Sciences
Nancy J. Nersessian Psychology, Harvard University
Currents in the Gene Pool: What Multi-Model Approaches Can Tell Us About Bacterial 'Species'
William Hanage Epidemiology, Harvard University
Local High-Resolution Climate Projections: Why a Multi-Model Approach Doesn't Help
Roman Frigg Philosophy, Logic & Scientific Method, LSE
The Robert S. Cohen Forum
Galileo 450th Anniversary
Friday, October 17th, 2014
Photonics Colloquium Room (906)
9th Floor, Photonics Center
8 St. Mary's Street
1pm – 4pm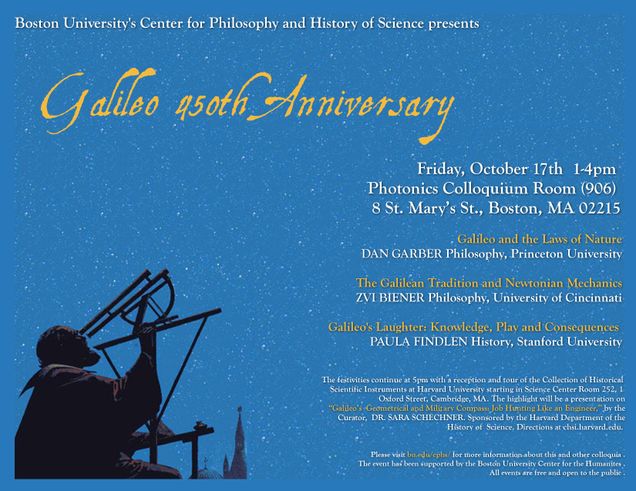 Galileo and the Laws of Nature
Dan Garber Philosophy, Princeton University
The Galilean Tradition and Newtonian Mechanics
Zvi Biener Philosophy, University of Cincinnati
mp3 |
Galileo's Laughter: Knowledge, Play and Consequences
Paula Findlen History, Stanford University
mp3 |
The festivities continue at 5pm with a reception and tour of the Collection of Historical Scientific Instruments at Harvard University starting in Science Center Room 252, 1 Oxford Street, Cambridge, MA. The highlight will be a presentation on "Galileo's Geometrical and Military Compass: Job Hunting Like an Engineer," by the Curator, Dr. Sara Schechner. Sponsored by the Harvard Department of the History of Science. Directions at chsi.harvard.edu
Philosophy of Paleontology
Friday, November 21st, 2014
The Castle
225 Bay State Rd.
2:00pm – 6:00pm
What is a Fossil?
Derek Turner Philosophy, Connecticut College
Fossil Preparators and the Construction of Paleontological Specimens and Knowledge
Caitlin Wylie STS, New Jersey Institute of Technology
Exploring the Complicated Role of Evolutionary Modeling in Paleobiological Research
Patrick Forber Philosophy, Tufts University
What Use Are Species Concepts in Paleobiology? The Mystery of the Triceratops's Mother
Adrian Currie Philosophy, University of Calgary
100th Anniversary of General Relativity
Cosponsored by the Center for Einstein Studies at Boston University
Friday, March 27th, 2015
The Castle
225 Bay State Rd.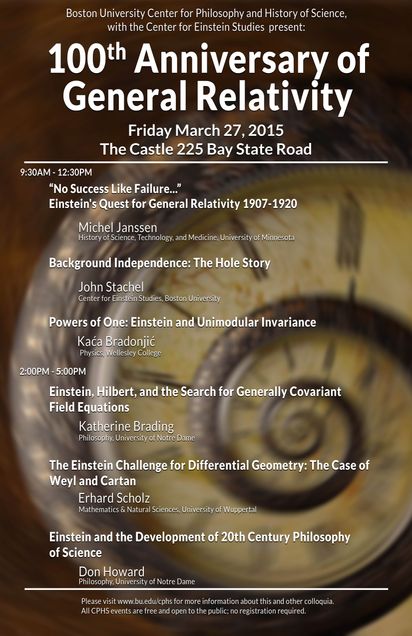 9:30am – 12:30pm
"No Success Like Failure…" Einstein's Quest for General Relativity 1907-1920

Michel Janssen History of Science, Technology, and Medicine, University of Minnesota

Background Independence: The Hole Story

John Stachel Center for Einstein Studies, Boston University

Powers of One: Einstein and Unimodular Invariance

Kaća Bradonjić Physics, Wellesley College
2pm – 6pm
Einstein, Hilbert, and the Search for Generally Covariant Field Equations

Katherine Brading Philosophy, University of Notre Dame

The Einstein Challenge for Differential Geometry: The Case of Weyl and Cartan

Erhard Scholz Mathematics & Natural Sciences, University of Wuppertal

Einstein and the Development of 20th Century Philosophy of Science

Don Howard Philosophy, University of Notre Dame
The Alfred I. Tauber Forum
Scientific Pluralism
Friday, April 10th, 2015
The Castle
225 Bay State Rd.
3pm – 6pm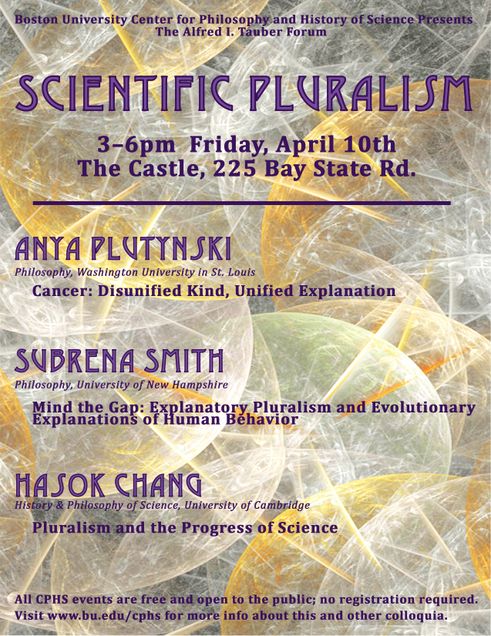 Cancer: Disunified Kind, Unified Explanation
Anya Plutynski Philosophy, Washington University in St. Louis
Mind the Gap: Explanatory Pluralism and Evolutionary Explanations of Human Behavior
Subrena Smith Philosophy, University of New Hampshire
mp3 |
Pluralism and the Progress of Science
Hasok Chang History & Philosophy of Science, University of Cambridge
Diversity, Plasticity, and the Science of Sexuality
Cosponsored by the Biology Department and Women's, Gender, and Sexuality Studies
Friday, April 24th, 2015
Photonics Colloquium Room (906)
9th Floor, Photonics Center
8 St. Mary's Street
9:30am – 12:30pm
Development, Evolution, and the Diversity of Non-Reproductive Sexual Behavior: An Introduction

Karen Warkentin Biology, Boston University
Sexuality at the Nature-Culture Divide: Historical Lessons

Erika Milam History, Princeton University

The Evolution of Male Same-Sex Sexuality: Lessons from the Samoan Fa'afafine and Japanese Macaques

Paul VaseyPsychology, University of Lethbridge – Alberta
2pm – 6pm
Sexual Fluidity in Women and Men: What Is the Relevant Time Scale?

Lisa Diamond Psychology, University of Utah

Sexual Selection: How Do We Interpret Plasticity and Flexibility in Mate Choice and Beyond?

Malin Ah-King History, Humboldt University of Berlin

Sexuality Beyond the Nature-Culture Divide: Philosophical Lessons

Helen Longino Philosophy, Stanford

Round Table Discussion