SPH at SER's Annual Meeting
.

Awards
SPH at SER's Annual Meeting
The SPH community was well represented at this year's Society for Epidemiologic Research Annual Meeting, with several community members being recognized for their research and contributions to the field, as well as for their service to the organization.
The Society for Epidemiologic Research (SER) recently held their Annual Meeting, which brings together epidemiologists in all stages of their career trajectory from across the country to discuss emerging epidemiologic research. The meeting took place in Chicago, Illinois this year.
The School of Public Health community was well represented at the event, with faculty, students, and alumni serving on panel discussions and presenting their work throughout the four-day conference.
Several SPH community members were also recognized for their research and contributions to the field of epidemiology, as well as for their service to SER.
Lauren Wise, professor of epidemiology, was honored with the Noel Weiss and Tom Koepsell Excellence in Education Award. The award recognizes a member of SER that has made significant contributions to the field through mentoring, training, and teaching.
Wise studies reproductive and perinatal epidemiology, focusing on gynecologic disorders, delayed conception, and adverse pregnancy outcomes. She is the principal investigator of the Boston University Pregnancy Study Online (PRESTO), a web-based, prospective study that examines whether lifestyle factors like diet and medication use impact fertility and pregnancy. She is also a co-principal investigator of the Study of Environment, Lifestyle, and Fibroids (SELF) in Detroit, Michigan, analyzing how environmental and lifestyle factors affect uterine fibroid development and what can be done to prevent them.
Throughout her career, Wise has positively impacted the professional development of others in the field, helping to train the next generation of leaders in epidemiological research. She gave a presentation of her work during the conference's professional development sessions.
SPH alum Julie Petersen (CAS'08, SPH'16'21) received the Tyroler Student Prize Paper Award, which recognizes an outstanding paper written within the last two years of a student's formal doctoral training in epidemiology.
Petersen's paper, which was published in Research Synthesis Methods, adds to existing guidance for defining and summarizing confounding bias in systematic reviews and meta-analyses of observational studies. The approach, called the confounder matrix, first brings together a group of content experts in the field to come to consensus regarding the core confounders that should be controlled for in the studies and the best method for measurement. Based on these results, a matrix then graphically ranks each study in the systematic review on how well they account for each confounder. The assessment of control adequacy is then quantitatively incorporated into the meta-analysis, if applicable.
By using this approach, researchers are able to see a more objective point of view in terms of what variables should be controlled for when doing systematic reviews, which can help to highlight gaps in the field and provide opportunities to give recommendations for future studies.
Petersen graduated from SPH with her PhD in epidemiology in September 2021. She is currently a postdoctoral associate at the University of Pittsburgh School of Public Health, and her research aims to inform clinical guidelines for pregnancy to prevent adverse pregnancy outcomes, such as congenital malformations, fetal growth restriction, and preterm birth.
SPH also sponsored the Kenneth Rothman Career Accomplishment Award, which honors an outstanding scholar with extraordinary contributions to the field of epidemiology. This year's recipient was Beate Ritz, a professor of epidemiology at the University of California, Los Angeles Fielding School of Public Health. Ritz's primary research interests are occupational and environmental exposures, chronic diseases originating in the prenatal period, and neurodegenerative disorders, such as Parkinson's and Alzheimer's disease.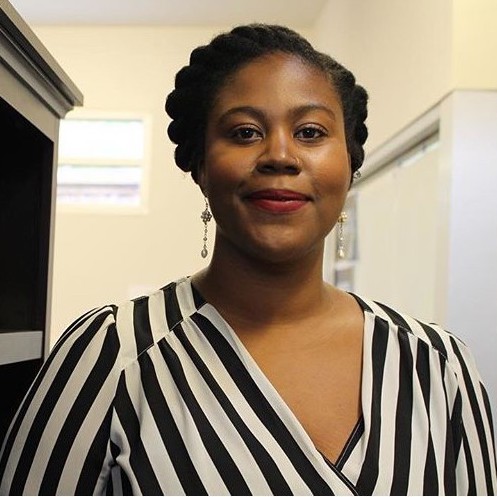 Nedghie Adrien, a PhD candidate in the Department of Epidemiology, was named president-elect of the SER-Student & Post-Doc Committee (SER-SPC). The SER-SPC is charged with facilitating professional development and educational experiences for students in epidemiology-related disciplines by providing information, resources, and opportunities to network and exchange research ideas. Before her selection as president-elect, Adrien served on the SER-SPC as media co-chair and as a panelist at annual SER meetings in 2020 and 2021.
In her new role, Adrien seeks to expand the organization's reach to trainees in academic and non-academic settings through a number of proposed initiatives, including a collaboration with the CDC's Young Professionals Network, professional development opportunities for Master's level scientists, and support for multilingual epidemiological research.
Adrien works as a teaching assistant and graduate researcher at SPH, focusing on perinatal epidemiology. In her research, she uses novel analytic methods to identify risk factors for birth defects and provide evidence-based information about medication exposure to people who are pregnant.
In conjunction with the Annual Meeting, SPH also hosted an Alumni and Friends Reception. The event brought together over 70 faculty, staff, students, alumni, and friends of the school for an evening of conversation and networking.
Founded in 1968, SER is the oldest and largest general epidemiology society in North America. It was established with a mission of fostering epidemiologic research and providing a forum for sharing the latest scientific advancements in the field.