Antibiotic Overprescribing More Likely among Some Groups Than Others
.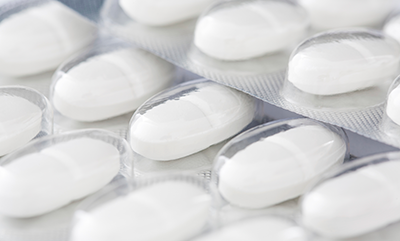 Antibiotic overprescribing was more common among tobacco users and patients lacking a college education, suggesting that patient education could be an effective approach to reducing unnecessary antibiotics, a study co-authored by School of Public Health researchers shows.
In the study in the journal Open Forum Infectious Diseases, researchers from SPH and Boston Medical Center looked at prescriptions for acute respiratory tract infections (ARTIs), of which as many as 40 percent are believed to be prescribed unnecessarily. They sought to define factors associated with overprescribing, in order to improve practice.
The study found that hospital and community-practice visits had more antibiotic overprescribing than Emergency Department visits, and that the quartile of patients with the lowest level of college education had significantly greater overprescribing than the highest quartile. Also, current tobacco users were overprescribed more often than nonsmokers.
The study found that while inappropriate overprescribing was high for patients treated in Emergency Departments, it was still significantly lower compared with other care settings, including community practices. "This may be because ED physicians are less likely to prescribe antibiotics to improve patient satisfaction with the visit, in contrast to office-based physicians, who have an ongoing relationship with the patient," the authors said.
Region of the country was only a significant factor when the interaction with the care setting was included, the study found. For example, hospital practice was associated with less overprescribing in the Northeast, but greater overprescribing in the Midwest.
On the patient side, out-of-pocket payment for care, which is typically due to being uninsured, was associated with overprescribing. For uninsured patients, who must pay for all medications, antibiotics may appear a less expensive route than purchasing products for symptomatic relief, the authors said.
The researchers noted that educational advancement has been shown to be a determinant for good health outcomes, and that impoverished people have fewer opportunities to attend college, are more likely to use tobacco, and are likely to have low "health literacy."
They recommend a coordinated effort to educate patients, particularly those with lower health literacy, about appropriate indications for antibiotic treatment of ARTIs, and say smoking cessation should be a high public health priority. Studies that have included patient education, such as information pamphlets mailed to the home, have demonstrated that such education makes an important contribution to improved prescribing. Innovative educational resources for the consumer, and tools to help them decide when they should see their doctor, should be developed, they said.
"A focus on educating the patient may be as, or more, effective as a focus on the provider, particularly if the provider believes that he or she is responding to patient preferences," the study concludes. "A concentrated effort to educate and involve patients in the treatment decisions for ARTIs should be a healthcare priority as a way to stem inappropriate antibiotic use."
SPH co-authors on the study are: Howard Cabral, professor of biostatistics; Lewis Kazis, professor of health law, policy & management; and Rene Soria Saucedo, consultant at BU's Center of Assessment of Pharmaceutical Practices. The study was led by Tamar F. Barlam, of the section of infectious diseases, Department of Medicine, at Boston Medical Center.