Program at a Glance
Top 4 Online Programs since 2015
Online and On Campus
Full-Time or Part-Time Study
32 Credits
8–16 Months to Completion
4 Full-Time Faculty Members
No GRE/GMAT
Qualify for Crime Analysis Jobs with a Master's in Criminal Justice
Policework is not just knocking on doors and interviewing witnesses anymore. The proliferation of data generated by surveillance cameras, body cams, GPS, mobile devices, social media, email and text exchanges, wearable tech, sensors, and other sources has enhanced the potential to map hotspots, discern patterns and trends, gather evidence, solve crimes, and demonstrate results. Having the skills to analyze this data is critical for tactical, operational, and strategic efforts in law enforcement, and essential to research and policy development and reform.
The Master of Science in Criminal Justice concentration in Crime Analysis at Boston University's Metropolitan College (MET) develops your expertise in using and analyzing a variety of data sources to inform the investigations, strategies, and policy decisions of criminal justice organizations. This set of skills is crucial to a growing field within law enforcement and related domains in criminal justice.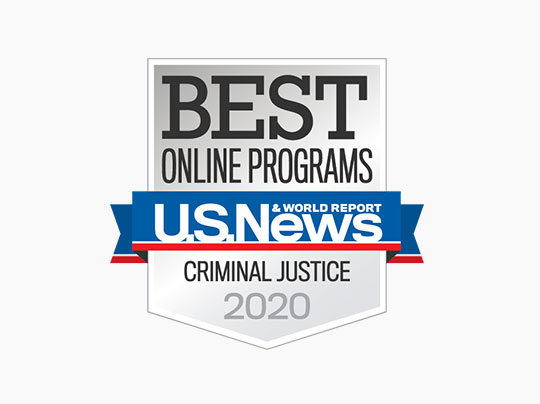 #3 in 2020, and top 4 since 2015
2020 U.S. News & World Report Rankings
Learn more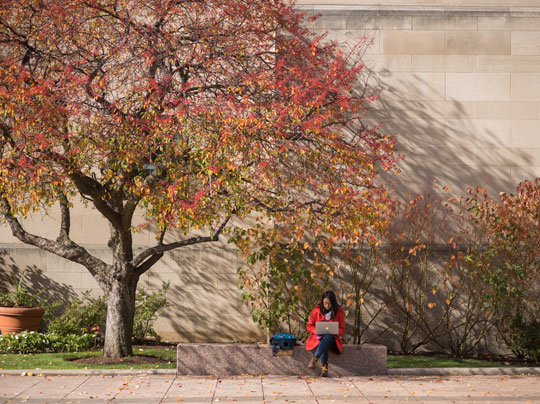 Request Information
To stay connected! Learn more about our program.
Learn More
"I graduated in September 2017. Shortly after, I earned a position in Florida as a crime analyst for a sheriff's office. Now, I'm an investigative analyst for the Office of the Special Narcotics Prosecutor in New York, New York." —Michael-Angelo Zummo (MET'17), Investigative Analyst for the Office of the Special Narcotics Prosecutor in New York, New York
Explore Careers in Crime Analysis
Use the Career Insights tool to explore jobs that are the right fit for you. Filter by career area and job title or by industry sector to explore employment demand and average salaries. Select "Learn More" for a downloadable career report, or "Explore Other Options" to find the BU MET degree or certificate program that will prepare you for the job you want.
Why BU's Criminal Justice Master's Has Been Top 4 since 2015
Active Learning Environment: Benefit from a criminal justice master's that employs case studies, simulations using real data, and hands-on problem solving to develop practical skills you can immediately apply on the job.
Engaged Faculty: Collaborate with faculty who have subject-matter expertise, research-based insight, and extensive field experience in law enforcement, corrections, cybercrime investigation and digital forensics, research and policy, forensic mental health, the judicial system, strategic management, and many other areas.
Extensive Network: Study alongside classmates whose diversity of criminal justice experience inspires discussion and debate, along with the opportunity to form valuable, long-lasting connections in the field.
15:1 Class Ratio: Enjoy an exceptional student-to-instructor ratio, ensuring close interaction with faculty and access to support.
Valuable Resources: Make use of Boston University's extensive resources, including the Center for Career Development, Fitness & Recreation Center, IT Help Centers, Mugar Memorial Library, the George Sherman Union, and many others.
Flexible Options: Study at the pace that works for you, evenings on campus or fully online. Courses begin fall, spring, and summer; online courses have two starts per term.
Track Record: Learn from the best—BU MET has offered criminal justice education since 1973, introducing the master's degree in criminal justice in 1980, which became BU's first fully online program in 2002.
Merit Scholarships: All applicants are automatically considered, and admitted students are nominated based on eligibility.
Fee Waiver: Current members of the American Jail Association (AJA) are eligible for a Graduate Application fee waiver ($85 for applications to the master's program).
Prepare for the Future of Criminal Justice
The Crime Analysis concentration is part of BU MET's Master of Science in Criminal Justice (MSCJ). Data-driven and intelligence-led approaches to crime are rapidly becoming the standard among contemporary criminal justice organizations, and BU MET's crime analysis curriculum prepares students to fill in-house crime analyst roles or similar positions, while strengthening the skills of those working in investigations, management, and operations.
The master's in Criminal Justice at BU MET is designed for professionals who want to enter or advance in the field of criminal justice—or simply gain a deeper understanding of this fascinating discipline and how it intersects with careers in mental health, public health, journalism, and law. Emphasizing practical, insightful, and adaptable knowledge, BU MET's criminal justice courses develop practical skills that can be immediately applied on the job while informing your career growth for years to come.
Graduate with Expertise in Crime Analysis
Metropolitan College's Criminal Justice master's degree concentration in Crime Analysis will equip you to:
Understand the wide variety of data sources available for crime and intelligence analysis, including the methods of data collection, uses, strengths, and limitations.
Prepare different sources of data for use in analysis processes (e.g., data reorganization, matching).
Conduct analysis using a variety of different techniques, including mapping and spatial analysis and other advanced methods.
Incorporate analyses into effective written and oral reports that are useful to investigation, strategy, and policy decisions within law enforcement organizations.
Comprehend the ethical and legal rules and values that govern crime analysis within law enforcement organizations operating in a democratic society.
Inform effective data-driven or intelligence-led investigations, strategies, and policies based on awareness of contemporary law enforcement and security approaches.
Certificate-to-Degree Pathway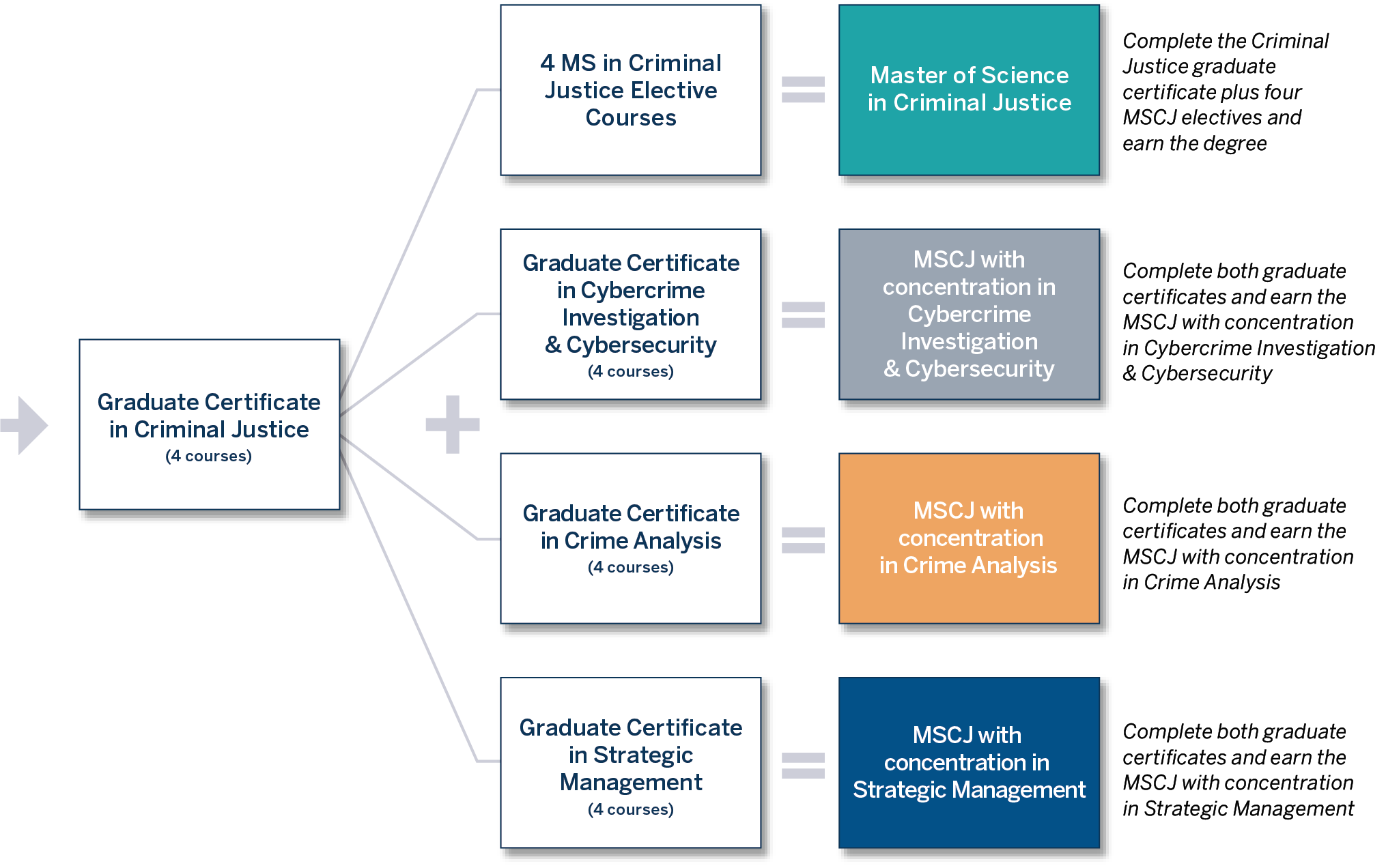 You can also earn the master's in Criminal Justice with a concentration in Crime Analysis by completing the Graduate Certificate in Criminal Justice and the Graduate Certificate in Crime Analysis. To be eligible for the degree, you must apply for admission and be accepted into the degree program. Consult with a graduate admissions advisor to learn more about this option.
Master's in Criminal Justice Requirements
Criminal Justice Faculty
Tuition & Financial Assistance
Competitive Tuition
Our part-time rates are substantially lower than those of the traditional, full-time residential programs yet provide access to the same high-quality BU education.
Comprehensive Financial Assistance
Our services include
scholarships
, graduate loans, and payment plans.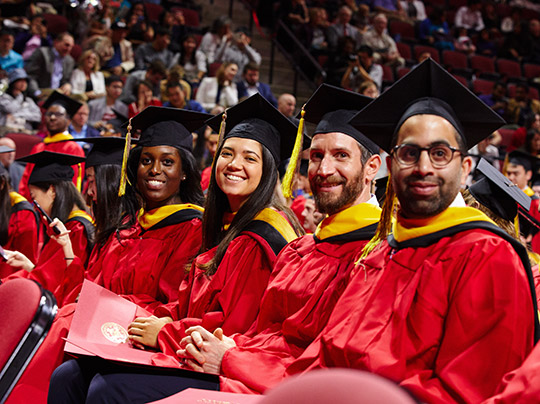 Get Started
Please visit the BU MET admissions page for details on how to apply, financial assistance, tuition and fees, requirements for international students, and more.
Current members of the American Jail Association (AJA) are eligible for a Graduate Application fee waiver ($85 for applications to the master's program), and should email metcorp@bu.edu with information confirming AJA membership.

What to Read Next: MET Criminal Justice Knowledge Center