Are There Different Criminal Justice Graduate Programs or Specializations Available at BU MET?
In addition to the 8-course Master of Science in Criminal Justice BU MET offers optional master's concentrations in Cybercrime Investigation & Cybersecurity, Crime Analysis, and Strategic Management. Not ready for a full degree program? Pursue a 4-course graduate certificate and hone the skills to jump-start your career. A Computer Science-focused Graduate Certificate in Digital Forensics is also available.
Boston University Metropolitan College (MET) has been educating criminal justice professionals since 1973, through programs designed to develop the skills needed to become a better and more able leader in the field of law enforcement. The cutting-edge master's in Criminal Justice program had the distinction of becoming Boston University's first fully online program in 2002 and has been ranked among the top four Best Online Master's in Criminal Justice Programs each year since 2015 (U.S. News & World Report).
Our highly specialized criminal justice courses are crafted and taught by experienced practitioners who know that the challenges of the field are ever-evolving, and that ongoing training is critical.
BU MET's respected, research-active criminal justice faculty are equipped with years of hands-on experience in policing, cybercrime, the judicial system, and corrections, and provide you with the skills and knowledge to confront complicated issues with confidence. Our criminal justice graduate programs hold to the rigorous academic standards befitting a world-class research institution, no matter whether you are studying online or on campus. Through an active learning environment, we ensure that you have the tools to establish evidence-based policies and institute best practices. Most importantly, we equip you with the critical-thinking skills to approach your work with clear eyes and a well-rounded, informed perspective.
"We think of it as a professional education," says Shea Cronin, BU MET chair of Applied Social Sciences and assistant professor. "What we try to do is not only advance theoretical knowledge, but we also try to impart important skills that our students can bring back to their workplace."
To assist and support you in this growth, BU MET has developed a series of graduate certificates and master's degree concentrations in criminal justice that give you the skills to set yourself apart. Whether you opt for a four-course graduate certificate program or the more involved master's degree program concentrations, our graduate programs in criminal justice will give you demonstrable skills in vital, in-demand areas.
Certificate-to-Degree Pathways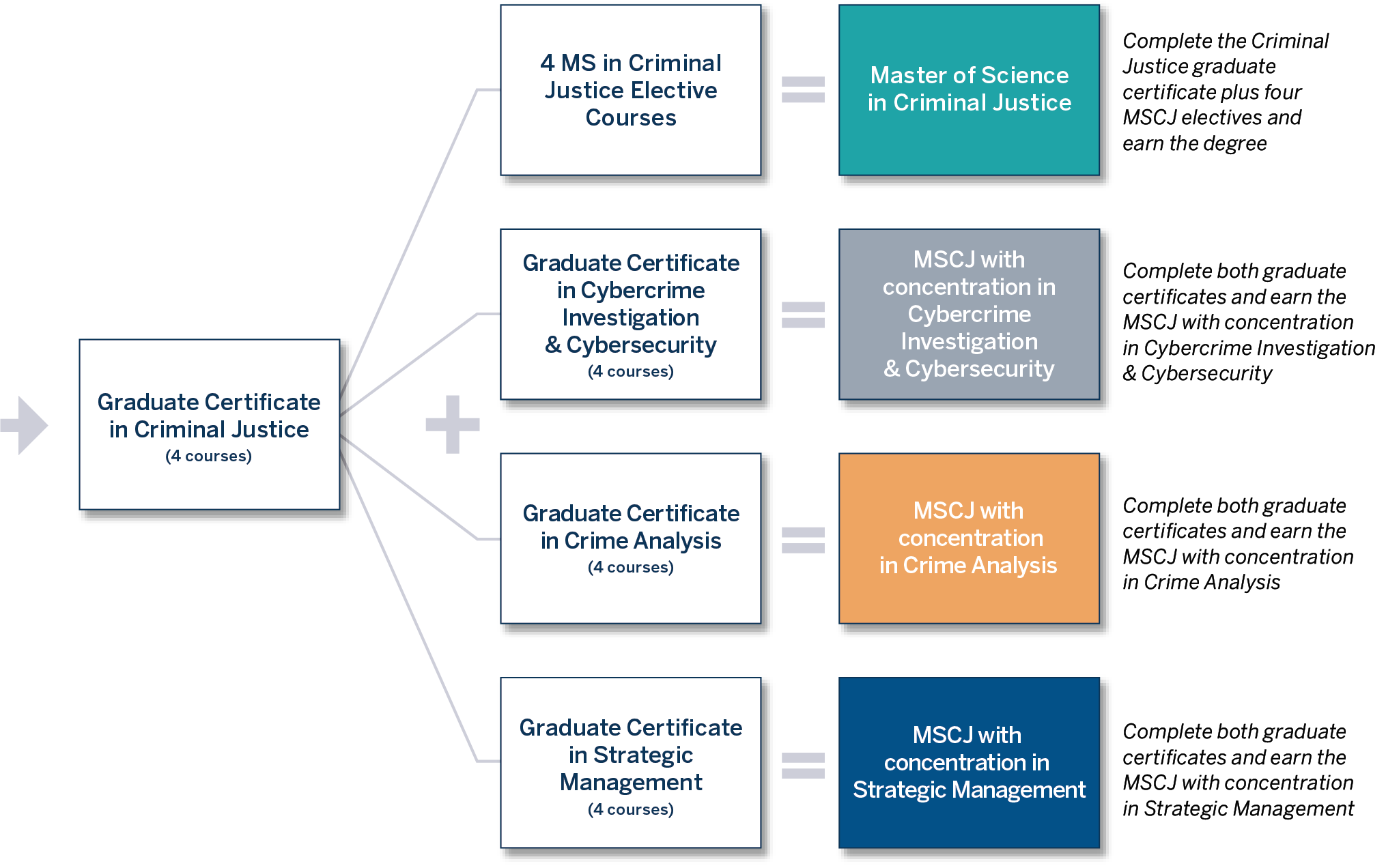 BU MET graduate certificate programs in Crime Analysis, Criminal Justice, Cybercrime Investigation & Cybersecurity, and Strategic Management in Criminal Justice serve as building blocks to the Master of Science in Criminal Justice (MSCJ) degree. Each certificate shares specific courses with the MSCJ program and its concentrations, giving you the option to take one or two certificates on your path to a master's degree. To be eligible for the degree, you must apply for admission and be accepted into the degree program. Consult with a graduate admissions advisor to learn more about these options.
MSCJ Concentrations include:
Better Investigations through Data: The Case for Crime Analysis
Data analysis has in recent years played a transformative role across industry—and the world of criminal justice is no different. Thanks to data generated through streams like 911 and 311 call reports, police incident filings, mobile devices, and social media, information about where and when crime occurs is everywhere.
But raw data alone is only a beginning—to crunch these insights, criminal justice organizations need thinkers primed to help shape investigations, strategies, and policy decisions. The best path to joining these growing ranks within law enforcement and related fields is via graduate study in Crime Analysis.
Assistant Professor of Criminal Justice Shea Cronin knows the power data can bring to criminal justice efforts. His research at BU MET draws heavily on data—focusing on firearms trafficking and firearms homicide, police strategies, organizations, and policy implementation. He is currently a co-investigator on a National Institute of Justice grant examining the impact of state firearm laws on homicide rates disaggregated by race and ethnicity.
According to Dr. Cronin, as intelligence-led approaches to crime have become the standard among contemporary criminal justice organizations, Boston University's practical Crime Analysis curriculum is especially important now.
"Every criminal justice agency talks about data-driven approaches," says Dr. Cronin. "A capacity to work with data and understand the ways it can inform decisions is essential."
For criminal justice researchers, intelligence analysts, and law enforcement professionals, advances in data analytics have redefined their approaches. And from Dr. Cronin's vantage, the applied career opportunities in crime analysis expand beyond the obvious.
"We see the most well-known examples in policing, from basic crime mapping to predictive policing. And not just for the actual analysts that would work more directly with data," he says. "Practitioners in operations, investigations, management, and leadership need to be fluent in what opportunities there are to bring quality data to bear on their problems, as well as the limitations inherent in such approaches."
Available as a degree concentration in the Master of Science in Criminal Justice or as an independent graduate certificate that can later be counted towards the master's program, the Crime Analysis curriculum at Boston University will help you master the tools needed to draw insights and conclusions from massive amounts of data, providing an enormous advantage through efficient police work, strategic deployment of personnel, evidence-based practices, and a more accurate understanding of crime patterns and enforcement results.
Leading with Policy: Strategic Management Solutions, at Home and Abroad
In the modern world, criminal justice faces all number of complexities—terrorism, cybercrime, questions of police legitimacy, and stagnant correctional outcomes in terms of recidivism among offenders. Fully addressing these challenges requires thinkers and leaders prepared to take the long view on crime and justice—putting in high-demand ethical, business-minded, and analytical criminal justice professionals who can capitalize on resources, identify problems, and provide viable solutions.
By enhancing interdisciplinary skills in research, development, and grant writing, BU MET's programs in Strategic Management prepare graduates to keep pace with criminal justice challenges while leading reforms—domestically and internationally—making it the ideal credential for experienced, mid-career criminal justice professionals who seek to advance into policy-making, upper management, or executive-level positions in their agencies.
"The field of criminal justice has been slow to adopt policies and programs in a thoughtful, coherent way," explains Mastrorilli, retired professor of criminal justice at BU MET. "I would tell my students that criminal justice practitioners implement policies based on lawsuits, accidents, and crises. While this is unavoidable, the field can do better by undertaking planned change."
Graduate study in Strategic Management at Boston University's Metropolitan College comes in two forms: as a four-course certificate (which can later be counted towards the master's program) and as a specialized concentration within the Criminal Justice master's degree program. Through a curriculum designed to provide a strong footing in ethics, business, and analysis—as well as the ability to keep pace with issues—students in BU MET's Strategic Management programs develop valuable skills that enhance their ability to analyze diverse problems and formulate sound and sustainable policies that are guided by logic and planning.
"Criminal justice practitioners must be effective leaders and managers, so we focus a lot on how to lead in organizations that prefer to work in obscurity but are facing increasing levels of scrutiny," says Dr. Mastrorilli. In her view, the Strategic Management course of study may be your best shot at gaining the specialized qualifications it takes to make a difference in the world of criminal justice.
"The Strategic Management in Criminal Justice curriculum is a path to advancement in your field. It will enhance your administrative skills so that resources are not wasted, and problems are identified, analyzed, and solved," says Dr. Mastrorilli. "It is a credential for people who want to be leaders in the criminal justice field and guide reform in a thoughtful, rational way."
The Next Revolution: Protecting Industry and Individuals through Cybercrime Investigation & Cybersecurity
"The old 'silos,' such as special units for organized crime, gangs, and narcotics, are becoming less relevant as cybercrime becomes a part of all these traditional categories." Police Executive Research Forum, 2018: "The Changing Nature of Crime and Criminal Investigations"
Finance, healthcare, our social lives, current affairs—more and more aspects of daily life happen online, creating vast amounts of private and sensitive data stored in commercial, financial, medical, military, and government databases. But these advancements bring new vulnerabilities, and the lucrative and destructive opportunities for cybercriminals, hackers, spies, predators, and other "bad actors" have only grown.
MET Director of Cybercrime Investigation & Cybersecurity Kyung-shick Choi, whose research focuses on the intersection of human behavior and technology, argues that modern developments are so pronounced they are best considered in historic terms.
"We are in the midst of a fourth industrial revolution," Dr. Choi contends. "The first industrial revolution was the machine age, utilizing steam engines for mechanical production. The mass production paradigm using electricity was the second industrial revolution, whereas the use of internet technology served as the third industrial revolution."
The current, fourth industrial revolution, Choi explains, is using cyber-physical systems. "This is the age of global connectivity, providing the power to transform entire systems of production, management, and governance through the cyber-physical system."
Despite this seismic shift, the field of cybercrime and cybersecurity is under-resourced. As instances of identity theft and data breaches rise, national agencies and local law enforcement alike are in dire need of officers, investigators, and information security professionals with expertise in cybercrime investigation and cybersecurity techniques. BU MET's trailblazing Cybercrime Investigation & Cybersecurity certificate and master's degree concentration programs can be trusted to provide you with the expertise and networks needed to gain a foothold in this vital sector—they've been backed by a grant from the US Department of Justice's Bureau of Justice Assistance (BJA) dedicated to improving understanding and command of computer forensics and digital evidence across law enforcement.
Offered jointly by the Department of Applied Social Sciences and Department of Computer Science, the Cybercrime Investigation & Cybersecurity program provides an interdisciplinary approach that ensures hands-on experience with state-of-the-art digital forensic tools, allowing students to develop the practical competency required to lead digital investigations, evaluate enforcement issues related to cybercrime, identify problems particular to the use of new and developing technologies, formulate strategies to prevent cybercrime before it happens, and understand issues around the legal admissibility of digital evidence.
As a student, you will come to understand the perspective of cybercriminals, giving you key insights into the motivational factors that can lead to illegal activities. You will also learn to practice risk management, as well as disaster recovery procedures and countermeasures for business enterprises. Successfully complete the degree or certificate program and you become eligible to take the forensic examiner exams, providing a practical pathway to career advancement. You can also apply credits from the certificate to BU's Master of Science in Criminal Justice.
Dr. Choi has lent his expertise to law enforcement agencies across the globe in his quest to help advance a more digitally secure future. Because as he sees it, research and graduate study in the world of cybercrime is among the most important work academics and practitioners can commit themselves to. "I believe that education in the cybercrime and cybersecurity field can facilitate rapid social welfare changes and establish social justice in our contemporary society," he says.
Cybercrime Investigation-Related Programs
BU MET also offers a Graduate Certificate in Digital Forensics through the Department of Computer Science. The certificate introduces forensic analysis policy and procedures, forensic analysis tools, data recovery, and investigation, among other topics of interest to criminal justice professionals and cybersecurity experts.
---
What to Read Next: MET Criminal Justice Knowledge Center