Find Big Opportunities in Big Data
The Master of Science in Computer Science concentration in Data Analytics at Boston University's Metropolitan College (MET) explores the intricacies of data analytics and exposes you to various topics and tools related to data processing, analysis, and visualization.
Program at a Glance
On Campus
Part-Time or Full-Time Study
40 Credits
12–20 Months to Completion
17 Core Faculty
No GRE/GMAT
Tuition & Fees Range—Part-Time Study*: $28,060-$29,800
*Based on 2022–2023 Boston University tuition and fees. Merit scholarship may reduce cost.
Develop In-Demand Data Analytics Skills for Your Career
Our ability to collect, mine, and utilize massive amounts of data continues to transform every aspect of our lives. With adoption of big data analytics widespread within every major industry—including healthcare, tech, finance, communication, entertainment, energy, transportation, government, and manufacturing, to name a few—the skill to create advanced techniques to harness the power of data, and tell its story, is critical. The World Economic Forum "Jobs of Tomorrow" report of 2020 suggests an annual growth rate of 41 percent for data and AI professions, with job titles such as artificial intelligence specialist, data scientist, data engineer, big data developer, and many others. Yet, there remains a significant skills gap as employers are faced with a shortage of qualified talent for a range of emerging analytics roles.
BU MET's Computer Science master's concentration in Data Analytics is far more career-centric than traditional data analytics graduate programs, and offers extensive exposure to database systems, data mining tools, data visualization tools, and cloud services. Students will learn probability theory, statistical analysis methods and tools, how to generate relevant visual presentations of data, and concepts and techniques for data mining, text mining, and web mining.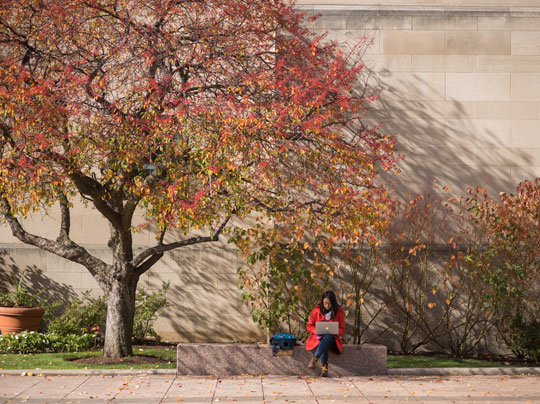 Request Information
Stay connected! Learn more about our program.
Learn More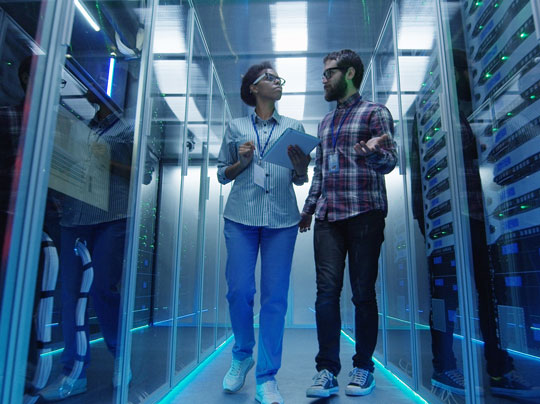 Computer Science Career Outlook
Top computer science careers in data science, software development, and other popular areas of IT.
Learn more
"My personal motivation is to quickly find a better job after I graduate from school. I have noticed that BU MET has lots of fantastic programs that are career-oriented, which perfectly matches my concerns and future plans. I have also considered other programs such as operational research or business analytics. However, BU MET's courses in the Computer Science department were more appealing to me . . . if you wish to become a data scientist. BU MET has the most diverse courses among all the programs that I considered, so it became my first choice."—Yiting Zhang (MET'20), Research Assistant, Health Informatics Research Lab (HILab)
Why Earn a Master's in Computer Science Degree from BU?
Active Learning Environment: BU MET's computer science courses ensure you get the attention you need, while introducing case studies and real-world projects that emphasize technical and theoretical knowledge—combining in-depth, practical experience with the critical skills needed to remain on the forefront of the information technology field.
Engaged Faculty: In BU MET's Computer Science master's program, you benefit from working closely with highly qualified faculty and industry leaders who have hands-on involvement in data analytics, data science, data storage technologies, cybersecurity, artificial intelligence (AI), machine learning, software development, and many other areas.
Extensive Network: Study computer science alongside peers with solid IT and business experience, learn from faculty who have valuable contacts across several sectors, and benefit from an alumni community with strong professional connections.
Student Support: Enjoy an exceptional student-to-instructor ratio, ensuring close interaction with faculty mentors and access to support.
Valuable Resources: Make use of Boston University's extensive resources, including the Center for Career Development, Educational Resource Center, Fitness & Recreation Center, IT Help Centers, Mugar Memorial Library, Center for Antiracist Research, Howard Thurman Center for Common Ground, George Sherman Union, Rafik B. Hariri Institute for Computing and Computational Science & Engineering, and many others.
Flexible Options: Study at the pace that works for you, evenings on campus with courses that begin fall, spring, and summer.
Track Record: Learn from the best—BU MET's Department of Computer Science was established in 1979 and is the longest-running computer science department at BU. Over its four decades, the department has played an important role in the emergence of IT at the University and throughout the region.
Merit Scholarships: All applicants are automatically considered, and admitted students are nominated based on eligibility.
Master the Tools to Excel in Computer Science
The Data Analytics concentration is part of BU MET's Master of Science in Computer Science (MSCS) degree program. Those who complete the Data Analytics curriculum will graduate with a solid knowledge of concepts and techniques in data analytics, exposure to the methods and tools for data mining and knowledge discovery, and a broad background in the theory of the practice of computer science
BU MET's Computer Science master's degree prepares you for jobs that are seeing faster-than-average growth and excellent salaries. Amid growing demand for—and reliance upon—big data, cloud computing, machine learning information security, and networking, jobs in the computer science and information technology sector continue to grow at a faster rate than other occupations, with overall projected growth of 11 percent through 2029 and a median annual wage of more than $88K in 2019 (U.S. Bureau of Labor Statistics Occupation Outlook Handbook). Because of the specialized nature of the work, competition for talent is fierce.
Graduate with Expertise
In addition to the learning outcomes derived from Metropolitan College's Computer Science master's degree program, the concentration in Data Analytics will equip you with:
Familiarity with applied probability and statistics, and their relevance in day-to-day data analysis.
The ability to explore the various data visualization techniques and their applications using real-world data sets.
An understanding of web analytics and metrics; how to procure and process unstructured text; and hidden patterns.
Skills in facilitating knowledge discovery using data mining techniques over vast amounts of data.
Certificate-to-Degree Pathway
BU MET graduate certificate programs can serve as building blocks to a master's degree. The Graduate Certificate in Data Analytics shares specific courses with the master's in Computer Science concentration in Data Analytics. To be eligible for the degree, you must apply for admission and be accepted into the degree program. Connect with a graduate admissions advisor at csadmissions@bu.edu to learn more about this option.


Master's in Computer Science Curriculum
A total of 40 credits is required.
Students who are declaring an MSCS concentration in Data Analytics must complete the core and required concentration courses.
A minimum passing grade for a course in the graduate program is a C (2.0) but an average grade of B (3.0) must be maintained to be in good academic standing and to be eligible to graduate.
Core Curriculum
(Five courses/20 credits)

MET CS 566

Analysis of Algorithms

Sprg '23

Summer '23
MET CS 575

Operating Systems

Sprg '23

Summer '23
MET CS 662

Computer Language Theory

Sprg '23
MET CS 673

Software Engineering

Sprg '23

Summer '23
And one of the following*:
MET CS 535

Computer Networks

Sprg '23

Summer '23
MET CS 579

Database Management

Sprg '23

Summer '23
Students who have completed courses on core curriculum subjects as part of their undergraduate degree program or have relevant work-related experience may request permission from the Department of Computer Science to replace the corresponding core courses with graduate-level computer science electives. Please refer to the MET CS Academic Policies Manual for further details.
Concentration Requirements
(Five courses/20 credits)

MET CS 544

Foundations of Analytics and Data Visualization

Sprg '23

Summer '23
MET CS 555

Foundations of Machine Learning

Sprg '23

Summer '23
MET CS 688

Web Mining and Graph Analytics

Sprg '23

Summer '23
MET CS 699

Data Mining

Sprg '23

Summer '23
Plus one additional course from the following general electives:

MET CS 532

Computer Graphics
MET CS 550

Computational Mathematics for Machine Learning

Sprg '23
MET CS 561

Financial Informatics

Sprg '23
MET CS 570

Biomedical Sciences and Health IT

Sprg '23
MET CS 580

Health Informatics

Sprg '23

Summer '23
MET CS 581

Health Information Systems

Sprg '23
MET CS 601

Web Application Development

Sprg '23

Summer '23
MET CS 602

Server-Side Web Development

Sprg '23

Summer '23
MET CS 622

Advanced Programming Techniques

Sprg '23

Summer '23
MET CS 632

Information Technology Project Management

Sprg '23

Summer '23
MET CS 633

Software Quality, Testing, and Security Management

Sprg '23
MET CS 635

Network Media Technologies
MET CS 664

Artificial Intelligence

Sprg '23
MET CS 665

Software Design and Patterns

Sprg '23

Summer '23
MET CS 674

Database Security

Sprg '23
MET CS 677

Data Science with Python

Sprg '23

Summer '23
MET CS 683

Mobile Application Development with Android

Sprg '23

Summer '23
MET CS 684

Enterprise Cybersecurity Management

Sprg '23

Summer '23
MET CS 685

Network Design and Management

Sprg '23
MET CS 689

Designing and Implementing a Data Warehouse

Sprg '23
MET CS 690

Network Security

Sprg '23

Summer '23
MET CS 693

Digital Forensics and Investigations

Sprg '23
MET CS 694

Mobile Forensics and Security

Sprg '23

Summer '23
MET CS 695

Cybersecurity

Sprg '23

Summer '23
MET CS 701

Rich Internet Application Development

Sprg '23
MET CS 703

Network Forensics
MET CS 763

Secure Software Development

Sprg '23
MET CS 767

Advanced Machine Learning and Neural Networks

Sprg '23

Summer '23
MET CS 775

Advanced Networking
MET CS 777

Big Data Analytics

Sprg '23

Summer '23
MET CS 779

Advanced Database Management

Sprg '23

Summer '23
MET CS 781

Advanced Health Informatics

Sprg '23
MET CS 783

Enterprise Architecture

Sprg '23
MET CS 793

Special Topics in Computer Science
MET CS 799

Advanced Cryptography
Computer Science Faculty
View All Faculty
Tuition & Financial Assistance
Competitive Tuition
Our part-time rates are substantially lower than those of the traditional, full-time residential programs yet provide access to the same high-quality BU education.
Comprehensive Financial Assistance
Our services include
scholarships
, graduate loans, and payment plans.
Get Started
Please visit the BU MET admissions page for details on how to apply, financial assistance, tuition and fees, requirements for international students, and more.
What to Read Next: MET Computer Science & IT
News & Events