'Public Health is Everywhere'
.
alumni news
'Public Health is Everywhere'
Alum Alexander Friedman, a program manager at Boston Medical Center, discusses his career journey so far, what he has learned about public health since graduating from SPH, and his experience working with SPH students over the years.
School of Public Health alum Alexander Friedman (Sargent'13, CAS'13, SPH'15) always knew that he wanted to help others.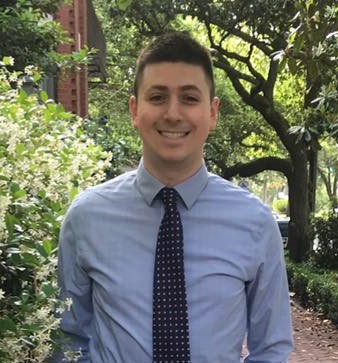 When he began his undergraduate career at Boston University, he had the intention of going to medical school after graduation; however, he quickly learned that a medical degree was not the only way that he could make a positive impact in people's lives. During his senior year at BU, he landed an internship as a pediatric research assistant at Boston Medical Center (BMC) and began the 4+1 BS/MPH dual-degree program at SPH, where he studied epidemiology and maternal and child health. He hasn't looked back since.
Now, Friedman is the program manager of the Division of Developmental and Behavioral Pediatrics at BMC, where he oversees three essential programs. One is the Autism Friendly Initiative, which works to improve the healthcare experience for patients with autism spectrum disorder and their families. He also manages the Massachusetts Center for Unexpected Infant and Child Death, which is a state-wide program housed at BMC that supports families and medical professionals after a death during infancy, pregnancy, or early childhood, as well as the SPARK (Supporting Parents and Resilient Kids) Center in Mattapan, Mass., which provides a range of trauma-informed mental health and developmental services for children. In addition to his work at BMC, Friedman also works closely with the Career and Practicum Office at SPH to recruit and hire students for their practicum experiences year-round.
Friedman sat down with us to share more about his career journey so far, what he has learned about public health since graduating from SPH, and his experience working with SPH students over the years.
Much of your work is centered around pediatric care. What drew you to this area of healthcare?
I have always loved working with kids, and I have spent a lot of time volunteering with various children's' organizations. When I was thinking about medical school, I had wanted to go into obstetrics because I was really drawn to the idea of providing crucial support at such an important moment in families' lives.
When I was applying to internships back in undergrad, I wasn't exclusively looking for something that was pediatric focused, but I am so grateful that I got the internship that I did. So much of my nearly 10 years at BMC has felt like pieces falling into place, and I could not see my career really in any other way right now. I love what I do.
What have you learned about public health throughout your career so far?
One of the biggest lessons for me is just how versatile an MPH actually is. Being out in the world and seeing every possible avenue of what folks in public health can do is something that continues to amaze me. There are so many corners of this work, and there is so much that still needs to be done. People with an MPH can truly go and make an impact anywhere because public health is everywhere.
In addition, I have learned a lot about the resiliency of people. The families that I work with have experienced extraordinary challenges throughout their lives, and navigate and overcome them in ways that are truly beyond measure. It is inspiring to me, and it is a total privilege to support them on their journey.
Our families teach me something new every day. My co-workers teach me something new every day. I love coming to work and learning about how I can do this work better, and how I can best serve some really crucial areas of healthcare because the reality is, the American healthcare system is ill prepared to support a wide range of patient needs. This must change, and I know that it takes a village. Clinical, non-clinical, front end, back end. Everybody has an important role to play in the work that we do for our patients.
What does it mean to you to stay connected with the SPH community through your work with students during their practicum experiences?
To remain a part of the BU community in such an impactful way is truly beyond words for me. Getting to work alongside current SPH students for their practicums is still a bit surreal considering I went through the whole process of finding my practicum placement, as well. I love being on the other side of the process and getting to talk with them about their goals and interests and provide them with the opportunities, knowledge, and insights that I find highly crucial as a professional in the field now. It feels like it is my way of giving back to the SPH community and helping to make it even stronger.
I would not be where I am today without SPH. I can't envision being able to do the work that I do, to work with the people I work with, or to give back in ways that are so meaningful without my relationship to SPH and without everything I learned going through the MPH program. I am grateful that I now get to help further other students' experiences and help them to find their own path in the same way that I was shown. It feels really amazing to play even a small role in other students' public health journeys.