Developing Technology for the Public Good
.
alumni
Developing Technology for the Public Good
As a data scientist and researcher at MIT Lincoln Laboratory, SPH alum Mark Hernandez is using his technical skills and expertise to develop technology with the public's health in mind.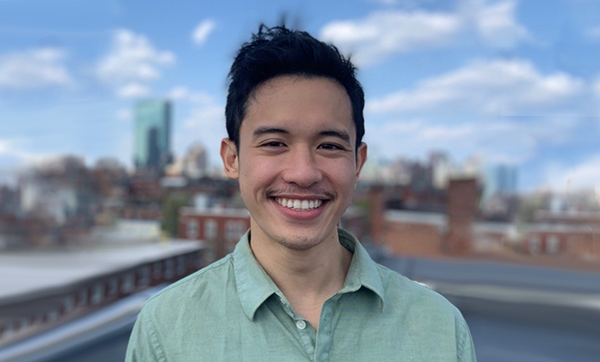 "Technology can promote health equity or it can amplify inequities" says School of Public Health alum Mark Hernandez (SPH'21). "I got into public health because I wanted to develop more thoughtful technologies for the public good."
Originally trained as an electrical engineer, Hernandez spent much of his early career working in health data analytics and technologies. From infectious disease modeling to analyzing hospital claims data, his work seemed to inch closer towards the field of public health, and with it, he began to see the possibilities of working at the intersection of data science and public health.
As Hernandez learned more about public health outside of work—particularly through reading SPH's Public Health Post—he was drawn to the field's emphasis on the social determinants of health, equity, and justice. "These were ideas and values that have always resonated with me, but I didn't have the language for them at the time," he says.
Since 2015, Hernandez has worked at MIT Lincoln Laboratory, a research and development center focused on advancing technologies for federal government partners. In 2019, he came to SPH for his Master of Public Health degree through the Lincoln Scholars Program, which supports staff members in pursuing graduate degrees with the intention to bring the expertise they gain back to the Lab to lead and develop projects through a new lens.
Now, Hernandez works as a data scientist and researcher in the humanitarian assistance and disaster relief systems group at Lincoln Laboratory. Much of his work centers around leveraging his technical skillset to support public health data analysis, impact evaluation, and geospatial analysis. He is currently the principal investigator on a FEMA-funded project in partnership with the State of Maine's Office of Behavioral Health, where he is leading a team in developing integrated data systems and decision support tools to inform the state's policies and services around behavioral health crisis care.
"It has been an incredible experience to collaborate with a team that is so dedicated to improving Maine's system for supporting people who experience mental health crisis," says Hernandez. "When done right, I see technology as a tool to empower those who are driving positive systems change. In this case, the technology is supporting policy planners and advocates across Maine who are working to expand crisis care services, particularly in areas with the most urgent need for mental health resources."
Hernandez is working with idea hub and several SPH community members on the project, including Gregory Cohen, statistical analyst in epidemiology, and Rebecca Taylor, the deputy director for research and evaluation at the Maine Office of Behavioral Health and a master's student at SPH.
Throughout his time at SPH, Hernandez was able to use the time and funding provided by the Lincoln Scholars program to explore his various public health research interests through projects with several SPH faculty members. He worked with Patricia Hibberd, professor and chair of global health, to explore thermal imaging technology for differentiating bacterial and viral pneumonia; and Elaine Nsoesie, assistant professor of global health, to analyze Twitter data to better understand how food and alcohol consumption shifted during the COVID-19 pandemic. Through a class project, he also worked with Patricia Fabian, associate professor of environmental health, and his classmates to develop an interactive mapping tool to determine which populations, cities, and towns were most vulnerable to the coronavirus in the Commonwealth. He also worked with research fellows Salma Abdalla and Shaffi Fazaludeen Koya to better understand people's perceptions of the social determinants of health in different countries across the world.
At the beginning of the pandemic, Hernandez joined the Academic Public Health Volunteer Corps, and worked with the Watertown Public Health Department to strengthen their response to the COVID-19 pandemic. He developed data mapping tools that helped the department assess trends and emerging hotspots of COVID-19 cases across the city and inform their response.
"There are so many local public health departments and community organizations doing amazing work on the ground, but they don't always have the technical resources to leverage their data and tell their stories," he says. "In different ways, I am trying to use my unique skillset to help fill these gaps, to build up that technical capacity at the local and state levels."
Hernandez says that his time at SPH helped him bring a health equity lens to all of his work, and allowed him to better understand how his role as both a data scientist and researcher fits into the larger ecosystem of public health practice.
"I learned so much during my time at SPH from both my professors and my peers, especially about how to think about technology within the broader social context it exists in," he says. "Technology is not neutral. When it is inaccessible or biased, it can cause harm. But when technology is designed thoughtfully, it can help shift resources and power to those who need them. As technologists and public health practitioners, we have a responsibility to deepen our understanding of this social context and develop technologies with that lens."