New Website Tracks, Compares US State COVID Policies
.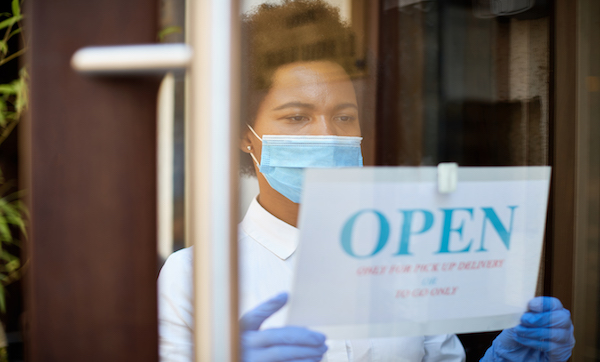 COVID-19
New Website Tracks, Compares US State COVID Policies
The COVID US State Policies database documents the dates of more than 100 health, social, and economic policies implemented during the pandemic in every state and Washington, DC.
From physical distancing requirements and face mask mandates, to unemployment benefits and eviction freezes, the COVID-19 policy response in the United States has varied widely—and changed frequently—from state to state since the first days of the pandemic. Many of these changing policies continue to exacerbate deep-rooted health, racial, and economic disparities among underserved populations.
As the nation races to create a vaccinated and healthier post-COVID society, School of Public Health researchers have launched a website and database that tracks the impact and effectiveness of more than 100 COVID-19 policies in every state and Washington, DC.
Led by Julia Raifman, assistant professor of health law, policy & management, the COVID-19 US State Policies (CUSP) database aims to facilitate and inform research, investigative journalism, and policy action that will improve health and economic outcomes, particularly among vulnerable populations in the US.
"The CUSP database shines a light on how state policies have shaped pandemic outcomes," said Raifman during a virtual press conference to announce the launch on April 5. Prior to COVID-19, "structural racism had already shaped such large inequities in our society," she said.
"Our hope is that researchers, journalists, and policymakers can use the database to become better informed about how COVID-19 response policies can reduce or exacerbate disparities, and think about how to design optimal policies to protect people from COVID and from economic precarity."
Funded by the Robert Wood Johnson Foundation's Evidence for Action program and developed in partnership with researchers at Johns Hopkins Bloomberg School of Public Health, CUSP expands upon an initial database that Raifman developed at the start of the pandemic with SPH research fellow Kristen Nocka and several MPH students. Now housed on the new website, the database documents when and how states implemented COVID policies and presents the data and original source information in a publicly available and easy-to-use format designed for rapid use. SPH research fellows Alexandra Skinner, who is the database manager, and Will Raderman have led much of the data collection and development, and continue to update the tool with new policies.
Policy information is searchable by state or topic, or viewable as graphs and full datasets. CUSP users can compare state policy timelines and differences on a wide range of topics such as eviction moratoriums, minimum wages, unemployment insurance, food security, business closures and reopenings, vaccine eligibility, interstate travel quarantines, alcohol and firearms, and racial disparities in access and benefit from social safety net programs.
"Some of the disparities we see are a direct result of policies. For instance, state policies have shaped who is vaccinated first," Raifman said. "We watched in real time as states included essential workers in their top priorities, and then dropped those workers' eligibility in favor of age-based priorities. That has important implications for equity as it relates to who is vaccinated against COVID and who continues to die of COVID."
Similarly, she said, the data shows that unemployment insurance policies exclude more people than they include, and the amount of unemployment benefits that are provided to people who qualify varies widely—from $235 per week in Mississippi to $800 per week in Massachusetts— and disproportionately impacts people of color. On the CUSP site, policymakers can compare these policies with datasets such as state minimum wages, evictions, and food security to gain a more complete economic outlook within a state, and use that insight to develop future policies that yield adequate and equitable support to residents who need it the most.
Race and ethnicity data—or lack thereof, depending on the state—from the COVID Racial Data Tracker also provide insight into the racial disparities in COVID cases, hospitalizations, and deaths, and how those numbers compare to states' evolving policies on mask mandates, reopenings, and physical distancing limitations.
"So much of what has shaped current disparities is devoid of this policy structural context," said Raifman. "A lot of our motivation behind this database is to add this context so that people can understand what is really driving disparities in the pandemic."
In evaluating COVID state policies, she said it is clear that federal guidance on which policies are most effective is much needed state and local policymaking.
"Hopefully, we won't need vaccine priorities or policies like indoor dining closures after most of the population becomes vaccinated—but much of the world population won't be vaccinated," Raifman said. "Low vaccination rates globally increase chances that there will be another variant and that we'll need to go through another vaccination campaign. In that case, it will be important that we have clear-cut, simple information from the federal government on the most effective approaches that states can take, as well as equitable approaches to vaccine priorities that protect essential workers who have contact with hundreds or thousands of other people through their work and have been more likely to die young during the pandemic."