A Case for Equity: SPH Drops GRE Admission Requirement
.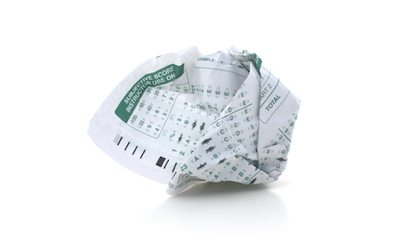 Beginning with the 2019-2020 application cycle, the School of Public Health will eliminate the GRE as an admission requirement for its graduate programs for a pilot period of three years.
This decision reflects the school's commitment to fostering diversity, equity, and inclusion among its student body. A range of scholarship indicates that the GRE is costly, biased, and a poor predictor of academic success.
"Diversity of all kinds is fundamental to a rewarding educational experience," says Sandro Galea, dean and Robert A. Knox Professor. "The school aims to remove any structural barriers that interfere with recruitment and retention of diverse students."
After consulting with the SPH Governing Council and program directors, Galea says that the evidence and overwhelming support for this idea "gives confidence that this is the right move at the right time."
The GRE has become a financially burdensome hurdle to many test takers, particularly for potential students from under-privileged backgrounds. The current cost of the general examination is $205, and it costs an additional $27 per school or program to send scores. GRE preparation courses can cost thousands of dollars.
The exam has also been shown to disadvantage women and minority students, particularly in STEM fields. Evidence shows that standardized tests in general have been systematically biased, with test scores associated with socioeconomic status, race, and gender. The Educational Testing Service, which administers the exam, reports that women score on average 80 points lower than men, and African Americans score 200 points lower than whites.
Data also shows that the correlation between GRE scores and academic success in graduate school is weak. A meta-analysis of over 1,700 studies reported weak correlations between GRE scores and measures of success in graduate programs. Similarly, analysis of data from MPH students at SPH has shown no significant differences in mean GRE component scores between first-year students who failed to achieve an overall 3.0 GPA and those who did not.
Over the three-year pilot period, Galea says the school will evaluate the quality and trends of applications in comparison to peer schools. SPH will also track outcomes for graduates to ensure that the school continues to meet its employment goals. During this period, applications for the school will include program-specific questions to ensure that the admissions committees have sufficient data to select the right students for the right programs.
"We have faculty and staff who work hard in admissions to evaluate applicants holistically and to identify those that elevate our mission and values," says Lisa Sullivan, associate dean for education. "I am very optimistic that eliminating the GRE is the right move for us and I am proud to be part of a school that takes this position."