Low PrEP Knowledge Among People Who Inject Drugs
.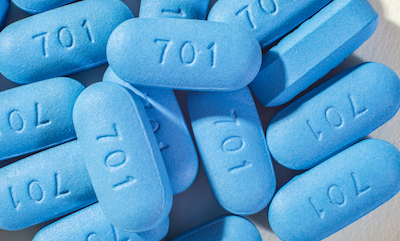 A recent outbreak of HIV among people who inject drugs in Lawrence and Lowell, Massachusetts, has led to renewed concerns about transmission in this population. Antiretroviral pre-exposure prophylaxis (PrEP) has been proven effective in preventing HIV infection, and the Centers for Disease Control and Prevention (CDC) and now the US Preventive Services Task Force recommend providing PrEP to people who inject drugs.
But a new study led by School of Public Health researchers finds people who inject drugs have little knowledge of PrEP, with more than half of respondents saying they had never heard of it.
The study, published in AIDS Patient Care and STDs, also found that low knowledge in this population may reflect the degree to which PrEP marketing and outreach is directed at men who have sex with men.
"There just aren't many public or private investments being made in getting accurate PrEP information to people who inject drugs, and very little research is focused on identifying ways to improve this knowledge gap and increase PrEP access and uptake," says study lead author Angela Bazzi, assistant professor of community health sciences.
Bazzi and her colleagues conducted in-depth, semistructured interviews with HIV-uninfected people who inject drugs, recruited from local community-based organizations, including needle exchange programs and drop-in HIV testing centers, in Boston and Providence.
They found that only 12 of the 33 participants had ever heard of PrEP, and only one had taken PrEP before. Some of the participants who had heard about PrEP did not know that it was currently available, were not sure what it was, or confused it with post-exposure prophylaxis.
When the interviewers explained what PrEP was, and that it is effective in preventing HIV infection from both needle-sharing and sex, 3 participants said they were unlikely to ever use PrEP, 13 were undecided, 10 said they were likely to use PrEP in the future, and 7 said they were extremely likely.
Interest in using PrEP was highest among participants who perceived themselves to be at high sexual risk for acquiring HIV, particularly women, who were also more likely than men to tell interviewers and harm reduction providers about transactional sex. However, the researchers also noted many participants who did not consider themselves at high risk of HIV infection admitted to occasionally sharing needles when they were "in a bind."
The researchers also conducted interviews with key informants, professionals with "on the ground" experience providing PrEP and other harm reduction services to people who inject drugs in both cities. These professionals also pointed to insufficient efforts and resources to make PrEP information and services available to people who inject drugs, and to make it clear that PrEP would protect people from HIV transmission both via sex and shared needles.
"Key informants pointed out that most PrEP marketing, research, and programmatic efforts locally and nationally have focused on men who have sex with men," Bazzi says, "but people who inject drugs are a population with dual, often overlapping sexual and injection-related risks."
The interviewees provided specific suggestions for getting the word out about PrEP in ways that would be more accessible and acceptable to people who inject drugs. Suggestions included more education, advertising, and outreach efforts specifically targeting people who inject drugs, including the difficult work of reaching straight-identified men who are engaging in sex with other men for money or drugs. The harm reduction service providers also noted the need for more time and resources to discuss HIV risk and PrEP during healthcare appointments that, at present, are often constrained to discussions about addiction and other more immediate issues.
"Having community input into the process of developing new awareness-raising efforts will be critical," Bazzi says.
The study was co-authored by Dea Biancarelli, senior research assistant in the Department of Health Law, Policy & Management; Ellen Childs, research scientist in the Department of Health Law, Policy & Management; and Mari-Lynn Drainoni, associate professor of health law, policy & management. The other co-authors were Alberto Edeza and Peter Salhaney of Brown University and Matthew Mimiaga and Katie Biello of Brown University and the Fenway Institute.