1 Year. Online. Full Time
Curriculum
What Makes the Online Executive MPH Unique?
Catering to the needs of seasoned public health professionals, the Executive MPH program is in a class of its own. Its innovative, fully online structure has revolutionized the MPH field of study, providing an educational opportunity for students to complete the graduate degree without disrupting their successful career progress.
Boston University's online Executive MPH degree provides the following:
100% online coursework with seven-week courses that include live weekly sessions
Cohort-based learning for growth of professional networks
Courses taught by renowned SPH faculty
Practice-based teaching that builds leadership skills through consultations with local, national, and global public health organizations
No GRE scores required for application
Designed for busy mid-career professionals, Boston University's online Executive Master of Public Health (MPH) develops leadership in the field of public health. The Executive MPH at Boston University School of Public Health (SPH) is a fully online program intended for healthcare professionals in a wide range of industries, including medicine, government agencies, biotechnology, consulting companies, pharmaceutical corporations, insurance companies, finance, and other healthcare enterprises.
Online Executive MPH students learn to use an evidence-based approach to problem-solving and develop refined skills that catapult them ahead of their peers in executive leadership ability.
Online Executive MPH Program Structure
The 42-credit online Executive MPH provides unique skills that elevate the leadership ability of experienced professionals already in public health careers. Graduates of the program develop highly relevant, in-demand communication and collaboration skills while still receiving the benefits and foundational knowledge of a traditional MPH program.
The executive curriculum emphasizes the interplay of biological, social, economic, cultural, political, behavioral, and environmental factors that affect the health of various populations. Its structure is ideal for the immediate application of course concepts to the daily careers of students.
The program can be completed within 12 months of full-time study or over two years part-time.
Learn more by exploring the online Executive MPH schedule.
Full-Time Schedule
Part-Time Schedule
Director of MPH Programs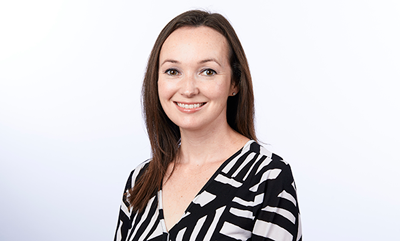 Outcomes
Preparation for a Career in Executive Public Health Leadership
Graduates of the online Executive MPH program are equipped with the well-rounded knowledge and skill set to become innovative leaders who navigate their organizations through the unique challenges of the current public health field. The degree prepares students to critically evaluate public health data in pursuit of continuously improving interventions, programs, or policies.
With the public health landscape rapidly growing and evolving, online Executive MPH students have the opportunity to make a meaningful difference by creating healthy, informed communities. Graduates are able to:
Design and evaluate a community needs assessment or a community-engaged study and make recommendations for integrating multiple sources of evidence and community collaboration
Analyze management tools and techniques to address issues faced by healthcare organizations
Apply analytic methods to evaluate the impact of public health programs
Develop an advocacy tool or plan to address public health issues and concerns
Admissions
Online Executive MPH Admissions Requirements
Students interested in pursuing the online Executive Master of Public Health must hold a bachelor's degree from a recognized institution, with undergraduate coursework in statistics, biostatistics, or the equivalent. Eligible candidates for admission must also have a minimum of five years of health-related work experience. All admitted students begin work during the summer semester and complete all coursework online.
Learn more about the program's full admission requirements and application deadlines.
No GRE score required. To learn more about our admission requirements and find out this year's application deadlines, please visit our admission requirements page.