The Pain Gap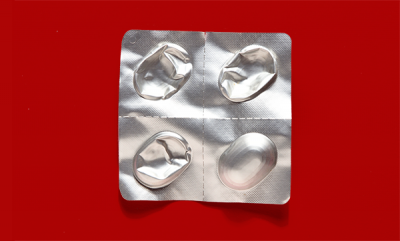 Before the opioid crisis, there was the Vioxx scandal.
When Vioxx (rofecoxib) came on the market in 1999, it was part of a new class of anti-inflammatory drugs called COX-2 inhibitors, painkillers without the gastrointestinal side effects of other NSAIDS such as aspirin and ibuprofen, making them promising for chronic pain management. But in 2004, Merck withdrew the drug amid mounting evidence that long-term Vioxx use significantly raised the risk of heart attack and stroke (and that Merck researchers may have covered up data). According to research later published in The Lancet, Vioxx caused up to 140,000 heart attacks in the US, killing 38,000 people.
After the Vioxx scandal, other (safer) COX-2 inhibitors also fell out of favor, and prescriptions for high-dose NSAIDS declined across the board.
Opioids filled the gap.
That's according to a new School of Public Health study published in JAMA Network Open, the first study to suggest that this early-2000s decline in NSAID prescriptions for chronic pain contributed to the rise of opioids, and the deadly opioid epidemic still raging today.
"We see almost a mirror image, where opioid prescribing is going up at the same time that non-opioid analgesic prescribing is going down," says lead study author Andrew Stokes, assistant professor of global health.
And the Vioxx scandal is right at the center of it, says study senior author Tuhina Neogi, professor of epidemiology at SPH, professor of rheumatology at the School of Medicine, and chief of rheumatology at Boston Medical Center. "We realized that the point at which increasing opioid prescriptions crossed over with the decrease in non-opioid prescriptions occurred when the cardiovascular risks of COX-2 inhibitors led to Vioxx coming off the market," she says.
But as recognition of the opioid crisis has now led to the decline of another kind of prescription painkiller, what is taking its place? Likely nothing, Stokes says.
From 2013 to 2016, the researchers saw an 11-percent decrease in all painkiller prescriptions in the study population (7,256 adults with musculoskeletal chronic pain issues from 1999 to 2016). "The drop across the board in opioid and non-opioid analgesic use suggests either that people are increasingly seeking out and accessing other therapies like physical therapy," Stokes says, "or, more likely, there is just an increase in unmet need for pain relief."
People with lower socioeconomic status had the steepest drop in prescriptions, the study found—and Stokes points out that these are the populations least likely to have access to such non-pharmaceutical therapies.
"There's so much talk right now about transitioning people away from opioids," says study co-author Dielle Lundberg (SPH'19), a research fellow in the Department of Global Health. "But if that's happening without considering the barriers to non-pharmacologic treatments, there may be a significant problem of under-treatment of pain."
While the study found a decline in opioid prescriptions for racial/ethnic minorities, it wasn't a very large drop. "The existing literature shows longstanding racial bias in opioid prescribing," Stokes explains, with doctors particularly distrusting black patients and believing that they experience less pain. The new study of people with chronic pain supports this, showing that black patients were particularly unlikely to be prescribed opioids at any point in the observed period. There wasn't a significant drop, in other words, because there was likely already unmet need. 
The pain relief gap revealed by this study is not news to those who live in it, Lundberg notes. "A lot of these issues have been previously voiced by activists with chronic pain," they say. "But most of their work and advocacy has been qualitative, which has caused some to question the generalizability of their reports." The researchers hope this study adds quantitative evidence that will raise the profile of this issue. 
None of this is to diminish the significant toll of the opioid epidemic, or claim that opioids have not been aggressively marketed and over-prescribed, Lundberg says. "It's an 'and' situation."
Stokes says under-treatment can also be deadly. "There's concerning literature that people with unmet need for pain relief have higher rates of suicidal ideation and completed suicide," he says, "as well as seeking out other sources of pain relief, such as fentanyl or heroin." In other words, under-prescribing opioids can still lead to opioid deaths.
"We need to ensure that our response to the opioid crisis does not leave people living with chronic pain behind," Stokes says.
The study was supported by the Robert Wood Johnson Foundation. The other co-authors were: alum Kaitlyn Berry (SPH'17), now of the University of Minnesota School of Public Health; and Katherine Hempstead of the Robert Wood Johnson Foundation.
---
Related Profiles: