Fundraising Management Graduate Certificate
Now available online or on campus.
Many nonprofit organizations today face challenging financial circumstances. Reduced government and foundation support, increased competition among nonprofits and the private sector, and general economic uncertainty have all played a role in creating an environment of financial instability. As the number of nonprofits grows, and the market drives organizations to be self-sustaining and accountable, fundraising has emerged as a strategic institutional need. To help address this need, Metropolitan College is pleased to offer a Graduate Certificate in Fundraising Management.
Designed and delivered by the expert faculty of the Arts Administration program, the Graduate Certificate in Fundraising Management provides administrative, financial, technical, and leadership skills for those seeking careers as professional fundraisers and for nonprofit managers who wish to substantially enhance their skills in fundraising. The certificate is also appropriate for professionals considering a career change and professionals in the arts, health care, education, and human services fields.
Students who complete the Graduate Certificate in Fundraising Management will be able to demonstrate:
Knowledge of the most important challenges and opportunities facing nonprofit organizations.
Knowledge of professional practices with regard to fundraising and financial management.
Skills to identify funding sources and author professional grant applications.
Knowledge of best practices in designing and managing fundraising strategies and capital campaigns.
Knowledge of structural and operational similarities and differences between several categories of nonprofit organizations, including health care, faith-based, cultural, and educational organizations.
The ability to take a strategic approach to the professional development, networking, and self-marketing necessary to obtain a professional position as a fundraiser.
Certificate students have access to all the resources of the department and the University, including internship and job placement services.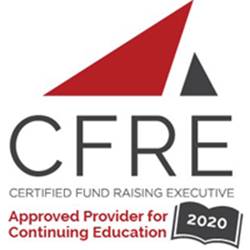 The Graduate Certificate in Fundraising Management is a CFRE Approved Provider for Continuing Education. Full participation in the Graduate Certificate in Fundraising Management is applicable for 147.75 points in Category 1.B – Education of the CFRE International application for initial certification and/or re-certification.
Program Options
Available on campus and in the following format:
Admission
Transfer of Credits to Degree Programs
Program Requirements
View course descriptions.