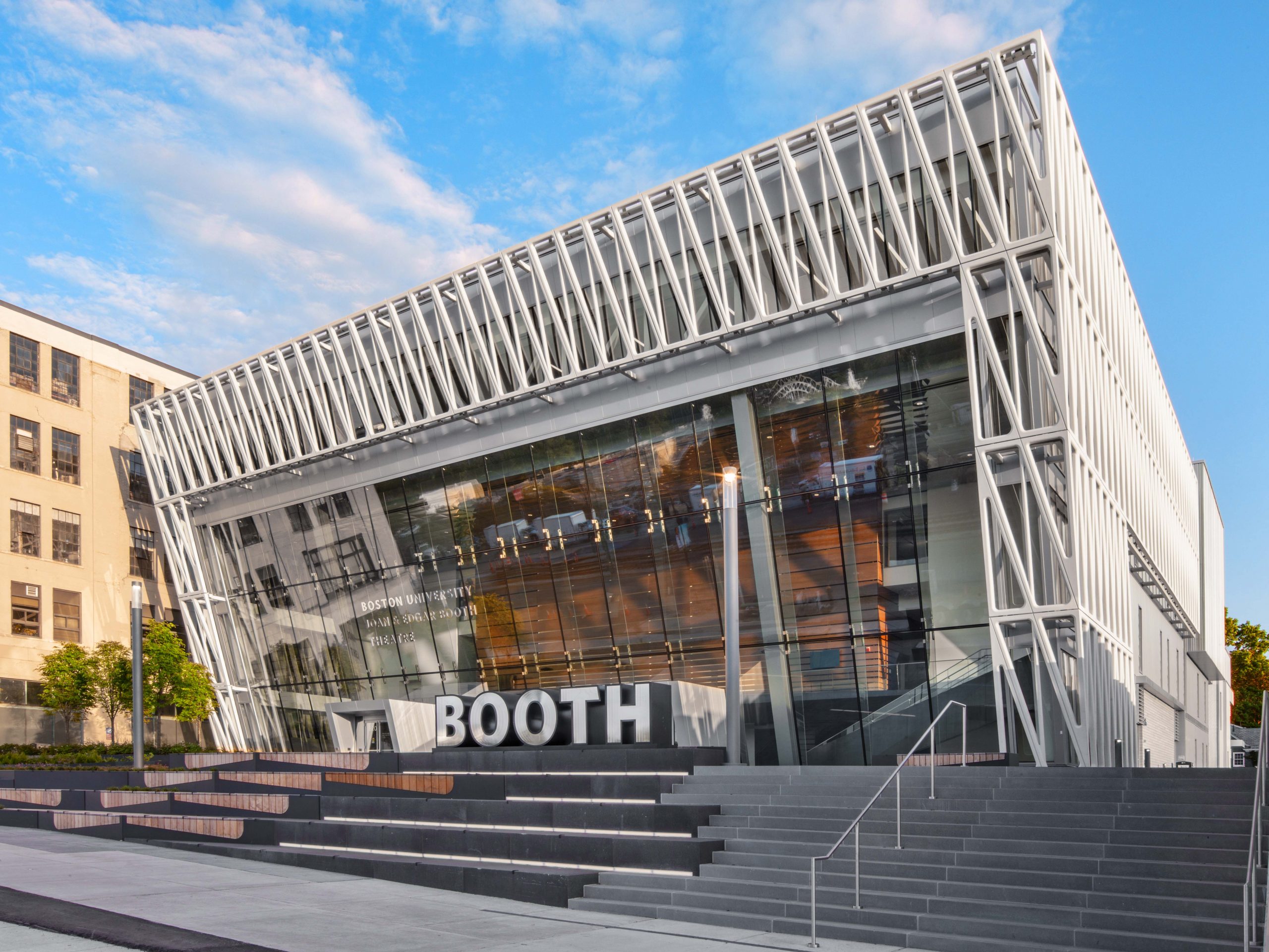 Where the next generation of artists train
and where audiences witness immersive theatrical experiences
Flexibility Yields Experimentation
Listed among the best new architectural structures around the globe (Wallpaper magazine, 2019), the Boston University Joan & Edgar Booth Theatre provides CFA theatre students with countless opportunities to experiment, innovate, and take the audience from 820 Commonwealth Avenue to another world.
"To Hold As 'Twere The Mirror Up to Nature"
The building's massive tipped façade serves as a mirror, coupled with a proscenium-inspired truss system, placing the world of Commonwealth Avenue on stage. When coming to see a show at Booth, we invite you to step into the space where, through the configuration of seating risers, the opening of trap doors, the installation of set pieces and drapes, and the use of creative lighting, we transform the theatre and redefine the audience's relationship with the story onstage.
---

"Booth Theatre has provided me with a playground. Pretty much anything you imagine possible can be done in that theatre."

---
Not only do performances take place here. Classes are taught in state-of-the-art facilities by professors who are experts in the field. Students are sketching and bringing their costume designs to life in the Costume Shop. Others are building and painting sets and props in the Paint Shop and Scene Shop.
The best part about Booth Theatre? No production looks the same, making each performance a unique experience for the cast and crew, and the audience.
The Boston University Joan & Edgar Booth Theatre and the College of Fine Arts Production Center project are funded in part by a naming gift of $10 million from BU trustee Steve Zide (LAW'86). The theatre is named after Steve's theatre-loving wife, Janet Zide's parents, Joan and Edgar Booth. It was designed by internationally-recognized Elkus | Manfredi Architects and the construction for this complex was managed by the Bond Brothers.
By The Numbers
As the premiere theatre stage in BU's emerging arts district, Booth Theatre's numbers (in terms of size and the amount of materials available) allow CFA students to build, design, and execute theatrical productions that are innovative, provoking, refreshing, and thoughtful.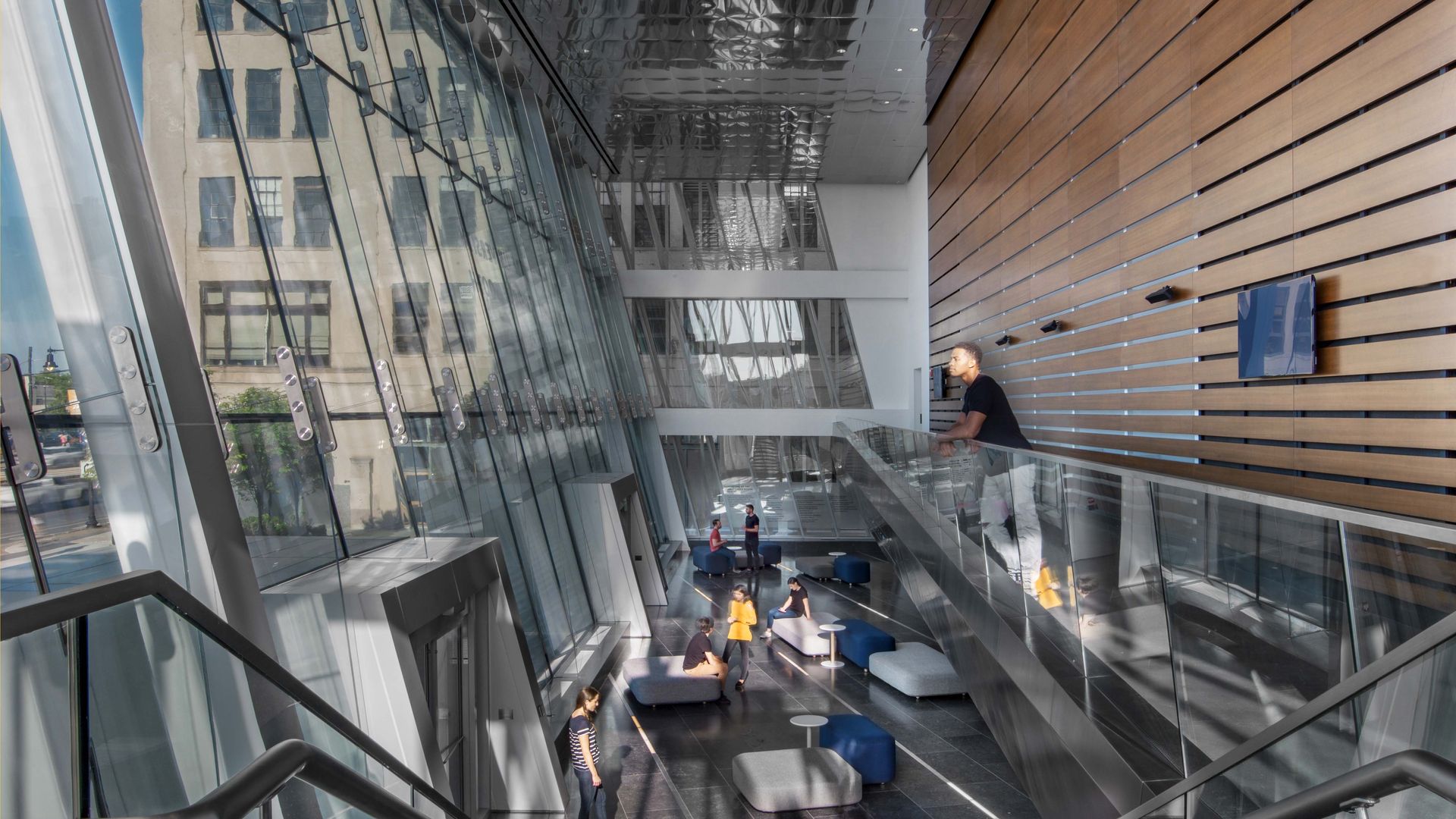 Setting the Stage for Sustainability
The award-winning dramatic arts complex earned the LEED (Leadership in Energy and Environmental Design) Silver Certification for its green features, including operations and maintenance of a resource-efficient, healthy, and cost-effective space.
Booth Theatre is climate change ready, with mechanical equipment situated on the roof so that systems are above the projected flood level. Also, as part of Boston University's Sustainable Cleaning Program, the BU custodial team uses 100% Green Seal or EcoLogo certified cleaning products and procedures.
In the Press
See you at Booth.
Every production done by our School of Theatre students at Booth Theatre is filled with so much magic. Our seasons are packed with dynamic and powerful stories, meant to entice, inspire, and thrill you. Join us at the theatre!
Location
820 Commonwealth Avenue
Brookline, MA 02446
(For GPS, use 808 Commonwealth Avenue. Boston University Joan & Edgar Booth Theatre and College of Fine Arts Production Center are located right next door.)
Public Transit Options
Accessible by the MBTA Green Line. Take the B line to the Amory Street station.
BU Shuttle stop M2.
Parking
Street parking is available on and around Commonwealth Avenue. BU parking lots and garages are also available. Lot F is the parking lot at Booth Theatre. The garage entrance is at 128 Essex Street, Brookline MA. This lot will open 90 minutes prior to performances. Rates will vary. Visit bu.edu/parking for more information.
Accessible Entrance
There is an accessible entrance through the Production Center doors on Essex street.
Tickets for BU Community
All Boston University students, faculty, and staff receive free admission at the door with their BU ID to attend performances at Booth Theatre, subject to availability.