Gun Violence: Stories Behind the Numbers
Thursday, September 28, 2017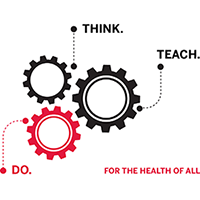 4:30 to 6:30 p.m.
Hiebert Lounge
72 East Concord Street
Boston
#SPHDSS17
Live-Streaming Available During Event
#Enough. After the Orlando night club massacre of 49 people in June 2016, Boston University School of Public Health created the Enough campaign to express outrage and sorrow and extend a call to action. This is just one of the many ways to retell the story of homicide, suicide, and injury caused by firearms. These narratives focus on fractured communities, devastated families, and lives lost at each end of the gun. Shifting the emphasis away from gun control, constitutional rights, and criminal behavior creates room for the stories of human and social impact. As public health activists and researchers rewrite this polarizing tale, we have an opportunity to work closely with journalists and artists to combine numbers with real voices and real lives to inspire urgency. In this panel discussion, we will talk about this collaboration and debate the question: How can journalism, the creative arts, and public health work together to say #Enough?
This event is sponsored by the Boston University Program for Global Health Storytelling which brings journalists and global health specialists together to improve mutual understanding and foster collaboration. Our goals are to:
1. Explore the ways in which journalism and public health complement one another and also frequently collide
2. Establish and maintain an ongoing conversation between journalists and public health responders about how we can better work together
3. Promote cross-disciplinary understanding and collaboration by training students and providing them with global health field reporting opportunities
4. Improve dissemination of often underreported information about serious public health concerns in hopes of influencing sound public policy decisions
The Program for Global Health Storytelling is co-sponsored by the Boston University College of Communication, Boston University School of Public Health, the Activist Lab, and the Pulitzer Center.
Speakers
Carlos Javier Ortiz, Pulitzer Center Grantee, Director, Cinematographer, Documentary Photographer
Read More
Carlos Javier Ortiz is a director, cinematographer and documentary photographer who focuses on urban life, gun violence, racism, poverty and marginalized communities. In 2016, Carlos received a Guggenheim Fellowship for film/video. His work has been exhibited nationally and internationally in a variety of venues including the Schomburg Center for Research in Black Culture; the Worcester Art Museum in Massachusetts; the International Museum of Photography and Film in Rochester, NY; the Museum of Contemporary Photography in Chicago; the Detroit Institute of Arts; and the Library of Congress.
In addition, his photos were used to illustrate Ta-Nehisi Coates' The Case for Reparations (2014) article, which was the best selling issue in the history of the Atlantic Magazine. His photos have also been published in The New Yorker, Mother Jones, among many others. He is represented by the Karen Jenkins-Johnson Gallery in San Francisco.
His film, We All We Got, uses images and sounds to convey a community's deep sense of loss and resilience in the face of gun violence. We All We Got has been screened at the Tribeca Film Festival, Los Angeles International Film Festival, St. Louis International Film Festival, CURRENTS Santa Fe International New Media Festival, and the Athens International Film + Video Festival.
Carlos' current project is series of short films chronicling the contemporary stories of Black Americans who came to the North during the Great Migration. Beginning with his mother-in-law's story, Carlos is exploring the legacy of the Great Migration a century after it began. For Carlos, who moved back and forth between Puerto Rico and the U.S. mainland as a child, the story of a displaced people in search of stability and economic opportunity resonates with his own.
Carlos' work has been supported by many organizations including: the University of Chicago Black Metropolis Research Consortium Short-term Fellowship (2015); the Economic Hardship Reporting Project (2015); the Pulitzer Center on Crisis Reporting (2013); the California Endowment National Health Journalism Fellowship (2012); the Richard H. Driehaus Foundation (2011); Open Society Institute Audience Engagement Grant (2011); and the Illinois Arts Council Artist Fellowship Award (2011).
In addition to his photography and film, Carlos Javier has taught at Northwestern University and the University of California, Berkeley. He lives in Chicago and Oakland with his wife and frequent collaborator, Tina K. Sacks, a professor of social welfare at the University of California, Berkeley.
Clementina Chéry, President and CEO, Louis D. Brown Peace Institute
Read More
Chaplain Clementina (Tina) Chéry is the founder, President, and CEO of the Louis D. Brown Peace Institute. With over two decades of experience as a survivor serving families impacted by murder, Chaplain Chéry has developed the best practices in the field of homicide response. Her ultimate goal is to transform society's response to homicide so that all families are treated with dignity and compassion, regardless of the circumstances.
Chaplain Chéry and the Peace Institute were selected as 2016 Social Innovators by the Social Innovation Forum in recognition of the Institute's groundbreaking solutions to social problems. Chaplain Chéry has developed innovative toolss for families of murder victims and the providers who serve them, including "Always in My Heart: A Workbook for Grieving Children" (2011) and the Survivors Burial and Resource Guide (2013). Chaplain Chéry is also coauthor of an article entitled "Homicide Survivors: Research and Practice Implications" published in the American Journal of Preventive Medicine in 2005.
Chaplain Chéry has extensive experience training public health professionals and law enforcement officials to better serve families impacted by murder and interrupt cycles of retaliatory violence. She has trained doctors, social workers, psychologists, street workers, religious leaders, police officers, homicide detectives, and other providers at city and state agencies, hospitals, and community-based organizations. Chaplain Chéry has presented at the National Organization for Victims Assistance conference three times. Chaplain Chéry worked closely with the Boston Police Department to establish the Family Resource Officer position on the force to better serve families of homicide victims.
Chaplain Chéry has received countless awards in recognition of her courageous leadership and tireless peacemaking work. Most recently, Chéry was named one of Boston's 100 most influential leaders of color in 2016 by Collette Phillips Communications, Inc. She was also given the 2016 Impact Award by Phillips Brooks House Association at Harvard University. In 2014, Salem State University Awarded Chaplain Chéry the Champion of Peace Award. She was named Citizen of the Year by the National Association of Social Workers in 2011. Chaplain Chéry holds honorary Doctorate Degrees from Regis College in Weston and Mount Ida College in Newton. She was ordained as a senior chaplain with the International Fellowship of Chaplain, Inc. in February of 2012.


Mark Barden, Managing Director, Sandy Hook Promise
Read More
Since the tragic loss of his son Daniel, one of 20 first-graders murdered at Sandy Hook Elementary School along with six educators, Mark has dedicated himself to bringing people together to find sensible solutions that will prevent future tragedies and spare other families the pain of losing a child to gun violence. As Managing Director, Mark leads and manages the organization with Nicole Hockley, mother of Dylan who was killed on 12.14. Mark focuses on policy and outreach efforts for Sandy Hook Promise (SHP) and frequently serves as a spokesperson for the organization.
Mark's belief that thoughtful, sincere dialogue will lead us to shared common ground set him on a path he never anticipated. His journey has taken him from introducing President Obama in the Rose Garden post- 2013 Background Check vote and when the President implemented Executive Actions in 2016 to meetings with over half of the United States Congress, media interviews on every major network and speaking engagements before civic groups, religious groups, high school and college audiences and more, all focused on creating a safer future for our children and our communities.
An accomplished professional musician with a B.A. in music and formal training in jazz and composition, Mark stopped touring to spend more time with his family. He still performs regularly with his own band and others in New York and New England, and prior to joining SHP, he played recording sessions, taught guitar and wrote music for film, radio and television. A lifelong aviation enthusiast, Mark is also a licensed commercial pilot.
Mark lives in Sandy Hook, CT with his wife Jackie, a school teacher, his son James and daughter Natalie. In addition to his work with Sandy Hook Promise, Mark's immediate and extended family have created a foundation called "What Would Daniel Do?" to honor the extraordinarily generous and empathetic spirit of Daniel Barden.
Thea L. James, Associate Professor of Emergency Medicine, Boston University School of Medicine; Vice President of Mission and Associate Chief Medical Officer, Boston Medical Center
Read More
A graduate of Georgetown University School of Medicine, Thea James trained in Emergency Medicine at Boston City Hospital, where she was a chief resident.
She is Vice President of Mission and Associate Chief Medical Officer at Boston Medical Center (BMC). James is an Associate Professor of Emergency Medicine and a past president of the Medical and Dental Staff at BMC. She is an Assistant Dean in the Office of Diversity and Multicultural Affairs, and Director of the Violence Intervention Advocacy Program at BMC. James is a founding member of the National Network of Hospital-Based Violence Intervention Programs. In 2011, James was appointed to Attorney General Eric Holder's National Task Force On Children Exposed To Violence.
James is the 2008 awardee of the Boston Public Health Commission's Mulligan Award for public service, the 2012 Boston Business Journal Health Care Hero Award, the 2014 recipient of the Schwartz Center Compassionate Care Award and the 2015 Boston Chamber of Commerce Pinnacle Award which honors women in business and the professions. She was also named a 2015 Boston Business Journal Healthcare Hero.
James is a Supervising Medical Officer on the Boston Disaster Medical Assistance Team. She has deployed to New York City post 9-11, Hurricane Katrina in 2005, Bam, Iran after the 2003 earthquake and Haiti post 2010 earthquake. For years James has traveled and partnered with colleagues in Haiti, Africa and India conducting sustainable projects.

John Rosenthal, Founder, Stop Handgun Violence
Read More
John Rosenthal is the President of Meredith Management a Boston based real estate development firm. In addition to its portfolio of residential and commercial real estate, the company will break ground this year on the Fenway Center, a 1,300,000 sf mixed use development near Fenway Park.
In 1995, as a gun owner, recreational Trap Shooter and businessperson John Rosenthal founded Stop Handgun Violence. Stop Handgun Violence (SHV) is a Massachusetts based 501(c)(3) nonprofit organization that works to lower gun violence through education, public awareness, strategic law enforcement partnerships and advocacy for common sense gun laws without banning most guns.
Through its collaborations and effective gun violence prevention efforts and laws, gun deaths are nearly 60% lower in Massachusetts than they were in 1995. Urban industrial Massachusetts has the lowest firearm death rate of any state in the Nation.
Through unique partnerships with law enforcement, business leaders, gun owners and legislators, Stop Handgun Violence has been crucial to the bipartisan support and passage of effective gun violence prevention legislation in Massachusetts, including gun laws requiring renewable licensing and registration of firearms, criminal background checks for private sales, manufacturing standards for firearms, safe storage-child access prevention laws, a permanent ban on military style assault weapons and large capacity ammunition magazines, and suicide reduction research.
John also founded two other effective nonprofit organizations. In 1987, John started the Friends of Boston's Homeless which partners with the City of Boston. The Friends serve 800 people every night and help transition 400 formerly homeless individuals in Boston beyond shelter with housing and full-time jobs each year. In 2015, John also co-founded the Police Assisted Addiction and Recovery Initiative. The organization partners with law enforcement to change the conversation around opioid drug addiction by treating addiction as a disease rather than a crime.
Moderator
Bindu Kalesan, Assistant Professor, Boston University School of Medicine and Assistant Professor, Boston University School of  Public Health
Read More
Bindu Kalesan is a clinical epidemiologist and a biostatistician. Kalesan is interested in clinical and health outcomes research. Her work primarily explores cardiovascular and other long-term consequences in patients undergoing treatment for cardiac diseases, cancer, infectious diseases and trauma. She also focuses on public health consequences of firearm violence in the US and the short- and long- term effects of firearm injury survivorship.
Currently she is a faculty and the Director of TEC, department of Medicine at Boston University School of Medicine and works on clinical trials, longitudinal studies and meta-analyses in cardiovascular, diabetes, oncology, infectious diseases and injury/safety research areas. Prior to joining BUSM, she held positions at Columbia University and PPDI. At Columbia University, Kalesan held the position of Assistant Professor of Surgery and Epidemiology and worked with clinician researchers to provide methodological and statistical support along with developing her independent research of gun violence. At PPDI, she was the Associate Director of Epidemiology and Real World Outcomes and worked with multiple pharmaceutical collaborators as epidemiologist in clinical trials, cohort studies and evidence synthesis.
Kalesan received her PhD in clinical epidemiology and biostatistics from University of Bern, master's degree in public health and another in epidemiology from the Johns Hopkins Bloomberg School of Public Health and Christian Medical College, India.