Activist Lab Practicum Program Sees Fruitful Year Ahead
.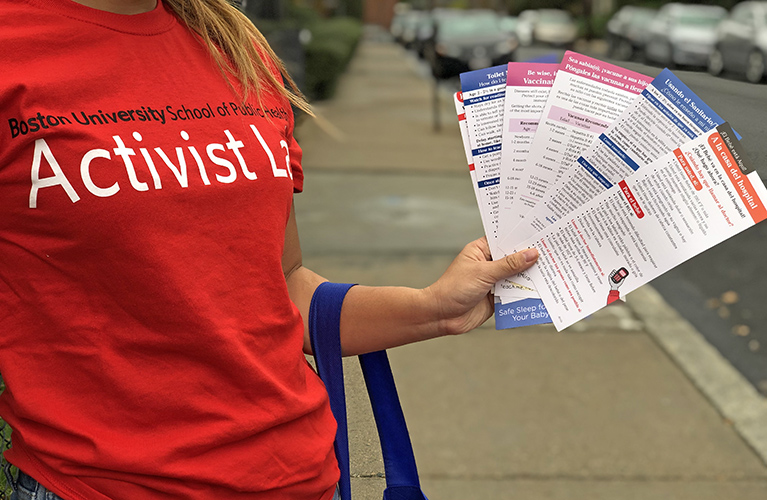 practicum
A Laboratory for Change: Activist Lab Practicum Program Sees Fruitful Year Ahead
The revamped Activist Practicum cohort will consist of approximately five students who will each receive a stipend of up to $5,500.
The Activist Lab at SPH is greeting the new year with a fortified practicum program designed to give students tools they can use to combine public health with effective advocacy.
The Activist Lab Practicum is built around challenging graduate-level professional experiences that provide students with opportunities to advocate for programs and policies that improve the public's health. Students are typically involved with a spectrum of activism opportunities, including policy development; media relations and communications; financial management and fundraising; research and data analysis; leadership and systems thinking; and effective organizing.
Craig Andrade, associate dean for practice, says he believes this is a pivotal year for the Activist Lab Practicum, and hopes that it and similar programs will spread across campus. "We're really just starting to gain some momentum, and hopefully this is just an example of where we can go."
David Jernigan, assistant dean for practice, says much of public health advocacy, by nature and by necessity, is targeted toward improving people's health given the immediate challenges that communities face. He hopes that these practica can give students the experience of working for structural changes that are enduring, if not permanent.
"How can we go upstream? How can we change the conditions that are making people sick as opposed to just creating programs to keep them healthy given current conditions? Both are important but so much energy and money go into the latter," Jernigan says. "The Activist Lab is really about pulling the focus back to the former, to long-term structural changes that will make a difference in people's vulnerability to injury and disease as opposed to helping them cope with those conditions."
Each academic year, the Activist Practicum cohort will consist of approximately five students who will each receive a stipend of up to $5,500 to complete a project with an organization focused on advocacy and activism. Students will have ongoing activism-focused professional development training and community support with their other cohort members through the Activist Lab.
"In the application we provide some specific examples that are based on the course that I teach (PM 851: Organizing and Advocacy for Health Policy Change) and feature projects that students actually did in the course," Jernigan says. "The practicum pays students for a deeper, longer experience than is possible in the course. The course is just six hours a week for 14 weeks, so that's a total of 84 hours. Practica are 240 hours."
Prospective Activist Lab Practicum candidates should have a practicum already lined up, or have an interest in a specific area of advocacy and activism and be willing to work with the Activist Lab to identify a match. Jernigan says that projects could include creating a student movement to establish a moratorium on building new prisons in Massachusetts; trying to get the federal Momnibus set of bills through Congress to support maternal and child health; helping create LGBTQI+ inclusive environment in sports; and advocating against laws that are being enacted in multiple states that may discriminate against trans and intersex people.
Andrade hopes these practica will show students that it is possible to have a profession as a public health activist, whether in politics, community organizing, agency management, or a host of other fields. And the timing couldn't be better, Andrade notes, because other schools are discovering that students are attracted to public health schools that incorporate advocacy work into the curriculum. With more people involved in this work, both students and faculty can see the possibilities beyond the classroom, of developing into activist entrepreneurs. Andrade says, "This is what the world needs now."
Says Jernigan, "When I was in my 20s, I really wanted to make sure that I stayed an activist my whole life. I saw plenty of people who burned out and I wanted to craft a career where I got paid to change the world. And I hope that these practica are giving students real life experiences where they see people who do that. The Activist Lab is a place where people go out and try things in terms of change and activism, and then come back and learn from each other, process, and reflect. We're a laboratory for change."